by Aakriti Kuntal
Kiriti Sengupta, Rituals, Hawakal Publishers, 2019. 100 pgs.
Rituals, Kiriti Sengupta's newest collection of poems, dangles between the living and the non-living, real and imaginary, and creates a sensory and meditative reading experience. It fills the mind with a sense of peace, tenderness and a shrivel of poignancy. Sengupta's writing is rather distinct and stands alone in the Indian contemporary scene. His minimalist, ethereal verse with their deceptively beautiful endings are something to look out for. His poems exist like droplets, condensed cenotaphs of thought, flitting between the material and the ethereal. They tell of his pathos, his reflections, his love both cocooned and spread and his observations on life, society and nature. Sengupta's verse though exhibiting an array of themes swims together in one great blue ocean, a humungous, ethereal underbelly which pins everything to the locus of his startling words. We find ourselves in a deep, contemplative experience, one where Sengupta masterfully moves across his subjects with generous ease, all thoughts swaying in a suave lilt. Consider these lines from the poem "The Resurrection":
Slumber unfolds its arms as it wakes up. The tiny particles scattered in the air absorb the sunlight; they seem to be delighted and drone the song of liberation. Sleep is now conscious like the attraction between mother and her new-born.
We are enveloped by a transcendental space on the cusp of both the selfless relationship of a mother with her new-born and the inertness of metaphysical elements like sleep and particles.
Sengupta adopts a unique, minimalistic style filled with buds of fine imagery. His verse has the power to absorb immense and expansive ruminations and then bear a most tender, glass-like condensed countenance. It is as if he weighs the words and always knows just the right number of letters for his concoction, an alchemist of verse. He values the alphabet and does not waste it. This yields us a crop of pearl-like poems, poignant, somber and immensely beautiful, embodied with terse philosophies, messages and sometimes a trace of deceptive humour. Consider "Dentures":
I prefer patients who are edentulous. I dread
a tooth will wrangle my expertise, and I'll fail
to make an impression.
In another poem "Nascence," Sengupta says:
In a blanket of butter
there is more stillness than action.
There is no sound of awakening.
Are words sleeping?
His verse gives us a glimpse of the vines of his thought process and their portrayal in words. Many of his poems have inevitably emerged from the experience of an Indian man in his environment, and he lovingly embraces the rudiments and nostalgia of everyday Indianness in his work. In the poem "Images," he inquires:
What does it take
to look like an Indian?
A saree, dhoti,
or a diya for arti?
Later he adds:
Keep your smile.
India meditates across the map,
guided or otherwise, sometimes
endorsing a pair of faded jeans.
The central axis of the poem is that of a speaker who is an Indian male talking of his relationships with his son and wife, his customs, rituals, spooling his thoughts into his immediate surroundings. The poems in the collection transgress different forms of love, the diverse manifestations of it in relationships. All are coupled with somber reflections. Sengupta is a man of observation and tenderness. He is a poet whose heart palpitates between the ink, its kindness oozing out. The poems touch a nimble chord in the body.
In the poem "Male," we have:
I find myself connected
when my child says Baba.
Moments of intimacy surface
when my wife wants me to listen.
Mother makes sense
when she calls me son.
Performing the last rites
adds to this legacy.
The poems also cover various social issues, especially those surrounding the sufferings of women. Sengupta beautifully depicts women's issues while allowing his characters to emerge through their singular voices and strength. Another theme he explores is his compassion towards life and nature. He lends a voice to the lifeless, the mundane, the forgotten, the things that slip past our purview. In his poem "The Stepwell," Sengupta says:
In the premises of Purana Qila
the baoli is alive.
Eighty-nine stairs down
water is yet to scour the shine.
It awaits liberation.
And in "Promising Griefs," he writes:
Consider the rice seed—
Not sure if it will rejoice
sprouting into a plant
that will invariably die
to give us food for life.
The strangeness and poignancy of this thought does not elude us. A life growing only to be consumed! Would it be so keen to grow if it knew that this is what lay in its future? And yet this small death feeds us. The circles of life are known to all, yet they manage to make us wince every once in a while.
The poems in Rituals are laboratories of beauty and piteousness weaved into each other with good imagery. The poet forms a tether between the living and the supernatural, drifting in and out of them as if this was how life was always supposed to be perceived. Sengupta's poems aren't restricted to the material realm but rather transcend it. He offers us a sensory experience with his words, kindling in the reader an almost trance-like state.
The poems, short and magnificent, seem to hold pauses between them that one doesn't register consciously but which string together to create an overall slowness, the space between words a symphony.
Coming to the title of the book, Rituals. In "Tradition," Sengupta writes:
Customs are like meditation—
worthy of unhurried contemplation.
Practice adds to their maturity,
I know servitude is congenital.
The entire book seems to be composed of these rituals, these unhurried aspects of every day, such as a mother's love, a son's words, the patience of Banyan tree, the dampness of ferns, rains and baolis. Sengupta is contemplative in nature and likes to observe; his subjects are not complicated theorems but the algorithms of life around him. He finds in his immediate surroundings the tenderness of reality and its poignancy—the experience of material life and the sensory meditation of its supernatural counterpart.
Rituals gives its readers a pause, a slowness; it makes them examine what lies within and around them, invoking a sense of both nostalgia and pleasure. It is sensory, meditative, tender and sharp at the same time, deceptively philosophical, condensed like pearls, holding centuries of beautiful wisdom. The collection's title is apt, for the poet is practicing a larger ritual here, the ritual of contemplation, gliding through life in meditation, an experience of both sadness and joy swirled into flute-like music.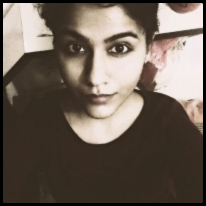 Aakriti Kuntal was a finalist for the RL Poetry Award 2018. Her poems have been featured in Selcouth Station, The Hindu, Madras Courier, Pangolin Review, among other places. She lives in Gurugram, India.