by Liu Waitong, translated from the Chinese by Lucas Klein
REQUIEM
—for Meng Lang, my brother
At the end of a year weary with eulogies
death manages to commission one last letter.
It's so hot, scalded by its own snow
it snows itself down day after day, snows down dirty bandages.
Of our wineglasses, only one in the realm
did not shatter in the blizzard
shiny and towering like an exile.
So at the banquet at which all fathers died
you made wine the head of your family!
When you removed your mendicant kasaya
to reveal a heart blessed by salt
you said, We should be so weary of having a motherland
it doesn't chew, but only swallows.
It doesn't cry, but screams.
Needing no propping up, you rose from your sickbed like crystal
so incisive, so thorough
a thing impossible for the northern swampland to own.
You said, We should be so weary of these hyenas that trail us like shadows.
We are nothing but an inn
gazing at a star.
We are nothing but palms clutching through bones.
12 December, 2018

哀歌
——送孟浪吾兄
厭倦了悼文的一年
死亡仍然發來約稿信。
它那麼熱,被自己的雪燙傷
它日復一日下著自己,下著髒繃帶。
我們的酒杯,全天下的酒杯
在暴雪中只砸剩一個
鋥亮地、屹立著像一個流放者。
然而在父兄全歿的宴會上
當以此酒為大!
當你脫去行腳的袈裟
露出被鹽祝福過的肝膽
你說,我們該有多麼厭倦有一個祖國
它不咀嚼,只是吞嚥。
它不哭泣,只是尖叫。
不須攙扶,你從病榻上升起如一束水晶
那麼鋒利,那麼透徹
是北方的沼澤不可能有的事物。
你說,我們該多麼厭倦那如影隨形的鬣狗。
我們只是在逆旅的客店
久久地觀望一顆星。
我們只是,把骨頭攥出了掌心。
2018.12.12.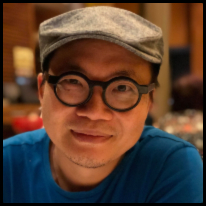 Liu Waitong 廖偉棠 (author) is a poet, writer and photographer. He has been awarded several literary prizes in Hong Kong and Taiwan, including the China Times Literary Award, the United Daily News Award, and the Hong Kong Arts Development Award for Best Artist (Literature). He often receives invitations to participate in local and international literary events, including Poetry International Rotterdam in 2013 and Singapore Writers Festival in 2016. Since his debut in 1995, Waitong has published 13 collections of poetry, including Cherry and Vajra, The Cup of Spring, and Wandering Hong Kong with Spirits. He is also a photographer with several works, such as In Search of Tsangyang Gyatso, Lonely China, Paris: Photos de scène sans titre, and The Darkening Planet.
Lucas Klein (translator) is a father, writer, and translator, as well as assistant professor in the School of Chinese at the University of Hong Kong. His translation Notes on the Mosquito: Selected Poems of Xi Chuan (New Directions) won the 2013 Lucien Stryk Prize, and his scholarship and criticism has appeared in Comparative Literature Studies, LARB, Jacket, CLEAR, PMLA, and other venues. Other publications include October Dedications, his translations of the poetry of Mang Ke (Zephyr Press and Chinese University Press, 2018), and contributions to Li Shangyin (New York Review Books, 2018), as well as the monograph The Organization of Distance: Poetry, Translation, Chineseness (Brill, 2018). His translations of the poetry of Duo Duo, forthcoming from Yale University Press, recently won a PEN/Heim Translation Fund grant. (Photograph of Lucas by Zhai Yongming.)