by Jacky Yuen, translated from the Chinese by Nick Admussen
CLOCK HAND—MOURNING MENG LANG
early 2018
I don't remember the poems we read when we got together
I'm waiting at a bus station that spans many years
outside is an ocean of drizzle and the alarm clock keeps buzzing
nobody has any plan to turn it off
Above the seventieth floor the hawk's style of soaring changes
he needn't fly slow, bending his head to look for food
or engage in any activity whatsoever, he simply attends to flying
from one clock face to another, a bigger or a smaller one
this moment is free, and freedom is never-ending noise
humanity must put up with this sort of harmless recklessness, it comes from us
especially bronze statues, the grander they are the better they're taken care of
when we come hurtling down from the ninetieth floor riding a line of poetry
the ocean of words that describe suffering
a little bone-made boat at the shore
gently pushing a stick of rotted driftwood, and that's it,
the clock hand of the sea
The miasma of rumours has permeated everything
we hold our breaths as we walk down the long hall
Under the pedestrian bridge there is death, like a dog it is hunting
building blocks of blood, they slowly stack into organs
until a human form appears, strange and beautiful
a magnificent hidden chamber
we are both inside it and outside it watching
2017, we are inside an emergency beer
night's fishy smell rouses us
we finally remember light, dark, the nation, car windows and victory
You fan yourself casually, knowing any road will always have a traveler
even if a canal is independent from the ocean, it'll still have our boats on it
you want to leave a place, it's always towards somewhere
in the end it's just earth and people
those people are the clock hand of the earth
Tonight you died, you'll never again ask us for poetry
you won't commemorate those who died inside poems
the waves have receded, countless ravens attack the spirits of eyewitnesses
they hunger and they share their hunger with one another
the witnesses say, as long as I am flesh and blood
I can feed the world, but I have none
and this spirit is useless, it can only watch the world turn
watch the ravens get hungrier and weaker
fly over more oceans, earth, and nations
the whole generation imprisoned
in the bellies of ravens, one light lingering in all dark nights
a stone thrown from the one hundred and eighth floor
does nothing more than float on a black feather
that's the clock hand of the blind regaining their sight
Have you come back or not
your fate was neither haughty nor humble, I can only think of a zebra
breaking into a gallop, the years have ground down into a sort of forever
misery is the background, the road is wet, muddy
we need not look for footprints
even if you seal it all tight, even if you scatter it all
the sky above the one hundred and eighth floor has no fences
no snow piling up against the utility poles, none
tonight's moon is enough to make all of the revolving gears push loose
let's go back to the city and spill out our cup of liquor
an unshakable profusion of buildings, numberless people on the move
and among them, let weeds grow until they look like verses
when the bus finally takes me back to my home in the northern district
what I remember isn't poems
and it isn't a rain that I'm unsure ever existed
what I remember is a translucent zebra
and the wind that kicked up, that's
the clock hand of a life.

時針——悼孟浪
二零一八年初
聚在一起時讀過甚麼詩不記得了
我等在橫跨好多年的車站裡
外面是微雨的海,而鬧鐘一直響著
誰都沒有去碰它的打算
在七十樓以上蒼鷹以另一種形式翱翔
不需要為尋找食物而慢飛,俯首
或經營任何事業,牠只管飛
從一塊鐘面飛向另一塊更大或更小的
此刻自由,而自由是永遠的噪音
人間必須承受這種無害的魯莽,來自我們
尤其銅像,愈偉大的銅像愈被關照
當我們從九十樓乘一行詩句衝下
述說苦難的詞語之海
骨造的小船在岸前
輕輕推著一根死朽的浮木,那就是
大海的時針
謠言之瘴已經浸滿
我們閉氣穿過這長廊
天橋下有死亡像狗搜索
血的積木,牠們緩慢地堆疊著器官
直至出現一些人形,詭異而美麗
一座宏偉的密室
我們同在裡面,又在外面看著
二零一七年,我們在一支緊急的啤酒裡
夜的腥味清醒我們
才記得光暗與國家,車窗與勝利
你隨意地撥扇,知道一條路總必有人去走
一條航道既獨立於海,就有我們的船
要離開某地,並正前往某地
終究還是大地和人
那些人就是,大地的時針
今夜你死了,再也不向我們徵詩
不紀念那群在詩歌裡歿的人
浪退了,無數烏鴉襲向目擊者的靈魂
牠們飢餓並且分享彼此的飢餓
目擊者說,如果我尚有血肉
我可以餵養世界,但是我沒有
而這靈魂無用,只能看著地球轉動
看著烏鴉更加飢餓更加虛弱
飛過更加多的海洋,大地和國家
同時代裡所有人都被囚禁在
烏鴉的胃裡,一盞燈流連所有黑夜
一塊從一百零八樓掉落的石頭
僅僅浮在一片黑色的羽毛上
那是,失明者重光的時針
而你是不是回來了
你的命運是不卑,不亢而我只想到斑馬
起跑了,歲月就磨成了一種永恆
苦難是底色,路既濡濕,泥濘
我們就不必去尋找足印
即管把一切都封好,把一切都散落
一百零八樓以上的天空沒有籬笆
沒有雪積壓著電線桿,沒有
今夜的月光足以把所有運轉中的齒輪推開
回到城市吧我們的一杯酒向下潑去
廣廈千萬,無數人在行走
其中,讓雜草長成詩句的模樣
當公車終於把我接回城北的家中
我記得的不是詩
也不是一場不知是否存在過的雨
我記得的是一匹透明的斑馬
而揚起的風就是
生命的時針。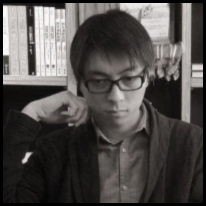 Jacky Yuen熒惑(author) obtained his PhD in Biochemistry (Med) from the Chinese University of Hong Kong, and he currently teaches Biology in a local high school. He has published four poetry collections, including A Fox Looking Back and more recently, A Blueprint of Barren Lands (2018).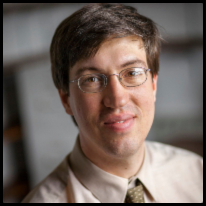 Nick Admussen (translator) is an Assistant Professor of Chinese literature and culture at Cornell University. He is the translator of Floral Mutter by Ya Shi, forthcoming from Zephyr Press, as well as five chapbooks of poetry, most recently Stand Back, Don't Fear the Change, forthcoming from the New Michigan Press. He was a finalist for 2018's National Poetry Series and appeared in Best New Poets 2018.