by Nabina Das
.
War noise is the best noise against
the faltu fears the country must
suffer because Pakistan and Hindustan
are at their old maaramaari.
Meanwhile, we've been asking flowers
to mehko and birds to chehko and yet the sky feels Delhi-dusted. But it is duur-ast,
this feeling peace won't ever
knock at our doors. Suno!
Students are shouting halla bol
at the main roundabouts.
There's a rasta roko so cars cannot run.
Our shopwallahs are busy turning on
the TV, even the teenage chhokra
who sneaks in to buy ciggies, waah waahs
watching war news. Yes, we're so happy
suddenly about gun-shun being cleaned,
bomb-shomb being dropped, teaching
those maa-ki-dot-dot-dot (you know
what we mean) by God ki kasam
the right lesson not to take
pungas with us patriots. It's time.
And someone calls out—Hey, the farmers
have arrived with their grievances
to the ghaas-phoos ministry—what else
do they do but eat grass and vegetate!
Theek hai uncle, have your roti-shoti,
your pickle and onion and take a nap
on the minister's lawn if they
allow you. Here we're discussing war—
our jawans are oiling their rifles
and our airmen are loading
their bomber jets. All this hungama,
high pitched noise, is not tamasha
sirji. Even as we're letting rivers go dry and the pollution (another enemy!) chokefy our sky.
Bhaiyon and behenon,
we just need one more jhatka to show
what makes us the best and mahaan,
what makes us real laals of Hindustan.
.
Nabina Das: There's an early childhood memory I go back to even today, that of my parents having a conversation. For a long time, I thought "actually" was a word in my language. Born of Bengali parents, third generation settlers in Assam, I realised rather late that my parents conversed in Bengali and English, being bilinguals, and often switched codes. For a sentence starting with 'actually', the word blended comfortably with the rest of the syntax. To all this, I added my felicity with Assamese, my second mother tongue. The idea that English was foreign, also was never fostered by my parents, or even by my teachers at the 'English-medium' schools I attended. Hindi was more foreign to me in that respect when I was 10 years old. Now I'm more or less fluent in Hindi—this poem is in that hybrid English, smattered with Hindi words and inflexions, the way I often spoke in Delhi during my university days. Since I speak a few Englishes, this Delhi English (some may call it Hinglish) comes to me sort of as figuring out a power equation—when I try (not) to be angry, opinionated, or on the offensive about ideas, mostly as a woman trying to shake and throw away the cuss words, the hypermasculinity, and the resultant misogyny around me. This English is a version of me who I respect for speaking out loud.
For all practical purposes today, English is organic to my writing. One might recall Chinua Achebe saying—'Let no one be fooled by the fact that we may write in English, for we intend to do unheard of things with it.' I see my relationship with English with a similar sentiment, mainly because we still operate within a postcolonial space, to finally dismantle it.
[RETURN TO AUDITORY CORTEX 2019]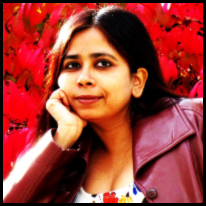 Nabina Das's poems have been published in Poetry, Prairie Schooner, Indian Literature (National Academy of Letters), among many other places. Her third poetry collection and fifth book SANSKARNAMA (Red River, 2017, India) has been mentioned as one of the best poetry books of 2018 (OPEN Magazine). Nabina is a 2017 Sahapedia-UNESCO fellow, a 2012 Charles Wallace creative writing alumna (Stirling University, Scotland), and a 2016 Commonwealth Writers feature correspondent. Born and brought up in Guwahati, Assam, India, Nabina's other poetry collections are Into the Migrant City (Writers Workshop, 2013, India) and Blue Vessel (Les Editions du Zaporogue, 2012, Denmark). Her first novel is Footprints in the Bajra (Cedar Books, 2010, India) and her short fiction volume is titled The House of Twining Roses: Stories of the Mapped and the Unmapped (LiFi Publications, 2014, India). A 2012 Sangam House, a 2011 NYS Summer Writers Institute, and a 2007 Wesleyan Writers Conference creative writing alumna, Nabina writes and translates occasionally in English, Assamese and Bengali. She has been a writer-in-residence at Jawaharlal Nehru University (JNU), has lectured and read in universities in India, the UK and the USA, and is a Creative Writing instructor. She has an MFA in Poetry from Rutgers University (Camden, NJ), an MA in Linguistics from JNU and she has worked in journalism and media for about 10 years. She is also the co-editor of 40 under 40, an anthology of post-globalisation poetry (Poetrywala, 2016, India).