by Melvin Tan
It plummeted. Falling from colourful
stripes, plunging the nation into deep
darkness, in the middle
of a pandemic. When it burned out like
embers, the star became immense in its
suffering. It swallowed
everything in its path. Hundreds,
maybe more, have died, sacrificed in
violence so heavy
only the universe could bear. People
resisted, banging pots and honking horns
to scare away
evil spirits. But peaceful protests turned
deadly as many succumbed
to arrest, torture, killing. There was no
escape from this black hole
that collapsed upon itself. Even singing
songs on TikTok was not spared,
gripping people in fear. But fear couldn't
quell their anger.
They fought. Washing away tear-gas
with Coca-Cola, they fought.
Young men and women stepped up
and hurled back canisters thrown at them.
In the face of death, they flashed the
three-finger salute.
A show of defiance borrowed from
The Hunger Games.
Their fountain of youth spilt blood
and it smelled like trauma.
Yet every loss felt like a victory, rising
against the tyrannical warlord.
Not fazed at all,
people prevailed over the injustice.
Students, office workers, miners;
streaming bloodshed, tainting humanity.
Wielding the power of social media,
they retaliated with every breath.
In the collision,
a new star will emerge.
Melvin Tan: As someone born and raised in a peaceful country, the Myanmar coup hit a raw nerve in me. Watching the news about the uprising devastated me. So I wrote this poem. Using the star on the country's flag as a metaphor, I drew implicit comparisons about how the country is "dying". I illustrated my poem with anecdotes from the streets of sacrifice and fear. Myanmar is no stranger to military coups; what impressed me was the resilience shown. Gen Z hit back with Facebook, Instagram and Twitter, exposing the junta's immoral deeds to the rest of the world. Finally, the poem ends with hope as I believe in a brighter future. Tomorrow will be better.
As a fellow Asian, I have empathy for the people of Myanmar. Cha's special feature "Fight with Words, Write to Power" is the perfect place for a poem that highlights injustice and shows solidarity. Pithy and powerful, poetry gives a voice to those caught in a political crisis. It gives me a chance to "take up arms" and fight with words, to be a rebel with a cause. For this poem, I stayed clear of histrionics and melodrama. I wanted honesty. Nothing is as powerful as the truth.
Published: Tuesday 12 October 2021[RETURN TO WRITE TO POWER]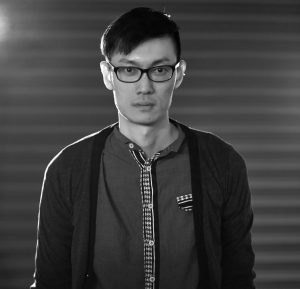 Melvin Tan is a copywriter from Singapore. Years ago, he found himself asking: "After I die, what is the one thing that I want my friends to remember?" Poetry, he decided. He has never looked back. The fact that he never went to university didn't stop him. He taught himself by reading contemporary Singaporean poetry. His poems are featured by Singapore Writers Festival, MINI Singapore, the University of Canberra and others. (Photograph of Melvin Tan © Leon Isaac Lim.)