by Aparna Pathak 
Mother sits on the rope cot in the veranda,
amid the rows of basil and henna,
under the shade of mango tree;
I have seen the tree growing thicker and bigger.
Dad had planted its seed
after gulping the pulp years back.
Mom's old fingers twist, molding the yarn into loops.
While she shapes love, her hairs smell of coconut oil,
that are tied in a bun, with extra needles stuck to keep it intact.
The thin parting in the middle is filled with sindoor. 
Her modus operandi evolves during noon,
when we slide for a nap.
Women from neighbourhood meet then,
with their needles and wool and discuss patterns.
Our dog brings the yarn back to her if it rolls down into the grass.
He knows how to be instrumental in the fondness.
Dad says, his sweater has warmth like none other.
After all it was the first one mom knitted for him.
She stitched a patch of Ganesha on my cashmere sweater
when an ember from the bonfire blistered it.
Excellent with her craft of mending,
in knots and  tangles ,
continuously she is knitting memories.
.
Aparna Pathak: Although my mother tongue is Hindi, I studied in a school where the medium of teaching was English. My father often corrected my pronunciation, and it was because of him I developed a habit of looking into the English dictionary for every new word I used to come across. Studying English at college helped me develop an understanding of human behaviour and their characteristics. English has evolved in India in such a way that people in different states speak it in their own style and accent. Local dialects have influenced their way of speaking English.
[RETURN TO AUDITORY CORTEX 2019]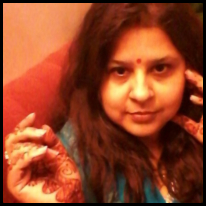 Aparna Pathak is from India. Her work has appeared in Frogpond, The Heron's Nest, The Eunoia Review, Neologism Poetry Journal, among other places. Her achievements include "Haiku Master of the Month", NHK World's Haiku Masters (April 2016 & November 2016); Commended, IAFOR Haiku Awards (2016); Third Place, UHTS Samurai Haibun contest (2016); Shortlisted in Touchstone Awards for Individual Poems (2016); First Place in Sonic Boom Senryu Contest (2018); First Place, "The Maple Relation", Where Tanka Prose Grows Contest, Mandy's Pages (2016); Second Place, Tanka Time Contest, Mandy's Pages (2017); Honorable Mention, Sixth Matsuyama Photo Haiku Contest, Japan; First Prize, "Three Rivers", Fourth Haiku Contest, The Haiku Association (2018); International Shakura Award, Vancouver Cherry Blossoms Haiku (2017). Visit her website for more information.