by Liu Xiaobo, translated from the Chinese by Ming Di
TO MY GRANDFATHER
—after Liu Xia, and on behalf of Xia who has never seen her grandfather
Epigraph: Dear Xia, you've talked to me a great deal about your maternal grandfather, even though you've never met him, you've talked in a way as if you grew up under his wings. But your knowledge of him is limited to the following: he studied at the Beijing Normal College in his early years, participated in the May 4th Movement and was one of the students arrested. Later he became an open-minded gentleman, a county magistrate during the days of the Republic of China, and he managed a farm as well as a school. After 1949, he was oppressed as a "historical counter-revolutionary" and died in solitude in the red prison in the early 1950s. He had four daughters and one son. But none of them ever told you about him, your grandfather, so you hate your mother for that. As a result your grandfather becomes an immortal soul that can never be erased from your mind. Time after time he becomes my grandfather—not genetically but spiritually. I've written to you from prison page after page about our grandfather, and his undying soul has indeed become my ancestor.
I've never met you, grandfather,
nor heard any stories about you
from mother.
Sometimes I would mention you
in front of the whole family intentionally, then
look intensely into mother's eyes
but not knowing what exactly to look for.
You died in the red prison
alone, without drafting a will.
I can't see in mother's eyes
an old man under an osmanthus tree
nor can I see the shadow that
stays in my mind. A shadow lingering.
Grandfather, your cottage is too small to fill
with a living will you want to leave to your grandchildren.
What I can leave you
is my heartbroken crying, eyes bloodshot,
in my dark loneliness. I cry for you and
for my husband in jail. And all I can give you is
my spiritual struggling.
Do you smoke grandfather?
Even if you don't you have to
take a puff with your granddaughter, now.
I'm sure you drink, grandfather,
as there's such strong liquor in my blood,
inherited from you.
Duras, who could be my grandmother and who died
from drinking, wrote poems to me.
She taught me how to write with wine.
Is it your conspiracy with her that
I started drinking at a young age?
Grandfather, don't look so serious.
I can't live up to your staring, not as a soul.
One night when it's dark, so dark as to its transparency,
I will smile for you, cheerfully,
making a big horse face
with elevated expressions
while my gang of ugly baby dolls
pray for your dead soul.
Never mention your past as I'm already tearful
in the mirror.
Forgive me grandpa—
in hopelessness I lean to memories.
My darkness lightens you up
on a stormy night.
There, a dreamy osmanthus tree
stands before the window of your old cottage.
A leaf refuses to stretch out,
shameful of your offspring.
It's a blessing reward from the heaven
that I become your crutches.
If you're wandering in the sky, for real,
I will trim your overgrown fingernails with the wings
of a flying bird.
If you are lying awake under the ground,
the tough stones and moisture of the soil
carry my whisperings.
I want to be an ant or an earthworm
just to get closer to you, an undying soul in a wrongful death.
I know, grandfather, the lyrical lines,
even though ever-lasting through remembering,
may seem too elegant, too timid,
compared to this horrible era.
It's through the familiar iron windows
that I see your hopeful eyes reflecting the tilted images
of your children and grandchildren.
You left us such time—
never filled with tears or regrets—
that becomes a striking void
in the general indifference, avoidance
and forgetting.
Grandfather, have you seen the policemen
around me around the clock?
They know me so well like my own fingers.
They search every corner in my room,
robbing me of almost everything in writing
but they just can't find your will.
The empty darkness belongs to you and me
and your world is richer than mine.
I must take your curses
like a woman must endure monthly pain. I will
safeguard your will and kneel down for my mother
in front of your tomb.
Xiaobo 1997.7.7
[Translator's Note: Liu Xiaobo wrote many poems for Liu Xia in Liu Xia's voice while in prison. And this is a verse letter to Liu Xia's maternal grandfather, Xiang Daguang, one of the eight prominent students in the May 4th Movement who were arrested and jailed. Liu Xiaobo and Xiang Daguang were alumni of the Beijing Normal University, known as Beijing Normal College in the early 20th century. In this poem, Liu Xiaobo imagined an unwritten will that the grandfather would have left behind, possibly implying that he himself was carrying on the wishes in the will to fight for democracy in the 1989 Student Movement, a continuation of the struggle for democracy and political reforms in China. The poem also reveals that Liu Xia was under house arrest as early as in 1997 when Liu Xiaobo was sentenced to three year imprisonment in 1996 for speaking out on Taiwan and Tibetan issues.
This year marks the 30th anniversary of the June 4th massacre of 1989 as well as the 100th anniversary of the May 4th Movement of 1919 when Hu Shi, among others, promoted democracy and New Culture including free verse of vernacular language which Liu Xia and Liu Xiaobo experimented with in their exchange of writings. This particular poem along with the epigraph presents a broader picture of the overall democratic movements in China and brings to light new meanings of the 1989 movement as we look at it today, 30 years later.]


给外公
—晓波模拟刘霞, 给从未见过外公的小霞
题记:亲爱的,你常向我讲起你从未见过的外公,似乎你是在他的双手下长大,但是你对他的了解仅限于:他早年在高师读书,参加过"五·四"运动,是被逮捕的学生之一。后来他成了开明乡绅,做过民国时期的县长,办过农场和学校。四九年后被定为"历史反革命",五十年代初孤独地死于红色监狱中。他外公有四个女儿和一个儿子,但他们从未对你讲过外公,因此你恨自己的母亲。于是,外公成了你心中永远抹不去的亡灵。久而久之,你的外公也就成了我的外公——不是家族遗传上的而是精神血缘上的外公。在监狱里,我给你写了很多关于外公的文字,他的亡灵真成了我的祖先。
外公,我从未见过你
从母亲的口中也听不到
关于你的任何故事
有时,我会故意地
在全家面前提起你
然后紧盯着母亲的双眼
我不知道想看出什么
死于红色监狱中的你
孤独地,没有遗嘱
母亲的眼中看不到
桂花树下的老人
和我的记忆中那道
挥之不去的阴影
外公,这间小屋过于狭窄
盛不下你要留给子孙的遗嘱
我所能给你的
只有在黑暗的孤独中
为你哭红的眼睛
和为监狱中的丈夫
而苦苦挣扎的灵魂
外公,你吸烟吗
即使不吸,此刻也要
陪你的外孙女吸一支
外公,你肯定喝酒
因为在我的血液里
遗传有过浓的酒精
可以作我祖母的杜拉斯
死于酗酒,她给我写过诗
教我如何用酒写作
我从年轻时就开始嗜酒
是否你与她的共谋
外公,别那么严肃地盯着
我的灵魂经不住你的凝视
某个夜晚,黑得透明
我会给你一点点欢笑
做个大马脸
表情尽量地夸张
还有我的一群小丑娃
为你的亡灵祈祷
你千万不要提起往事
镜中的我已泪流满面
原谅我,外公
绝望就是追忆和怀念
风雨如晦的夜晚
我的黑暗为你而明亮
梦中的桂花树
立于你的老屋的窗前
一片不肯伸展的叶子
为你的子孙而羞耻
让我做你拐杖
是上天对我奖赏
如果你真的徘徊在天上
我就用飞鸟的羽翅
为你修剪过长的指甲
如果你还在地下醒着
石头的坚韧和泥土的潮湿
就是我对你的倾诉
为了接近你的冤魂
我愿变成蚂蚁或蚯蚓
外公,我知道
即使怀念中不朽的诗行
与那个恐怖的时代相比
也显得过于优雅过于胆怯
在我熟悉的铁窗口
你的盼望的目光中
倒映着子孙们扭曲的形象
你留下的时间
不曾被泪水和忏悔浸满
却在冷漠和逃避的遗忘中
变成一片刺目的空白
外公,你看见了吗
我的四周有昼夜值班的警察
他们对我了如指掌
抄家时,他们检查过每个角落
几乎把我的字迹劫掠一空
但他们就是找不到你的遗嘱
空旷的黑暗只与你我同在
你的生命比我富有
我必须接受你的诅咒
如同女人必须忍受月经
我会保存好你的遗嘱
代妈妈跪在你的坟前
晓波 1997.7.7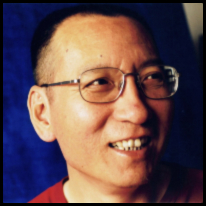 Liu Xiaobo 刘晓波(1955-2017) (author) was a Chinese writer and literary critic. After finishing college in his hometown in northeast China, he went to Beijing Normal University for MA and PhD and became a lecturer there in 1988. He published extensively in the 1980s and went abroad as a visiting scholar. In May 1989, he returned to China from NYC to join in the student movement in Beijing. After the June 4 th crackdown, he was jailed as a "black hand" of the 1989 protest and therefore fired from his teaching job. He was made to confess on national TV about "no killings" at Tiananmen Square, and he spent the rest of his life as a human rights activist making it up for what he "confessed". He was awarded the Nobel Peace Prize in 2010 while in jail again for advocating Charter 08. He died as a political prisoner and his ashes were spread to the ocean.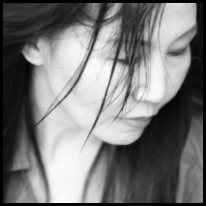 Ming Di (translator) is a Chinese poet with six books of poetry and four in translation including River Merchant's Wife(Marick Press. 2012). She studied English literature in China and linguistics in the United States and taught Chinese at Boston University before moving to California. She edited and co-translated New Cathay: Contemporary Chinese Poetry (Tupelo, 2013) and New Poetry from China 1917-2017 (Black Square, 2019). She received Luce Foundation fellowships in 2013 and 2014. She also translates from English into Chinese, most recent publication being Observations by Marianne Moore (Sichuan Wenyi, 2018). She is the co-translator (with Jennifer Stern) of Liu Xia's Empty Chairs (Graywolf Press).