by Meng Lang, translated from the Chinese by Anne Henochowicz
TO CHINA, TO THE BYSTANDERS
—Notice of Death, 13 July 13 2017

Death shrieks by
he is faster, driving out
death shrieking by!
The bystanders shock awake
hearts racing on the high-speed train
non-stop Shenyang to Beijing
the sunset shouldering a reluctant China.
Ah, the sunset's a riot like rain
it throws itself in
it can't be the sea
if they threw him in
the sea would surge up and cloud the sky. 

Speed pursuing speed
no one is watching
they're all running wild in their hearts
they all sigh towers of fire. 

Death shrieks by
one falls
so that you may bring yourselves back to life!
(July 14 2017, 3:20 a.m.)
致中國人,致旁觀者
    —2017年7月13日死亡注記    
死亡呼嘯而過
他的速度更快,驅趕著
死亡呼嘯而過!
旁觀的人驚覺
內心飛馳高速列車
瀋陽不停北京
落日扛著勉強一個中國。
啊,落日繽紛如雨
把自己投放進去的
不會是大海
如果投放了他
大海濺起遮天雲朵。
速度,追逐著速度
沒有旁觀者
都在心中狂奔
都是長歎沖天的怒火。
死亡呼嘯而過
倒下了一個他
讓你們可以把自己救活!

(2017.7.14  3:20 a.m.)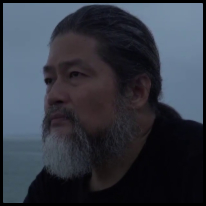 Meng Lang孟浪(1961-2018) (author) joined China's underground poetry scene in his native Shanghai during the 1980s. Under increasing pressure from the state for his involvement with both the artistic and political avant-garde, he left China in 1995 to become Writer in Residence at Brown University. Meng Lang went on to co-found the Independent Chinese PEN Center and to publish over ten collections of poetry.
 Dedicating his life to the pursuit of freedom and democracy, he was instrumental in planning annual commemorations of the Tiananmen Square Massacre in the US and Hong Kong.
Anne Henochowicz (translator) is an executive editor at the LARB China Channel and the former translations editor at China Digital Times. She has previously translated work by Gui Minhai, Tang Danhong, and Li Jingrui.