by Ralph Fonte 
Sayang [1], hindi sayang
sa atin ang pagsinta kahit [2]
saya rindu kamu [3]
because hearing Bahasa—language
shall we say from where:
Nusantara, Malaya,
your breath—I remember that you are almost
as close as the soil upon which I stand.
Wasn't this tongue once
the wind whistling in Panay and Melaka,
the song of waves between Tondo and Johor?
I hear it in your voice pressed upon my ear
when I think of your lips and remember
the lion city. Deep are the roots of longing
here; when distance blooms, the scent
of ilang-ilang [4] suffuses into the north wind.
Kamu merajuk [5] when distance is a tide
that closes in, so I taste the expanse
between us in my mouth, translating how we are
apart
into a language I can understand: nagtatampo ka. [6]
Haluhalo. Ais Kacang.
Manja. Pakyut.
Cinta. Sinta. You.
The earth glows in moonlight.
Tell me, sayang, how do you speak
when you speak of longing?
Lumbay natin ay isalin [7]
ang let me understand
desire.
Notes:
[1] One of the many meanings of "sayang" in Bahasa Melayu is "darling" or "dear." The word also exists in Tagalog as a cognate; the shared meaning of 1 the word in both Tagalog and Malay is "waste" or "regret."
[2] "Darling, love is not wasted on us even though" [Tagalog, first two lines]
[3] I miss you [Malay]
[4] Cananga odorata
[5] "You sulk." [Malay] Merajuk refers to a behavior in which a person withdraws his or her affection or cheerfulness from a person who has hurt his or her 5 feelings; this can be a playful act meant to elicit more affection for the one who sulks. In tagalog, "nagatampo ka"
[6] "You sulk." [Tagalog]. The Tagalog equivalent of "kamu merajuk"
[7] Translate our loneliness
.
Ralph Fonte: I write in English when the words come, a sudden flourish of words, a turn of phrase, a sentence at the cusp of becoming. Tagalog is my mother tongue and at times the world manifests itself to me in this language, so liquid and foreign. How can it not when we are first taught wonder in this strange tongue—the shape of stories, the science of stars. This is what most people don't know about children in the Philippines: that we are taught to remember the way the world tastes in English—Philippine Eagle, Coral Reef, Nimbus Cloud—and so we forget its savour—Banog, Gasang, Panganorin—in our own savage tongue.
Once, I fell for the luscious liquid lilt of English. But even more than that, English has, for me, collapsed the vastness of the world. It was English that first opened the world of letters to me, from poems to tales, Camus, Rizal, Murakami, Rilke, and Szymborska sharing one language. It is also through English that I have shared evenings and stories with people from different continents. I have beheld the world—Donetsk, Sapporo, Sao Paolo—through English. And yet for all its gifts, I harbour a certain resentment towards English.
In an elementary school in Marikina, a sign reads: "Wanna be smart? Speak English." It's true. In my country, a land of over a hundred Austronesian tongues, we keep knowledge encased in English. I ask my colleague the Tagalog word for clavicle, for pancreas, for iris and they shrug; after all, what use have we for these words—balagat, lapay, balintataw—when we learn of bodies and illness as doctors in English. Lawyers give lectures in English on TV regarding our laws written in English. As if thought can only exist in this mysterious tongue. In a jeepney, a Filipino mother introduces the world to her young son—cloud, waterfall, sky.
Once, a writer asked his class—if we do not write in our native languages, who will? Silence. Murmurs in English. No one remembers the word for "tuck in." I decide to write primarily in Tagalog. Somewhere, a child beholds his body and names its parts—skin, heart, soul—and unspeaks puso, unspeaks diwa.
[RETURN TO AUDITORY CORTEX 2019]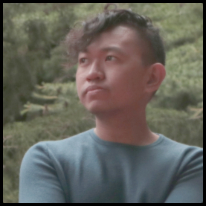 Ralph Fonte is a poet, physician, and outdoorsman. He primarily writes in Tagalog, his mother tongue. His poetry collection Sa Mga Guho Bago ang Gunaw won first runner-up in the Maningning Miclat Poetry Awards 2017. In April 2019, he was named the first Tanghal-Makata ng Taon at the Performatura Literary Festival. He has also been invited to perform his poetry at various literary festivals in the Philippines, Singapore, and Malaysia. He currently works as a research assistant for the National Institutes of Health. He'll reach the Seven Summits one day.