by Pitambar Naik
Her absence is glued with carbon nucleic acid
a kind of viciousness in centipedes' perjury
that's almost macabre even from a hundred kilometers
in the date palm's neurology, her absence peeps
via the ovum and sultry of fraudulent psychosis.
Her last mail was a half glass of wine
the last line in it was—
if you like, you write to me to the c/o address
so that the envelop would straightaway hit my heart
her last dress was a pair of Panjabi shalwar and kurtee
embroidered with the Pakistani melancholy
her absence is 2-liner poetry folded in
a Telugu langabunni and burrakatha!
Her absence may not be an incantation of horoscope
Or an inscribed tablet of nudity of Ellora
in spam mail a desert of thunderstorm yells
a flood of delivery of gratitude fabulously wrapped in pointillism
her absence is an essence now of the pain
and a city of bougainvillea's frustration
the structure of her lips shames mars
this is just the tip of the iceberg—her absence!
Glossary:
shalwar and kurtee – a dress for women in India
langabunni – a petticoat-type dress for women in Andhra Pradesh
burrakatha – a folk dance and storytelling method
.
Pitambar Naik: As a child born to a poor farmer in one of the most backward districts in India, I had zero privilege. I never went to a convent school where English was the medium of instruction. I probably learnt the English alphabet when I was 9 or 10, and English was a second language for us. Like other underprivileged children I studied in Oriya (mother tongue) medium up to 10th Grade. But when I went to 11th Grade I realised the importance of English. It was during that time I became industrious in learning the language. Since then English has been the only language that fascinates me. I started reading great writers like Geoffrey Chaucer, John Milton, John Donne, Charles Dickens, William Blake, Ezra Pound etc. I fell in love with English and decided to study English Literature but unfortunately I wasn't offered a college place in the subject as I performed poorly in the subject in 12th Grade. So I graduated with a BA with Political Science honours. A few years after my graduation we went over to Christianity and then I had a chance to go to the theological seminary for my Bachelor of Divinity studies at Mennonite Brethren Centenary Bible College, Shamshabad, affiliated to Serampore University; this was the turning point in my life which metamorphosed me in every sense. However, it was only while studying my MA Journalism (2013) in Osmania University, Hyderabad, that I started writing in English. Now I've been published by some of the finest magazines across 10 countries and I've a book of poetry The Anatomy of Solitude (Hawakal, Kolkata, 2019) and I am also working on two more manuscripts.
[RETURN TO AUDITORY CORTEX 2019]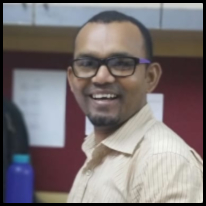 Pitambar Naik is a poet and writer from Western Odisha in India. He was long-listed for the Rhythm Divine Poetry Chapbook Contest 2018. He has a book of poetry, The Anatomy of Solitude (Hawakal Publishers, Kolkata-2019) and he is working on two more manuscripts. His work is forthcoming in Queer Poetry of South Asia: HarperCollins India, Eclectica Magazine, Stag Hill Literary Journal and has appeared in Voice & Verse Poetry Magazine, The Punch Magazine, Vayavya, Moon Child Magazine, Literary Orphans, Ethos Literary Journal, and Best Indian Poetry, among other places.