by Lorenzo Andolfatto
Fashion cycles brought the Eighties back
And dress the Chinese exchange
Students like Tiananmen intellectuals
Perched in exile, escaped
From the caterpillary tanks
Patrolling Chang'an Avenue
Under the dimension-less sky
Of late spring Beijing.
But it's almost winter here
(The leaves yellowed on the branches)
And the students oblivious
As they act and impersonate
With baffling suspension
Of ironic detachment, disbelief
The once iconoclastic icons
Of revolutionary memory.
Huddled in non-revolutionary
Cliques behind metal frames
Of round retro glasses
And weathered leather bags,
They smoke cigarettes and sip
Mandatory coffee while
Waiting for classes to start
Of the transcultural kind.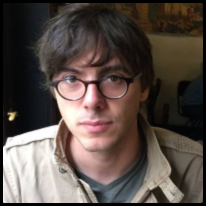 Lorenzo Andolfatto received his PhD in Asian and Transcultural Studies from the Ca' Foscari University of Venice and the Jean Moulin Lyon-3 University of Lyon, and is currently a research fellow at Heidelberg University. His research interests include early-modern Chinese literature, comparative literature, and translation, with a focus on utopian writing and science fiction. He is the author of Hundred Days' Literature: Chinese Utopian Fiction at the End of Empire, 1902–1910 (Leiden: Brill, 2019). He is also a translator of Chinese fiction, a copy editor at Asymptote, and a regular contributor at Popula.