by Liu Waitong, translated from the Chinese by Lucas Klein
TOMORROW THERE WILL BE MORE DEATHS TO KILL THE DEATHS OF TODAY
1
After we died
they missed
ten thousand chances to save us.
After we died
they stood at attention like autumn eyeballs
sliced open in silence, ten thousand of
my remains.
Today there are more deaths to numb the deaths of yesterday.
Yesterday, jammed bullets
shot out hands that stifle screams.
Every year on the birthday of the late born children
they steal a bicycle.
At thirty, their coming-of-age ritual is still not over.
Good night, China
Tomorrow there will be more deaths to kill the deaths of today.
Good night, China
It was you who hid the key
you who forgot yourself in the end
getting lost in some corner of the map.
2
After thirty years of talking about it,
the dead have finally taken this city south.
After thirty years of reformation
the scene of the incident was taken south and turned into this city.
So let Beijing empty out its map again
we bear the thunderbolt that shouldn't be borne.
End once more this puberty on a bicycle
extinguish your cell phone, the spectral singer is the sound of your navigator.
The tea bag was steeped until the table was covered in blood
one stray bullet was pulled out and placed in the center of a plate.
The time for afternoon tea is over!
We are still being licked by twilight, but are poisonous.
3
The tanks slump
We will bloom a black flower
and proclaim: we are innocent, and refuse to wither
our linked arms are not crying for help
we slice open the buds of death
and out from its womb will pull ourselves.
The square is renamed
no need for passersby to cry at night
a white fish candle fell over and burned up a scroll of the Song of Songs.
Our quicksilver dance moves are not in mourning
our births only have to do with life
bringing wandering ghosts into the ranks of birth.
Good night, Hong Kong
All the curtains yet to be raised will be raised
All unfinished goodbyes will be completed.
Good night, Hong Kong!
On this train skipping stations, we are all passengers
no more holding the handrail, as our hands are full of explosives.
Yesterday has no ashes, leave them for tomorrow's hunger.
24–28 May, 2019

明天會有更多的死亡來殺死今天的死亡
1
我們死去後
他們錯過了
一萬多次拯救我們的機會。
我們死去後
他們肅立像秋天的眼球
靜靜剖開,一萬多具
我的遺體。
今天有更多的死亡去麻醉昨天的死亡。
昨天,子彈卡殼
射出的是那隻摀住尖叫的手。
晚生的孩子每一年生日
他們都去偷掉一輛自行車。
三十歲,他們的成人禮遠沒結束。
晚安,中國
明天會有更多的死亡來殺死今天的死亡。
晚安,中國
是你自己藏起了鑰匙
最後自己也忘記了自己
走失在地圖的哪個角落。
2
經過三十年的念叨
死者終於全部南下這個城市。
經過三十年的改造
事發地點也終於南下變成這個城市。
就讓北京再次清空它的地圖
我們承受這不應該承受的霹靂。
再次結束自行車上的青春期
熄掉你的手機,那導航聲音是幽靈歌者。
茶包反覆浸泡直至餐桌佈滿血跡
一顆流彈取出置放在碟子正中。
下午茶時間過去了!
我們依舊被暮色舔舐,但我們有毒。
3
坦克疲軟
我們要開一枝黑色花
宣告:我們無罪,拒絕凋謝。
我們齊刷刷的手臂不是在呼救
我們剖開死亡的苞蕾
從子宮掏出自己。
廣場更名
不必有過路人夜哭
白魚蠟燭倒下燃燒了一卷雅歌。
我們水銀瀉地的舞姿不是在哀悼
我們的生只和生命有關
並把遊魂接進生的行列。
晚安,香港
所有未掀起的帷幕都將掀起
所有未結束的告別都將結束。
晚安,香港!
飛站的列車,我們都是乘客
不再抓穩扶手,因為雙手都拎滿炸藥。
昨天沒有骨灰,留給明天的飢餓。
2019.5.24–28.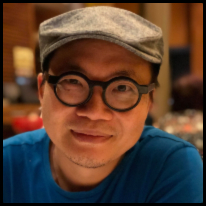 Liu Waitong 廖偉棠 (author) is a poet, writer and photographer. He has been awarded several literary prizes in Hong Kong and Taiwan, including the China Times Literary Award, the United Daily News Award, and the Hong Kong Arts Development Award for Best Artist (Literature). He often receives invitations to participate in local and international literary events, including Poetry International Rotterdam in 2013 and Singapore Writers Festival in 2016. Since his debut in 1995, Waitong has published 13 collections of poetry, including Cherry and Vajra, The Cup of Spring, and Wandering Hong Kong with Spirits. He is also a photographer with several works, such as In Search of Tsangyang Gyatso, Lonely China, Paris: Photos de scène sans titre, and The Darkening Planet.
Lucas Klein (translator) is a father, writer, and translator, as well as assistant professor in the School of Chinese at the University of Hong Kong. His translation Notes on the Mosquito: Selected Poems of Xi Chuan (New Directions) won the 2013 Lucien Stryk Prize, and his scholarship and criticism has appeared in Comparative Literature Studies, LARB, Jacket, CLEAR, PMLA, and other venues. Other publications include October Dedications, his translations of the poetry of Mang Ke (Zephyr Press and Chinese University Press, 2018), and contributions to Li Shangyin (New York Review Books, 2018), as well as the monograph The Organization of Distance: Poetry, Translation, Chineseness (Brill, 2018). His translations of the poetry of Duo Duo, forthcoming from Yale University Press, recently won a PEN/Heim Translation Fund grant. (Photograph of Lucas by Zhai Yongming.)