by Hoi Leung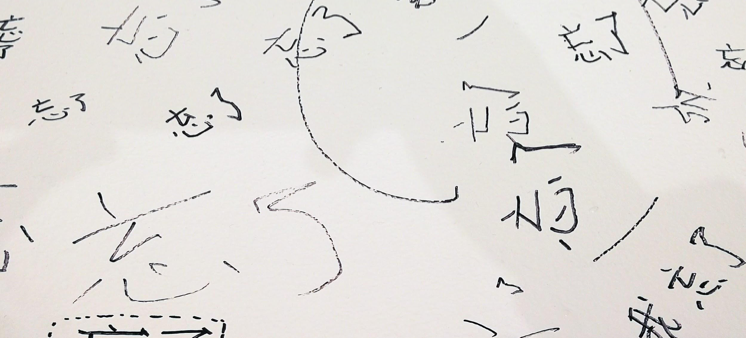 Task of Remembrance as both a literal and metaphorical anniversary lends itself to exploring the complexity, gravity, and responsibility of remembering, such as in faulty recording devices, systems of erasure, complicity in forgetting and emotional resilience. In this exhibition and programming series, the Chinese Culture Centre of San Francisco invited projects from artists, an art collective and an arts organisation that materialise the act of remembering as an agent to address remembrance and its shortcomings. Memories of global and local transformation such as the fall of the Berlin Wall, the Tiananmen Square Massacre and the Loma Prieta Earthquake bring forth a diasporic perspective on the continuing resonance of 1989 and its relation to contemporary practices. These voices are not isolated, but rather serve as a point of departure in addressing the act of remembering in our current geopolitical contexts.
For example, one project, "Earthquake Weather" by Bay Area artist Jenifer Wofford, captures an extraordinary moment demonstrative of the physical, psychological and cultural rupture from 1989 to the present day based on the Loma Prieta Earthquake. A project by Yan Jun, a Beijing artist, explores the deficiencies in bodies and machines that record; the pieces' own making and unmaking fill the imagination of what the void represents. Bay Area artist and scholar Tina Takemoto excavates queer spaces within Japanese American history and Tiananmen Square through the aesthetic repurposing of archival footage, while Bay Area artist Stella Zhang reopens a suspended memory from June 4, 1989, through working with materials sourced from personal trauma, rendering the relationship of loss and the need for contemplation and healing through a creative process. Acknowledging artistic production is imperative to the survival of stories and memories. This essay details three works from "Task of Remembrance" that focus on June 4, 1989.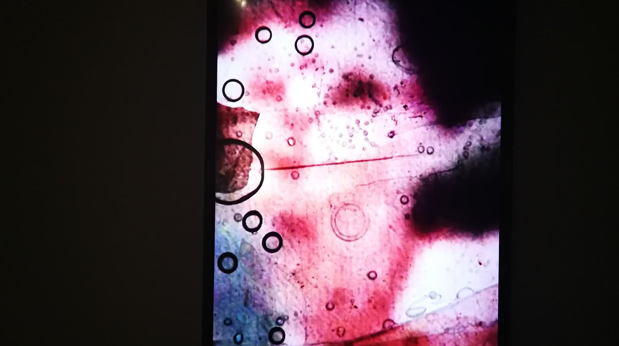 Tina Takemoto, a Japanese American filmmaker and scholar, contributes to the exhibition an experimental film titled "May 35" (2019). Tina Takemoto is an artist and visual studies scholar whose work explores issues of race, illness, queer identity, memory and grief. Takemoto's practice explores same-sex intimacy and queer sexuality among the Japanese Americans incarcerated by the US government during World War II. In a newly commissioned artwork, "May 35," Takemoto's vertical experimental film work shows flashes of red, widened gazes and anonymous faces in a large crowd. In this piece, Takemoto selected a singular image from the 1989 Tiananmen Square protests, reproduced onto different surfaces, then lifted and transferred the image onto a strip of 16mm film. The resulting image is transmogrified, abstract and alludes to a violent rendering in its mutation. Impressions of the photograph are brief and stillness is momentary; with only a few frames per second, the paced work carries an emotional blight.
The title "May 35" is a subversion of Internet censorship, and to some degree, a distancing from a presumably faraway memory within a diasporic Asian body. Yu Hua, in the New York Times column "The Spirit of May 35th" writes, "I have the fictional form to thank, science fiction is not overtly political and by its nature lends itself to May 35th turns of phrase," in a discussion around the usage of May 35—amongst other coded terms for June 4—as a euphemism resulting in a state of mind. For "May 35," there is implicit violence that rests in the uncertainty of whether or not these bodies depicted were killed, thus the stillness of the fleeting moments are implicated. This commissioned piece is viewed in juxtaposition with Takemoto's in-depth research into the invisible and unspeakable moments of the past, furthering in dialogue with Japanese American internment history to reflect on the government in its failure to recognise the people it serves. Takemoto's natural development into an analog filmic form in service of repurposing found images and footage is a reflection of her task to surface lost history upon forgotten imageries.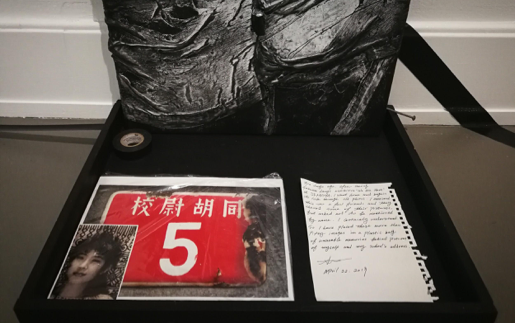 For Stella Zhang, whose work "Sealed Memory" (2019) occupies the large back wall of the gallery, memories of June 4 are much more potent. Zhang was a senior at the Central Academy of Fine Art (CAFA) in Beijing when the Tiananmen Square Protests began. Zhang described that it was an especially youthful, hopeful and freeing time for young women in China. She took pride in making her own clothes—two pieces of which she has kept since 1989. Like thousands of other students at or around Tiananmen Square at the time, Zhang witnessed the unspeakable effects of military forces and gunshots, fear and bodies, followed by systemic silencing and censorship. Her work in the exhibit consists of a floor to ceiling installation consisting predominantly of black tape, two canvases painted and wrapped with shirts, scissor parts, nails, and other raw materials, such as brick, dirt and metal. Its unfinished quality seems brash, emotional and spontaneous and fully intentional in parts where the black tape serves as a device to both obscure and render visible, as censorship does. For Zhang, Tiananmen occupies a psychological space that is both hard to forget and also difficult to remember.
The two pieces of clothing, while symbolic of a moment in time in its indexical qualities, also attribute to Zhang's body in transit and memory in suspense. Stella moved to Japan shortly after 1990 and eventually to the U.S. in 2000. She only revisited the two pieces of clothing thirty years later, upon the invitation to submit work for "Task of Remembrance." When she returned to the items, she was not in fully aware of what fate the clothing or her body would hold. In contrast with Zhang's previous decade of artistic pursuit in awakenings of female subjectivity and aesthetic pursuit, where female agency permeates a freeform space, "Seal Memory" is repressed, in suspense, constricted and apprehensive. Just days before the exhibition opening on April 27, 2019, Zhang began soliciting photographs and images from the protest by her classmates from CAFA through WeChat, only to be asked that these images be downloaded and deleted immediately and to be sealed within a plastic cover. Within this confinement of information, the only photographs visible are ones Zhang contributed—an image of herself and an image of the college's address. Perhaps, the work reclaims a small moment of feeling the conciliation that was deprived, censored and forcefully forgotten thirty years ago.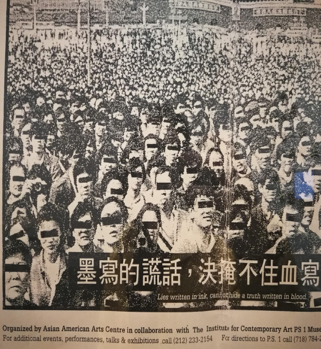 The exhibition also includes an archive of ephemera from the Asian American Arts Centre (AAAC). The AAAC is a non-profit community arts organisation that was founded in 1974 in New York to address the distinctive concerns of Asian Americans in the United States. The Arts Centre utilises performance, exhibitions and public education to present and interpret the ongoing synthesis of contemporary American and Asian art forms. Executive director Robert Lee describes in an interview conducted for the exhibition that "for Asian Americans, the Task of Remembrance is dwarfed by the Task of Forgetting. Most if not all immigrants are expected to become Americans, adapt, change, address conditions, the realities and imperatives of being and surviving here." In an immediate response to the June 4 Massacre in 1989, the Asian American Arts Centre responded in an artist open-call and a public statement dated June 8, 1989. Lee, alongside other artists and activists, began to participate in marches and protest in solidarity with the students in Tiananmen Square. A replica of the Goddess of Democracy statue was erected and carried on the back of a pickup truck and marched through the streets of New York City—from Chinatown to the United Nations.
In a resilient and collected effort, the public statement resulted in works being submitted by hundreds of artists, shown at the initial "CHINA: June 4, 1989" exhibition, first mounted at AAAC from June 9 to September 30, 1989. The exhibition then travelled to Blum Helman Warehouse, where it was shown from October 12 to November 12, 1989. Over the course of the past thirty years, the "CHINA: June 4, 1989" project has continued through commemorative programmes and travelling exhibitions with the purpose of preserving this historical moment through art. As well the exhibition, the AAAC has maintained a collection of over 130 works responding to June 4. Earlier this year, in March 2019, the AAAC announced that it had decided to hand over more than a hundred "CHINA: June 4, 1989" artworks in its collection to Humanitarian China, Los Angeles. For "Task of Remembrance," the AAAC displayed a range of posters, postcards, newsletters, printed booklets, masks, pins and archival images.
The culmination of the three projects, in both intent and scope, facilitate and further the dialogue on the responsibility, the capability and the failures of memory in relation to both global and lived experiences of trauma. The intensive silencing and violent erasure of the Tiananmen Square Massacre by the Chinese Government over the past thirty years, in particular, corporealises a disconcerting framework in which the psyches of individuals and their community are distorted to fit the motivations and agenda of a more powerful institution. In retaliation, "May 35," "Sealed Memory" and the archive of protest art by the AAAC serve as means of destabilising and undermining efforts to keep the framework of suppression intact by realising a greater historical consciousness.
As a diasporic organisation, these themes of remembrance are particularly relevant to our community, many of whom come from migrant and multigenerational immigrant families whose cultural transmissions might be similarly described as a task of remembrance. This exhibition will allow us to create entry points to a theme that can be uncomfortable to some in the community if the historic context that seeded it is not presented with nuance and thoughtfulness. From here, the task of remembrance is handed off to the exhibition's audience—what can we do to move forward?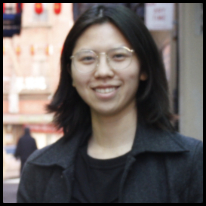 Hoi Leung is an artist and curator based in San Francisco. Graduated from UCLA in 2017, Hoi is currently a curator at the Chinese Culture Center of San Francisco. She manages 41 Ross, a community art space and interactive studio that promotes dialogue, appreciation, and creative engagement around the local culture practice by everyday people in Chinatown. Hoi's recent curatorial projects include Infinite Cycle (2018) and Womxn, Omen, Wǒmén in Chinatown (2018). As an artist, Hoi has exhibited both locally and internationally including SOMArts Cultural Center (Bay Area), K11 Art Foundation (Hong Kong), and the Central Academy of Fine Arts Museum (Beijing).