by Boshun Chan, translated from the Chinese by Felix Lo, Stephanie Leung and Garfield Chow
The excerpt is translated into English from Chapter 3 of Love Lyrics of the Sinking Isle 沒島戀曲, by Boshun Chan陳寶珣. It is the first published Chinese novel set against the backdrop of the 2014 Umbrella Movement in Hong Kong. The novel captures the fragmented subjectivities of Hongkongers through a cacophony of narratives from various fictional characters. By depicting the conflicts on multiple levels among various individuals, it presents the historical contingencies within the Umbrella Movement. It also offers a way of reimagining this event beyond media reportage, journalistic documentation, and social commentaries.
Love Lyrics of the Sinking Isle is characterised by lexical eccentricities, ambiguous syntax, local references and most intriguingly a blend of colloquial Cantonese and written Chinese, both erratically played with to defamiliarising effects. Through a strange reinvention of written Chinese and an idiosyncratic adaptation of Cantonese to the form of prose, the novel does not only confound the boundaries between the two Sinitic languages, but also the grammar of these languages themselves. This stylistically incongruous and erratic language proves the utmost challenge for our translation. To do the text justice, we settle wherever possible for a more foreignised form of English that may reject native naturalness in the hopes of communicating a strangeness as befits the untamed singularities of this novel's voices.
—Co-translators' notes
■
3
928
Probably the day for firework, smoke suddenly drifting over here? No, swooping over. A hand yanked me against the wind, but the wind chased us around and kept sweeping me to the other side. Ahead of us were legions of people in white uniform and white mask. Only when I walked closer could I see more clearly that those weren't masks. They had no face. One and another patch of empty skin, robbed clean of eyes, ears, mouth, nose, all the facial features and senses. Where the organs should've been is a smooth and sleek slate — even, porous, subtle, and elastic. I'd been scared before so I no longer was. I let them split the crowd up and scatter them away. I dreamed of this in a dream; the smoke wasn't beautiful, nor was it vicious, smelling like soured mustard, mixed with the white clothing and white faces. I did cry. Yellow pennants fluttered everywhere. Like a grand funeral.
I wanted to shout to a halt whoever was scampering. Going where? It was called to a stop, the entire body drenched in sweat of fear.
That moment, I was afraid of nothing. Strange. Why not? Why scared? I grabbed whoever's arm, and led it on purposelessly. There was a tremendous force, like a lost and bewildered beast that had been running wild inside of me. It screamed and bolted, to hunt or to avoid being hunted. Anyway, my Little Beast had broken loose. I hadn't known it well, but it was mine. We'd take care of each other's hair, rush into the deep recess of the forest with all we'd got, embrace the tremendous changes, and nestle together through the white wintry days.
Yet, in my dream I might have woken it. It cried. It had its own nightmares. In reincarnation, it was destined to become a qilin [1]; it said it didn't want to, that it was the vice of animals, the object of curse for a thousand years, a fate unbreakable by however many reincarnations. It'd rather lead me running through the borderless mountains. I said I'd be happy with that. Its sob broke into a smile.
Thunders. That fierce flavour of the sky that was about to rupture. To merely think of it makes the chest tight. Like a forest, unknowns everywhere. To act or to await. What order is to be reestablished? A forest with a new order and new species? I asked my small beast. It said it wouldn't be dangerous. But how? It didn't go on. Actually, it didn't know anything at all.
I wake up under the umbrella. That umbrella of the Umbrella Man blocks the final, slanted rays of the sun, sheltering me in dreams. The evening is about to come. People begin to gather. I look around.
This dangerous land in dreams, I realise I've suddenly fallen in love with. My fathers, mothers, brothers, classmates, and neighbours, as well as the streets, the city, and the schools, even those of the people who disagree with me. And also the police, the mob, the blue ribboners [2], and the triad. Whoever are plotting to hurt us I have all strangely fallen in love with. I've grown to care about their words, their behaviour, and their atrocity. The flesh-and-blood bodies they heavily pound and trample on are those of their fathers, mothers, brothers, classmates, and neighbours — upright and kind bodies. They are committing crimes, but be that as it may, I strangely and stubbornly want them to have my love. Before everything vanishes, I'll only ever more deeply love what exists, be it ugly or evil. I just feel that way.
Seated under the umbrella, Little Beast and I have become even more at peace. The figure of the Umbrella Man is robust, its limbs joined together from wood, like trees. The yellow umbrella opens into a shade, where I sit underneath.
There is not much garnish to those rectangular pieces of wood. Good enough that they stick together, one piece and another. Same for the colorful sticky notes on the wall. Same for the citizens that are walking or sitting. One and another. So the panic perishes.
'Future?' Little Beast asks me.
It makes me laugh.
Future? Falling down, vanishing, returning to sawdust, to soil.
Listening, Little Beast weeps again. I don't. What a meddler and crybaby this little beast is.
'Tired?' Wai fetches me a drink.
'Alright.' I answer them.
Before us, Siu Ma cycles around the Umbrella Man. Tonight will probably be peaceful.
'Siu Fa Shan, come, sit here. Let me take you around?' Siu Ma stops his bike in front of me. This is a good idea.

三
九二八
是放煙花的日子吧,煙一下飄過來了?不,撲過來,有隻手一把扯我走向逆風處,可風一直追着人轉,只管一味趕我走向另一方,前面是整列穿白色製服,帶白色面具的人,我走近才看得清楚,根本不是面具,他們原來都沒有面孔,一張張掛起來的空着的臉皮,眼耳口鼻五官六感,通通被偷空了,原該長出五官的地方,光有滑滑的一大片,毛孔臉皮平整細膩富有彈性。我驚過了也不再驚,由得他們把人們隔開,趕遠趕散,我在夢中夢到了這些,煙也不美麗,也不惡毒,味道像變酸發臭的芥末,和白衣白臉混成一片,我確實哭了,四圍黃幡飄飄,像一場盛大的送葬。
我想喊停在疾走中的誰,到底要跑到哪?牠被我叫住,一身驚汗淋漓。
那一刻我甚麼也不怕,奇怪,為甚麼不怕呢?有甚麼可怕呢?我一把捉住那個誰的手臂,帶牠無目的地續走,有股很大的力,像有一頭一直埋藏在體內的、走失了的小獸,牠吶喊奔跑,去捕捉或逃過被捕捉,總之我的小獸跑出來了,我還不怎樣認識牠,但是牠是我的小獸,我們會互相看護對方的毛髮,盡力向森林深處奔跑,迎接巨變,靠在一起捱過白色的冬日。
不過,夢中的我大概吵醒了在夢中的牠,牠哭了,牠有牠的惡夢,牠輪迴中註定要變成一隻麒麟,牠說牠不要變成麒麟,這是動物的惡,是千年的物咒,多少次輪迴都不可能翻身,牠情願領着我在沒有國界的山巒中奔跑,我說我樂意呀,牠於是破涕為笑。
打雷了,天要裂開來的那股凶狠味道,想着都覺胸口翳悶。森林般,到處的不可知,行動或是等待,重新建立,是一種甚麼秩序?一個有着全新秩序的、新生物種的森林?我問我的小獸,牠說不危險,可怎麼會呢?牠沒有說下去,其實牠甚麼都不知道。
我在傘下醒來,那張「舉傘金人」的大傘把偏斜的太陽餘光擋走,遮蔭剛好將夢中的我護好,黃昏馬上要來,到處人多了,我環顧四周。
這片夢中的危險之地,我只覺都忽然愛上了,父母弟兄同學鄰里,街道城市學校,就連不同意我的那些人的父母弟兄同學鄰里,他們的街道城市學校,還有警察暴民藍絲黑社會,各種各樣在想方設法傷害我們的人,我奇怪地都一律愛上了,為他們那些言詞,行為和暴戾而着緊,他們在重手捶打的,大力踩踏的肉身,都是他們的父母弟兄同學鄰里的肉身,都是正直善良的肉身,他們在犯罪,雖然是這樣,我奇怪又偏執地希望他們得到我的愛,在一切消失之前,會加倍深愛仍然存在着的,醜也好惡也好,我就有這樣的感覺。
坐在這傘下,小獸和我都愈變得平和, 「舉傘金人」線條實在而粗糙,由木塊砌成的肢幹,像樹,打開的黃傘便是蔭,我就坐在下面。
那些方方正正的小木塊,也不矯飾加工,只是一塊一塊,安安靜靜靠在一起便好,牆上寫滿語句的彩紙也一樣,坐或在地上走動着的公民都一樣,一個個靠着,於是驚慌沒有了。
「未來呢?」小獸問我。
牠逗得我笑了。
未來?倒下、消失、還原成木屑、成土。
小獸聽着,又再哭了,我卻沒有,這真是一頭問題多多而且愛哭的小獸。
「累了?」慧替我拿了飲品。
「還好呢。」我回答了他們。
小馬在我們面前騎單車繞着舉傘人轉圈,今晚應該是平靜的。
「小花傘,來,坐上來,帶妳到處遊一轉?」小馬把車停在我前面,這倒是個好主意。
emies."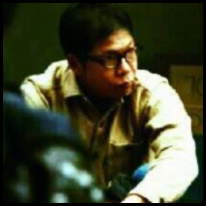 Boshun Chan (author) is a former TV documentary director. His novels include Love Lyrics of the Sinking Isle 沒島戀曲, published in 2015, and Shooting Several Bullets of Reason into Every Clogged Brain 發給每個閉塞頭腦幾顆理性的子彈, released in 1990 and published in 2016, and Fish of the Desolate Lagoon 荒澤之魚, published in 2018.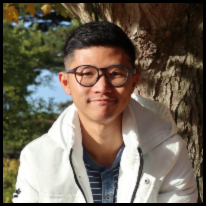 Having completed a BA in English at The Chinese University of Hong Kong, Felix Lo furthered his academic pursuits at the University of Cambridge reading for an MPhil in Multi-Disciplinary Gender Studies. Back in Hong Kong now, he stands at the juncture of anguished love, confused meanings, and the absurdities of life. Words are among his last solaces in a world of numbed senses and tamed feelings. An aspiring poet/writer, Felix has published both Chinese and English poems in Voice & Verse Poetry Magazine. His daily sentiments and melodramas are keeping him very busy and expanding his authorship.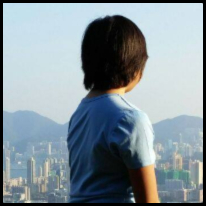 Stephanie (Stevie) Leung (translator) is a fresh graduate of the English department, the Chinese University of Hong Kong. There's a bit of English, a bit of Chinese, and a bit of Hong Kong in her.
After her graduation from the Chinese University of Hong Kong with a major in English, Garfield Chow (translator) obtained an MA in Literary and Cultural Studies at the University of Hong Kong. Her dissertation studies how Hongkongers explore their identity through writing alternative histories of this city.