by Fátima da Silva Almeida
"Why do you look so down?" Lu asked me, clearing the coffee table with her arm.
"It seems that I lost something although I have always owned nothing," I said.
"But you never liked to live there. It was too old and dark."
"I know, but I lived there for almost three years; it was my first home in Macau and also the first one where I lived alone. Before I always shared."
"Is it the house or the memories you have to leave behind?" she asked while opening the steamed boxes.
"As if I could leave them …"
"It was good that at least you left that house. It is all broken," she said. "Let's eat. These are your favorites," Lu pointed and lifted a carrot shrimp dumpling between her chopsticks as if it were a glass of champagne. "Cheers," she said. I followed her, and we toasted.
We ate until we felt so full that we couldn't help but complain about the reasons why we fed ourselves like fatty animals instead of being skinny ladies to chase better prey. Rubbing her belly, Lu had started to insist that I should burn my memories as people do with calories.
"No one is good enough to be unforgettable," she said. "So, from tomorrow, we will start exercising to become healthier and find the one," she declared with a voice of a president. "I have downloaded the sets, so tomorrow morning …"
I rolled my eyes unable to convince her we were not that fat.
"Yes, sir," I said looking at the six empty boxes.
We leant back, and I stared at the ceiling for a while trying to focus on its emptiness to forget mine. Lu also rested, not long enough, though, to let me fill my mind with the stillness of the white wavy patterns.
"Pass me your phone," she said.
"For what?"
"We need to see if there are any nice men on that app."
"I haven't used it yet," I said handing my phone to her.
"So many requests. Let's see if there are any good ones," she said.
"If we stay here looking at this, tomorrow we won't get up for exercising," I said.
"This one seems good. He is a fireman but has studied psychology. Looks more Westernised," she said.
"What does that mean?" I asked and laughed, not sure what made someone look less of what they were meant to.
"Has beard. Pretty sexy," and her laughter joined mine. "I am going to say Hi."
Then she handed the phone to me. "Talk to him."
I started texting Davi, a thirty-two-year-old Chinese man who had returned earlier than expected from a trip to South America because he wanted to see his mother who was dying from cancer. As he shared his story with me, I realised how strangers would come closer for an instant of sadness. Since that day three weeks ago, we have texted each other, sharing the facts of our lives. At first, he was impressed not only by my interest in Chinese culture but also due to the fact I had moved to China by myself, leaving behind my family for an undetermined period. At least when he went to South America, to work and travel in different countries, he knew he would come back in two years, if it had not been for finding about his mother's sickness.
What I liked about him was how different he seemed to be from Duan Qi. He talked about dreams as a person who had them. He not only gave up on his job to travel but also studied music and made wooden guitars. There was a flame in the fact he had adventures, allowing me to forget from time to time that I had buried my hope.
When he became a fireman leaving behind a career as a social worker in the government welfare department, he had the desire to serve people more directly. "The hardest part of being a social worker was that you couldn't change peoples' lives. There are so many documents, requirements. You try to meet their needs but never give them what they need. So as a fireman I thought I could prevent the loss. At least I liked the idea of that every time the alarms sounded."
The more he shared, the more my eyes craved details. I could not help but admire the facts before approving of the person. It was like Davi was a character from a story that I wanted to meet in real life. I walked with my phone more often than before, expecting to read his new stories, feeling like a little girl again. The days were becoming warm, and I almost forgot that spring had started without seeing Duan Qi. Davi was blooming into my life even before the day we met.
Seeing me on my phone, Lu asked me for an update and her face lifted with a broad smile. I was distracted for the first time in months, and she insisted on my meeting Davi in Hong Kong two weeks later.
"Why not let him come to Macau to see me if he wants?" I asked her.
She looked at me with loudness hurrying in her eyes, before coming through her mouth. "Hong Kong is more charming. So many beautiful places to go." Then she paused, using silence as authority. "Just tell him you have a friend in Hong Kong, and you will be visiting her in two weeks."
"Do I need to lie to him? And why wait two weeks if you keep rushing me through?"
"You can't tell him that you will go there on purpose," she said. "You can't let men feel so important at first."
"Are you now an expert on dating?" I asked.
"I have learnt enough from grannies. You should know that in China we are advised to play hard to get. The harder someone is to get, the more valuable they will become. It is the same with a jewel or a pair of shoes: the more unique they are, the more appealing they will be, even when not so beautiful."
I didn't say anything, but Lu must have noticed that I couldn't agree with her. My faultless body language could not hide my displeasure. I perhaps frowned, a habit that was causing me early wrinkles.
"So I will wait two weeks to make him suffer?" I asked as I started to accept the fact that I should try her way to see if the outcome would be different.
"We need time to get ready. No more excuses. From now on we exercise."
I rolled my eyes and went to brush my teeth wondering if Lu would be right. "You see, extra fat here," she pointed under my chin. "Plus let's go shopping for some nice dresses for you," she said.
"Why don't you let me brush my teeth? Or do you want me to have a yellow smile?"
"You cannot meet a Hong Kong man wearing a cheap t-shirt from the market," she said ignoring my words. "It is not like Macau."
"He's already seen my photo. He knows. Probably he does not mind my appearance much," I said. "He seems to be a selfless man. He is a fireman, remember?"
"Are you going to be naïve now? Of course, all men want a good-looking girl. It is good for you to take better care of yourself," she insisted.
I thought Lu was incapable of waking up early, but the next morning she did and almost dragged me from bed. So we stood next to each other wearing our pajamas and followed the girl on the TV, jumping, squatting. If it had been based solely on our determination, we could have lost our extra fat that morning. We kept sweating and were almost breathless, when someone knocked at the door shouting a few words. Lu ran to open it. We both were afraid it was someone in need of urgent assistance.
"Downstairs neighbour," Lu said biting her lower lip. I had never met the lady, but I was sure she was not one of those neighbours who come over to bring cherries as used to happen in my village. Her face had too much anger; if it were not for her peeled skin, she would have looked like a bulldog.
"She is saying we can't keep jumping like this because we are shaking the house," Lu translated.
"Shaking the house?" I questioned while the lady kept shouting words in Chinese and lifting her arms as if they were cranes wanting to pull us away. She left after a three-minutes speech. We did not interrupt her. When she went away, we sat back on the sofa questioning why people were so hyperbolic.
"Is she mentally healthy?" I asked.
"She thinks she is the owner of the entire building—that's why she uses two staircases to pile up her family's shoes. The walls here are thin, but we are not fat enough to shake a house."
We then rested for a while and decided that we would keep exercising.
"We cannot give up," Lu said.
To find the extra motivation, I tried to reach my phone to check if I had received a message from Davi, but Lu grabbed it first.
"Have you asked Davi if you guys can meet in Hong Kong?"
"I haven't. I think he is a bit busy. He told me he is trying to find a new job. Since his mother died, he is not going to go back to South America to finish his trip. He's just staying with his sister."
"Wah, his mother died? You did not mention this," Lu said sitting on the sofa, thrown by surprise.
"Yes."
"So sad. He must need someone to cheer him up," Lu said, and I became silent for a few seconds.
"I can't imagine the pain," I responded, not wanting to admit to myself that his mother's death was in part a relief for me. It is not that I didn't feel sad for him, as no one deserves to face such a loss, and I trusted that if I had magic powers, I would have brought her back. But Duan Qi's mother's rejection was still a deep wound. I ran towards the toilet and turned on the water as soon as I acknowledged that hidden emotion. I didn't want Lu to see me crying.
"I will take a shower first," I shouted from the toilet.
"I will text Davi telling him you will go to Hong Kong," she said.
"Please wait. Let me think about it," I said and then washed that guilt away with my tears.
"Don't be so shy," she screamed back.
The water ran until my tears became just like any of the other drops.
I repeated the same ritual for two weeks, so when I met Davi, I had already let go of those thoughts. It was a Friday night. I walked with Lu to an old market in Yau Ma Tei, where the coffee shop Davi had chosen was, knowing I liked the traditional corners of the metropolis.
Lu went in and picked a table for herself in a strategic place to give me moral support, and I waited for him. As I always prefer to arrive first to have time to feel comfortable with my surroundings, I walked around making time for Davi to come. The night fell sharply after drawing a pinkish sky for the sunset.
I wandered about, seeing the streets turning from pink to dark. I needed to allow myself to forget the past. We all have to sometimes. I kept telling myself it was OK to meet a stranger, especially one of whom I had already had the illusion of knowing. Soon after, I felt someone walking in my direction. Although I knew it could be Davi, I kept ignoring the world outside my thoughts, waiting for him to hit me by surprise.
"I hope you have not been here long," he said wrapping his words in the deep breath of someone who has been walking fast.
I faced him, and one prominent thought swept away all of the others: we would stand out in a crowd.
"Not at all," I said and bowed slightly, a habit that I had developed in Asia to greet people, especially those who could not understand what I said but to whom I wanted to show respect. That day I also did not know how to greet Davi. The two kisses greeting was not typical (avoidable), so he looked at me and smiled in return.
"Thank you," I said. "I am happy to see you."
We walked side by side to the coffee shop, and I saw Lu blinking when we entered. We sat at a table in the corner, and he handed the menu to me. When the waitress came, Davi ordered milk tea, Hong Kong style, and I ordered a Chinese herbal tea.
"No doubt you are a tea lover," he said shier than I was.
"One of my favourites for sure. It is weird I have to admit it, but I don't like coffee," I said, and he smiled.
"Asia might have influenced you," he said, handing me a tissue as the waitress brought the drinks.
"Thank you," I said facing the waitress for a few seconds as if I needed to reassure my confidence. "Well, this is my third year here—I have gained some habits."
"So next time we should go enjoy traditional food."
"I am a dim sum lover, but I am open to trying new dishes."
"Dim sum is one my favourites, too," he said with a growing smile. "We could try it tomorrow."
"I would love to," I said, as I took a sip of the tea, trying to hide my extreme excitement behind the steam. That feeling came through me without asking for permission. Although I was not an advocate that love could be forgotten in a pair of months, I wanted to believe that fate shifts for good. It could just be a good sign.
And food would always be a great start, as it played an essential role in the culture, Lu had advised me. I looked at her, sitting behind Davi, but her eyes were locked on her phone. She was unable to witness my contentment before it faded.
"Are you enjoying your tea?" Davi asked seeing my eyes lost.
"I am. This café is beautiful with these lovely old pictures of Hong Kong framed in a diamond shape."
At times, it seemed we kept silent. Questions were popping into my mind, but I didn't have the courage to ask them now that we were facing each other. It was the fear of wasting a moment of grace. I already knew enough, as online we had exchanged crucial moments from our lives and perhaps secrets that we would be afraid to share face to face in a first meeting. He knew I had fallen in love with a boy whose family insisted on rejecting me, and I knew his ex-girlfriend had left him for a man who wanted to get married straight away and could afford a house by working in a bank from early in the morning to late at night. We both had suffered.
What I didn't know was if he would find faith in each other. I didn't have to know. The urgency of wanting someone to love me back, at first sight, could ruin the future. But how to control it when an aching heart sees hope in front of it?
I broke the silence and brought us back to the stories of our lives.
"Would you like to go back to being a fireman?" I asked.
"I miss the feeling of helping people. But it was too tiring. Twenty-four-hour shifts."
"That's heavy."
"But I believe being a journalist has its excitements?"
"Sometimes. It's tiring and boring at times in such a small city."
"You should try to move to Hong Kong, then," he said lightening my smile.
"Well, one day. Who knows?" I paused to think about how I could continue the dialogue.
"Did you miss Hong Kong while you were abroad?"
"I was not planning to come back this soon. But I am happy I did and that I got to spend more time with my mother," he said as I looked into his eyes trying to understand what words he needed to hear.
All I managed to say was, "I am glad you did. You are a good man."
"It is OK now," he said, perhaps realising I was feeling more uncomfortable than he was. I took another sip of the tea and emptied the teapot into my cup. "Would you like some more?" he immediately asked.
"I am fine for now," I said locking my eyes on the emptiness of poured tea.
"You must be tired after taking the boat from Macau."
"It is not a long trip," I said excusing myself. "Just give me a few minutes. I need to go to the washroom."
I stood, and Davi turned his body halfway to the right. As I walked passed Lu, she got up and followed me. The night had ventured in, and only a few people remained in the coffee shop, their cups and glasses almost empty. I entered the washroom, as the tea had left me with an uncontrollable, full bladder. From the other side of the door Lu asked, "How is it going?"
"Didn't you see?" I asked back.
"You looked smiley."
"Should I look sad in front of him?"
"He looks hot," she said.
"Thank you for making me feel even worse."
"Why? You are here dating a hot guy. Shouldn't you be happy?"
"Can't figure out if he likes me."
"Why do you need to be sure now?"
"Maybe I am not pretty enough to date him?"
"Don't make him wait. I will see you at the hotel," Lu said, hurrying me. I washed my hands staring at myself in the mirror. I did not feel tired, but I looked like I was.
"This makeup makes you much prettier," she said trying to encourage me.
"Sure it does," I said.
"Go, go. I will be leaving soon. You know our hotel's address, right?"
"Are you not going to wait for me?" I asked.
"Of course not. He will take care of you. He is a Hong Kong man after all. Go, go." And she pushed me away.
When I returned to the room, I saw Davi on his phone. I pushed the chair, and he smiled before I sat down.
"Shall we go now and meet tomorrow for lunch? I want you to get a good rest," he asked, and I nodded.
He called the waitress and paid the bill. I remained calm, as Lu had also advised me not to argue about who paid the bill, at least for a first date. According to her, men liked to take charge of the check, so that they felt they could look after you. Although Davi seemed to be kind, I couldn't see this gesture as a sign of consideration or interest in me, only as an assertion of virility. But when the waitress brought the change, I thanked Davi and showed my gratitude again with a bow.
"It is my pleasure," he said.
We walked side by side through the alleys of the market, seeing the vendors packing hundreds of bags, belts, flags and other souvenirs into big boxes, so they could close their stalls and empty the streets. At night, the crowded roads were still vibrant as Hong Kong always kept one of its eyes open. Deep sleep was not for a metropolis like this. Ten minutes later, we got in a taxi, and it felt natural to be taken by him to the hotel after Lu had told me it would happen.
Davi left me at the entrance of my hotel and promised to meet me the next day for lunch. Before going up to the room I was sharing with Lu, I stayed outside, imagining our next date—how I would hold the chopsticks making sure I moved one of the sticks while the other was locked behind my thumb, as those ladies in old Chinese movies did how he would look at me not feeling any difference between the women he had grown up with and me; how he would smile before he grabbed my hand and stopped me from crossing the road without looking. I stayed outside the hotel long enough to imagine a third of the new romance of my life. As I took the lift, the ride took me back to the reality of the night. In the room, Lu was on her phone, but she jumped towards me as I entered.
"You took much longer than I expected," she said. "What happened?"
"Nothing happened. As you said, he brought me here."
"And?"
"And nothing. Davi said we will have lunch tomorrow."
"That's great. So tomorrow I will help you get ready, and I will leave to hang out with some friends."
"Who?"
"Some people I met here before," she said without revealing details which made her look suspicious.
I removed the makeup and took a long shower, as if I knew it would be useless to lie down on the bed. When I turned the water off and dried my body, Lu was already sleeping so deeply that it seemed that all of her senses had left her body. But I was sleepless and my imagination reached the point I wanted, me by Davi's side as if God had finally been a good matchmaker. Hours later, I fell asleep on this idea, only realising that I had been sleeping when the city opened its two eyes and hustled us out with the noise of its long arms stretching into every corner. Horns were honking away, water was running in the toilet behind our wall, impatient drivers were breaking before red lights. Lu was the only person I knew that could sleep as if nothing was happening.
I got up and looked out of the window, observing people crossing streets. I grabbed my phone, but I hadn't yet received a message from Davi. With the curtain opened, I shook Lu.
"Isn't it too early?" she asked with a very rough voice.
"Early enough to get up," I told her.
"Or early enough to enlarge the beautiful bags under your eyes?"
"I will find a dress."
"You should wear the short navy one," she said lifting her head enough to let me see the dried saliva at the corner of her lips.
"If you knew the navy one was the best, why did you insist that I bring ten other dresses?"
"Now that I have seen Davi and found out that he is taking you for lunch, I know which is the best. Imagine if he had invited you hiking?"
"If so, I still wouldn't have needed any of these dresses."
"Isn't it in Portugal that people say that a well-equipped woman is a well-armed one? Or that she is worth twice as much?" she asked.
"Folk wisdom is indeed beneficial and convenient at times," I said turning around to tidy up the useless clothes.
I hung up the navy blue dress, and Lu got up to comb my hair. She started tightening it. I had never thought she could make me look like a Shanghai girl from the 20s, when women wore their hair long, tucked back in a bun.
"You need to look very elegant," she said. "I think Davi would like to date a lady like those from the old times—sophisticated and sexy," she said, while my hair was being wrapped around wooden forms.
"Doesn't it look too old-fashioned?" I asked.
"With your pale skin, it will look so beautiful."
"In the twenty-first century?"
"Yes. Trust me. After all, I am Chinese, right?"
"That's what I am afraid of."
"Don't look in the mirror now. Let me finish. You will see the final result at the end."
I closed my eyes for a while and felt the movement of her hands. She was like one of those ladies who is hired to dress a bride, and I imagined myself running through a field with a long white dress, being chased by a smiley man that looked like a mixture of Duan Qi and Davi. With the shock of this picture, I moved my head to the right, and Lu stuck a pin in my scalp. I grunted from the pain, as if expelling the image from my mind.
"Can you stop moving?"
"Why is it taking so long?"
"Just a few more minutes and you will be stunning."
Lu kept working on my hair for ten more minutes. The last step was adorning the finger waves she had done.
"Hold on. Now we need to find makeup that matches your hair-style," she said.
She used liquid eyeliner to make my eyes look longer without losing their wideness. Then my cheeks were blushed even more. My lips were turned light red. And when it was all done, it took me a few minutes to recognise myself.
"I can't believe what I have just done," Lu said, resting back on the bed while I tried to find myself within my reflection.
"You look … how can I say?" Lu was empowered to describe me too.
"More Chinese?" I asked, but she ignored my question and kept trying to find her own words.
"… like an old diva. Put on the dress."
"I will, soon," I said, and Lu got on her phone again, waiting for me to get dressed.
But I didn't move for a while. I wanted to stare at myself long enough not to forget the way I looked. I wasn't in the habit of wearing makeup (at least no more than the light powder my mom kept for special occasions.) I grew up in a house where women did not care about making themselves more beautiful, only stronger. Pride was the best makeup, I am sure my mother believed when she ironed our clothes in the living room with the TV on. I got used to the natural look, with very tidy and clean garments without a single wrinkle, even on the underwear.
Taking her eyes away from the phone for a few seconds, Lu kept giving me instructions.
"You have to get ready," she said. "I will leave soon, too."
"Where are you going? You are so mysterious."
"Meeting up with some friends. I already told you."
"Please do not get yourself into trouble."
"Stop worrying about me and enjoy yourself."
"Don't you think it is a bit too much?"
"No. You are just not used to it. You should get used to being more beautiful."
"Yesterday the simple makeup you did on the boat was good enough," I said.
"Well, that was yesterday, and today you are going to impress him," she insisted.
"I am going to put on the dress."
"Good. Then you will look like Marilyn Monroe but with a bit of Shanghai style."
"How is that possible?" And we laughed.
We left the room together but went in different directions. I kept unlocking my phone to check whether Davi had sent me a message, but it was already 11.30 by the time I got his text. I read it, and when I looked around, it felt like passers-by and street vendors were staring at me more than usual. It was neither about looking more beautiful, nor the makeup, since there were tons of women tightened in their suits and wearing heavy makeup and fake eyelashes. It might have been the shock of seeing me looking like them. Under their stares, I felt the urgency to wash the makeup off, as if this could help rid me of the illusion I had seen this morning as I left the room: that I had become identical to the Chinese people here. We looked alike to the point that it manifested itself in the opposite reaction—growing invisible.
To escape those glances, I locked my eyes on my phone and read Davi's message several times. He said he could not meet me because he needed to deal with some documents. I texted Lu, expecting her to tell me the next move. It would be easier if I could follow a script. The dating world was still new to me. But she did not reply soon enough to help. With nothing left to do, I went through my phone and opened that app to respond to those men I hadn't spoken with much before. I wanted to forget I was alone under the stares. It took less than an hour for a businessman to invite me to lunch near his office, promising he would "treat me." Solitude always made its move quickly.
I had nothing to lose, and this time everything would be different. At least, we hadn't had enough time to let our imaginations take us to a point where we could feel disappointed. I cannot recall that businessman's name, nor the names of any of other men I met after him, but I am sure he was shorter than Davi and Duan Qi, as our shoulders were one hand size apart. When he met me at the subway station, he said he didn't recognise me, as I looked different from the pictures I'd uploaded—it wasn't clear if this meant better. But he looked the same: a man stuffed into a suit, and old for his thirties. As we walked he asked me if I was able to eat dishes like chicken feet (fong zau) not knowing that they, though cooked with different sauce, were a must among the elders in my village. My grandmother would entertain herself with them until the little bones were left naked on the plate.
"I will take you to one of the most traditional restaurants in this area," he said, and I smiled to make him believe he was impressive.
"Thank you," I said trying to hide myself from the vendors.
The restaurant was in a small alley. He asked me to sit while he called the waitress, waving and greeting her as if he was coming home for a meal.
"Hope you like it here. I come here very often," he said when he came back to the table bringing a plastic container with boiling water.
"Looks very welcoming," I said, and he started to wash our bowls.
"You can choose whatever you like," he said, as the ladies started to come over to display several steamed dishes in their food carts.
"Thank you," I said, taking shrimp dumplings. The waitress smiled as she stamped our card with the number of the item I had ordered.
"Ah! Do you like har gau?" he asked.
"Yes. And cha siu bau, too. Chinese food is very delicious."
"You haven't told me where you are from?" he asked, as when we had started to talk through the app, I had just written my location asMacau.
"I have been living in Macau for so long that sometimes I forget I have a nationality," I said with a soft tone while I was balancing a dumpling between my chopsticks.
"Time enough to handle chopsticks very well," he said, and I smiled. "So should I guess your nationality?" he asked almost measuring my face as I stayed still.
He took a closer look. "American?"
I shook my head trying not to lose my smile, as I wondered how he could say that after Lu had spent so much effort trying to send me back to old Shanghai.
"Far from it," I said.
"Sweden?"
"A bit closer," I said getting a cube of fried tofu that had just arrived at the table.
"French?"
"Let's say European, yes."
"It is hard to guess. Your eyes are big but not completely open. Still, you're blonde but …"
"I am from Portugal," I interrupted him trying to end the torture. I drank the tea the lady had just poured in my mini cup. And the tea seared my tongue.
"Aw, you must be careful," he said seeing that my body had contracted.
"It's OK now," I said, but he held the cup and started blowing the tea for me. "Drink slowly," he said.
I frowned. The heat of the tea sped through my body, and my forehead started to sweat. He searched in his pockets and offered me a tissue.
"Are you OK?" he asked.
"It's just hot in here, isn't it? March is already aggressive," I said, trying to keep the foundation Lu applied from melting.
And then I started to understand why Chinese men almost always carried a packet of tissue when they met me. As restaurants seldom provided napkins, they wanted to impress, by wiping me as if I were a golden statue. What they didn't know, and what I also only later came to realise, was that my reaction had nothing to do with the temperature, although the tea had been heated been above 100 degrees. I altered myself when strangers asked about my nationality, as I was continuously trying to adapt myself. But the men of China never realised my sweaty skin was erupting because they were trying to guess my nationality. They just thought I was feeling the heat of the weather bumping into me, like a strong wave against a stone.
The ladies kept coming with the carts. I smiled at them. Their eyes were lustrous as if they were laughing, amused to see me there, holding the chopsticks, while that man kept blowing on my tea.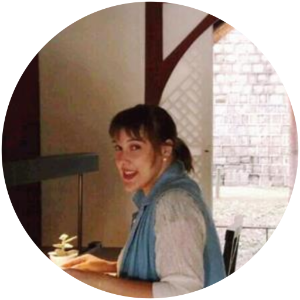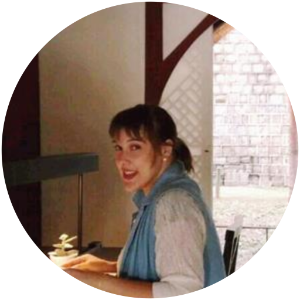 Fátima da Silva Almeida was born in a small village in Portugal. After graduating in Journalism and contributing for Diário de Notícias, she moved to Macau, in 2010, to work for Tribuna de Macau newspaper. In 2015 she received her MFA in Creative Writing from the University of Hong Kong (with distinction), which led her to explore prose without compromising her love for poetry. She is currently teaching at MUST and working on her first novel, God Works Well in The Spring, which is set between China, mainly the SARs Macau and Hong Kong, and Portugal.