Reviews / July 2011 (Issue 14)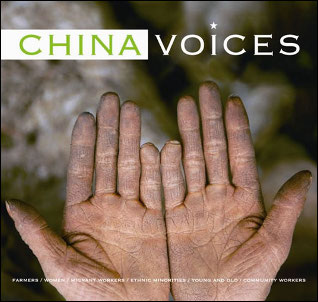 Oxfam Hong Kong, China Voices, Oxfam Hong Kong, 2010. 162 pages.
One of the most troubling aspects of China's economic growth over the past three decades has been its uneven nature. While many entrepreneurs in cities and along the coast have prospered, a much more significant percentage of the population has not; in 2010, the government announced that the urban-rural income gap stood at its widest point since economic reforms began in 1978.[1] Seeking to escape the dire conditions of the countryside, migrant laborers flow into the nation's cities, where they often find the situation just as precarious as in the places they left. Employed as construction workers or housekeepers, they toil for long hours at low pay and with little job security. Meanwhile, the families they have left behind in the countryside struggle to deal with challenges ranging from climate change to the lack of a strong rural healthcare system. For millions of Chinese, financial ruin is only one on-the-job injury or dry spell away.
Although the government has increasingly directed programs and resources at addressing the needs of vulnerable groups—migrant workers, rural women, ethnic minorities, children and the elderly—there are still crucial gaps to fill. This is where NGOs such as Oxfam Hong Kong enter the picture: since the agency began supporting projects on the mainland in 1987, it has played a role in over 1600 ventures aimed at alleviating poverty, improving gender relations and increasing access to education. As stated in the introduction to Oxfam Hong Kong's latest publication, China Voices, central to the organization's mission is the conviction that people "should play an active part in their own and their community's development, and that their voices should be heard throughout the process." This is not dependency-creating aid from above, but rather a dynamic relationship forged between local communities and NGO workers whose goal is to provide resources and support, not directives.
In China Voices, "Oxfam Hong Kong" (the book has no single author) relates the stories behind dozens of the projects the agency has supported in China. Though the book certainly promotes the Oxfam's work, it does so in a subtle manner; China Voices moves beyond trumpeting the achievements of a single organization and offers insight into the trilateral relationship between the Chinese government, NGOs and local communities working to improve conditions throughout China, particularly in rural areas.
China Voices consists of six chapters, each examining the challenges facing a particular group and the endeavors underway to overcome them. The chapters all begin with an overview of the group's situation, then move into brief case studies (generally running 2-3 pages) of Oxfam Hong Kong-supported programs and the Chinese community members involved in them.
Chapter 1, "Farmers," explains how China's farmers are affected by climate change and governance issues (such as local officials levying illegal taxes and fees) before detailing the successes of microfinancing projects that enable rural residents to take out small-scale loans for the purchase of livestock or farming equipment. In Chapter 2, women and gender relations are in the spotlight. Troubled by a high female suicide rate (particularly in rural China), a number of community organizations have formed to provide Chinese women with support structures—often as simple as a sympathetic ear—that might not be available within their families. One memorable profile is of activist Liang Jun, a former history professor turned NGO director, who seeks to educate both men and women on issues such as "domestic violence, girls being denied an education, and the quality of life for elderly women" through the performances of an opera troupe she founded.
In Chapter 3, China Voices moves into the cities for a look at the lives of migrant workers, with a special focus on creative initiatives in the migrant community. In Beijing, for example, the New Labor Art Troupe offers concerts at construction sites and city squares where workers tend to gather; the group also helped to found the Migrant Workers' Culture and Arts Museum, which opened on the city's outskirts in 2008. The chapter also profiles several workers' rights activists struggling to ensure that low-level laborers enjoy a safe and fair working environment.
Ethnic minorities are the focus of Chapter 4, particularly educational programs that have been developed to preserve minorities' languages and teach children about their history and culture. One longer profile examines efforts to establish Fair Trade designated businesses that sell traditional crafts, a movement that is still young in China but which is largely led by minorities' groups such as Threads of Yunnan.
In Chapter 5, "The Young and Old," China Voices explores the curious combination of "respect and neglect" often directed at the elderly, an issue that will surely receive more attention in the future as China's society becomes increasingly elderly (people over the age of 60 are expected to compose 30 percent of the Chinese population by 2050). This chapter also includes profiles of five children who have been left behind in the countryside as their parents sought work in the cities; powerful letters to their parents from two of the children speak of loneliness, anger and confusion. "Am I your daughter? If yes, why don't you come back to see me? Don't you miss me a bit?" asks primary school student Chunmei.
The book's final chapter describes community workers and their efforts to develop a strong NGO presence in China, despite limitations on activities outside the government's reach. A section on the aftermath of the Sichuan earthquake in 2008 emphasizes the flexibility and responsiveness of local NGOs in contrast to army units coming in from the outside. While the government can offer resources and personnel on a large scale, it lacks the nuanced understanding of local communities that is critical to the success of many development programs.
Although the introductory essays in all six chapters begin with a grim recitation of dire statistics, China Voices is optimistic in its attitude toward the potential for real change coming from organizations at the grassroots level, such as the ones profiled in its pages. The book is enhanced by dozens of full-color and black-and-white photographs, as well as art reproductions. For anyone seeking an inside look at the landscape of small-scale organizations in China, China Voices offers an illuminating glimpse at the efforts of remarkable people, many of them working with minimal support yet determined to effect real change in their communities.
---