Contributors / July 2018 (Issue 40: Writing the Philippines)

Ricardo M. de Ungria's book,
Voices on the Waters: Conversations with Five Mindanao Writers
, was just published by the Ateneo de Manila Press. He makes his home in Davao City, Mindanao, where he is currently finishing the book's sequel. [
Cha Profile
]
Lawrence Lacambra Ypil is a poet and essayist from Cebu, Philippines. He received an MFA from the University of Iowa Nonfiction Writing Program and an MFA in Poetry from Washington University in St. Louis. He is the author of the poetry collection
The Highest Hiding Place
(Ateneo de Manila University Press) and a co-editor of
We Might as Well Call it the Lyric Essay
(Hobart and William Smith Colleges Press). He is completing a manuscript of poems on early twentieth century Cebuano photographs and teaches poetry and creative writing at Yale-NUS College in Singapore. [
Cha Profile
]
---

Abigail Licad grew up in Antipolo, Philippines and immigrated to the US with her family when she was 13. She received her BA from University of California-Berkeley and her MPhil in literature from Oxford University. Her work has been published in
The Vassar Review
,
Calyx
,
Smartish Pace
,
The Critical Flame
, and
Los Angeles Times
. She has served as a Rotary International Ambassadorial Scholar to Senegal and as
Hyphen Magazine
's editor-in-chief. She lives and works in the San Francisco Bay Area. [
Poetry
]
Alfred "Krip" A. Yuson has authored over 30 books of poetry, fiction, essays, children's stories, travel, translation, and biographies. Among various distinctions are the SEAWrite (SouthEast Asian Writers) Award for lifetime achievement, and entry to the Hall of Fame of the Carlos Palanca Memorial Awards for Literature. He has enjoyed fellowships, conferences, festivals and reading tours in over 20 countries, while his poetry and fiction have been translated into 10 languages. He taught fiction and poetry at Ateneo de Manila University, where he held the Henry Lee Irwin Professorial Chair. He contributes a weekly arts and culture column to a national broadsheet,
The Philippine Star
. [
Poetry
|
Book Reviews
]

Born and raised in Hong Kong, Carolyn Lau recently completed her doctoral studies at the Department of English, the Chinese University of Hong Kong, where she now works as a part-time lecturer. She is also an editor at Hong Kong Review of Books. [
Book Reviews
]

Chloe Leung is currently an MPhil student of English Literary Studies at The Chinese University of Hong Kong. Her research interests include modernist writings (especially Virginia Woolf), postmodernist writings (especially Sylvia Plath and J.M. Coetzee). She is also interested in contemporary writers such as Ian McEwan, Zadie Smith, and Penelope Fitzgerald. She is currently working on a thesis focusing Virginia Woolf and early 20th-Century ballet, exploring the portrayal of physical gestures and bodies in stylising self-expression. She graduated from the Master of Arts (Literary Studies) in 2017 and completed her BA in English at The Chinese University of Hong Kong. [
Book Reviews
]

Christian Benitez teaches Filipino literature, rhetoric, and criticism at the Ateneo de Manila University, where he finished his AB-MA degree in Filipino Literature. The locus of criticism and poetics is time, as tropically articulated in mythology and history. Hailed as the Poet of the Year 2018 by the Commission on the Filipino Language, his works have been published in
SOFTBLOW
,
High Chair
,
Diagram
, and
Kritika Kultura
, among other places. He is currently a member of the Film Desk of Young Critics Circle. [
Book Reviews
]

Christopher Rose used to reside in Olongapo City, and he currently serves as the chair of the English department for the Cascade campus of Portland Community College in Portland, Oregon. His poems have appeared in
Crabfat
,
Chelsea Station
,
Fjords Review
,
The Pariahs Anthology
,
Yellow Chair Review
,
TAYO Literary Magazine
,
The Hawaii Review
, among other places. He has received grants from the Oregon Arts Commission and Regional Arts and Culture Council, and he has received fellowships from Cave Canem and VONA. [
Poetry
]

Daryll Delgado's first novel,
Remains
, is forthcoming (2018) from Ateneo de Naga University Press. Her book,
After the Body Displaces Water
(USTPH, 2012), won the 32nd Philippine National Book Award/Manila Critics Circle award for best book of short fiction in English, and was a finalist in the 2013 Madrigal-Gonzales First Book Award. She has received a Philippines Free Press award for her fiction in 2010. She is at work on another novel, and is preparing to publish a book of narratives in English and Waray. She works for an international NGO, and writes global reports on labour and human rights issues. She spends half her time around Southeast Asia, officially resides in Quezon City with her husband, but was born and raised in Tacloban City, which she continues to call home. [
Fiction
]

From Davao City, Philippines, Debbie Karol Butay resided in Roskilde, Abu Dhabi, and is now based in London, UK. She earned a degree in Creative Writing in English at the University of the Philippines-Mindanao and was awarded an Erasmus Mundus scholarship to study at the University College London and Roskilde University, Denmark. Her poem
"Somewhere In The Desert, When You Cut A Round Globe In Half
, published in Issue 40—"Writing the Philippines"—of
Cha
, is her first submission to a literary journal. [
Poetry
]

Dholeeh Ann Hidalgo is a street photographer and migrant domestic worker living in Hong Kong. Originally from Pangasinan, Philippines, Hidalgo holds a BS in Biology and worked as a high school teacher and private tutor before migrating to Hong Kong in 2013 to work as a domestic helper. She recalls being drawn to photography from a young age, but it was her move to Hong Kong that acted as the catalyst for her photography career. She finds that photography is a way for her to ward off feelings of homesickness and isolation. Photography facilitates connection in her life—connections with others who share her passion, connections to the city she lives in, and connections with the people of Hong Kong. Originally self taught from online videos and articles, Hidalgo is now a part of the photography community of Hong Kong. As a domestic helper, she also sees photography as a way to inspire other migrants, especially women, to continue striving towards their goals. She organises photowalks for other domestic workers who are also interested in photography and she is a part of the online platform
The Person Behind the Maid
and the Facebook page
Humans of Hong Kong
, where she shares stories and photos of other domestic workers to give inspiration to others and for the society to know more about them. She hopes that her photographs show the world that migrants, and domestic workers in particular, are multi-dimensional human beings who are more than their immigration status. [
Photography
]

Erwin E. Cabucos was born and raised in the Cotabato Province of Southern Philippines. He studied Psychology and later moved to Australia and completed a degree in Communication and an MA in Education. Currently, he teaches Secondary English and Humanities in Brisbane. He is the author of
Does It Matter What the Dead Think
, a collection of short stories about growing-up Filipino. His short stories can be found in
Verandah Literary and Arts Journal
,
FourW New Writing
,
Quarterly Literary Review Singapore
,
Business Mirror
and the
Philippines Graphic Magazine
. His story "Requiem for Pasig River" received High Commendation Award from Queensland Independent Education Union Short Story Award and Roly Sussex Literary Prize in 2016. [
Fiction
]

Erwin Ponce lives in the American Midwest and works at a public library. He has an MFA from Emerson College. He has the gift of feeling at home whenever he is in Manila. He is at work on a manuscript tentatively titled
Pilipinas; or, Ending up in Modern Day Metro Manila
. He has been grappling with his use of semicolons. Poems from this manuscript have also appeared in
Eastlit
,
TAYO Literary Magazine
, and
The Asian American Literary Review
. [
Poetry
]

Ferdinand Aragon (b.1994) graduated from the BFA Studio Arts program of the University of the Philippines-Cebu in June 2018. He has won the First Prize of the National Artist Jose T. Joya Awards three times. His exhibitions include Art for Everyone, LUCID, and the Visayan Visual Arts Exhibit Conference. Aragon was raised in Barangay Poblacion Pardo, Cebu City. [
Art
]

Firie Jill T. Ramos writes poems, fiction/susumaton, and children's stories in Waray. Her poems appeared in
Lunop: Haiyan Voices and Images
(NCCA , 2015 ),
Tingog Nanay
(Bathalad Press, 2016),
Memories of Water
(Ateneo de Naga, 2016),
Tinalunay: Hinugpong nga Panurat ha Waray
(UP Press, 2017), and
Sustaining the Archipelago: An Anthology of Philippine Ecopoetry
(UST Press, 2017). Her translation work can be found in
An Paglaum: Mga Europeo nga Susumaton ha Waray
(Ateneo de Naga Press). She lives in Tacloban City, Philippines. [
Poetry
]

Goh Cheng Fai Zach was born in Ipoh, Malaysia, where he lived all his life before moving to Penang to study English Language and Literature at Universiti Sains Malaysia, where he received his BA. He then completed his MPhil at the University of Hong Kong, researching the representations of trauma and memory of the Japanese Occupation in 21st century Malaysian novels in English. Zach is currently a PhD student at the Department of Humanities and Creative Writing at Hong Kong Baptist University, and his research interests include Malaysian, Singaporean and Hong Kong literatures in English, as well as the literary representations of Chinese tea culture in overseas Chinese communities. [
Book Reviews
]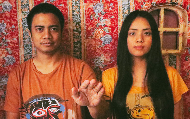 Happy Garaje (founded in 2009) is Johanna Velasco-Deutsch and Mark Deutsch, an art and design duo based in Cebu, Philippines. Their work can be seen in the fields of graphic design, illustration, gallery work, production design and books. They have received several accolades including the Gold Award from the Society of Illustrators in Los Angeles and have been featured in publications such as
Communication Arts
,
Semi-Permanent Australia
,
BluPrint Magazine
, among others. Their art is about everyday people, memories, seeing things with new eyes and the in-between places where things are not quite what they seem. Visit Happy Garaje's
website
for more information. [
Art
]

Ivan Emil A. Labayne is a Filipino poet and critic based in Baguio City, northern Philippines. His creative and critical works saw print in journals such as
Kritika Kultura
,
Daluyan
,
Katipunan
,
Entrada
and
The Cordillera Review
. He is part of the art collective
Pedantic Pedestrians
, which is interested in the politics of experimenting with form. [
Poetry
]
Janice Tsang graduated from the Chinese University of Hong Kong, where her research was on Postcolonialism and World Literatures. She is editor of
Mundi
, a Hong Kong-based journal that seeks to promote public knowledge in the local community, and she manages the
hkpeoplereading Instagram page
. Her reviews have appeared at
Hong Kong Review of Books
. Tsang works in English language centres in local universities, and is a freelance writer and artist. [
Book Reviews
]

Jason G. Coe is currently
an Assistant Professor of Comparative Literature
at the University of Hong Kong, where he teaches and researches on literature, cinema, and media. His latest publication, "Modernizing primordialism: Deterritorializing Chineseness and reterritorializing the Sinophone in Crouching Tiger, Hidden Dragon," appears in
Asian Cinema
29:1. His current book project studies the cultural politics of masculinity in transpacific popular media. In his spare time, Coe likes to play sports, watch movies, and eat junk food. [
Book Reviews
]
Jeffrey B. Javier is a graduate of the Creative Writing program of the University of the Philippines Mindanao. He writes from Davao City. His works have appeared in
Quarterly Literary Review Singapore
and
SOFTBLOW
. His poem
"Blackout"
was the First Prize Winner of
Cha
's "Reconciliation" Poetry Contest (2014), while
"Missing"
was a Finalist in the same contest. [
Poetry
]

Jeneen R. Garcia is a native of Davao City, Philippines. After six years of getting her poetry, creative non-fiction and feature articles published, she started shooting her own photographs for her travel features in 2003 when she bought a fully mechanical Pentax K1000. She particularly seeks to capture people, places, and stories in their natural light, both literally and figuratively. Her photographs have been published in
Sun.Star Cebu
,
The Cebu Yearbook
, and various travel publications. She currently works in Washington DC as an evaluation officer at the Global Environment Facility, one of the largest funders of environmental programs worldwide. [
Photography
]

Jennifer Mackenzie is a poet and reviewer, focusing on writing from and about the Asian region. Her most recent publication is
Borobudur and Other Poems
(Lontar, Jakarta 2012) and she has presented her work at a number of festivals and conferences, including the Ubud, Irrawaddy and Makassar festivals. In 2015, she had a residency at Seoul Artspace Yeonhui, and currently she is working on a poetic exegesis of the life and work of Pramoedya Ananta Toer, and also a collection of essays,
Writing the Continent
. [
Book Reviews
]
Jessrel Escaran Gilbuena hails from Santa Fe, Bantayan Island, Cebu. He is teaching at a public senior high school in Santa Fe. He is an islander who loves to see more islands. He travels, and places with beaches are his favourite. [
Poetry
]

Joan Monis Pabona is a street photographer and domestic worker. Born and raised in the northern part of the Philippines, she has been based in Hong Kong since 2013. Her affinity for the art came from the enjoyment she took from observing her environment, and her admiration of black and white photography. Her photographs capture the daily life in the city. She is fascinated with taking pictures of people's emotions and expressions that depict the realities of life, which reflects her own personality and experiences as a woman and stranger in a place she calls a second home. Pabona was first runner-up in the National Geographic Wheelock Properties Youth Photo Competition 2017 (People and Happenings in Hong Kong section). [Photography
1
|
2
]

John Bengan teaches writing and literature at the University of the Philippines-Mindanao. His work has appeared in
The Philippines Free Press
,
Davao Harvest 2
,
Likhaan Journal 6: The Journal of Contemporary Philippines Literature
,
Hoard of Thunder
,
The Brooklyn Rail
, and
BookActually's Gold Standard
. He holds an MFA in Creative Writing from The New School in New York City and has won prizes from the Philippines Free Press Literary Awards and the Carlos Palanca Memorial Awards for his fiction. He lives in Davao City. [
Fiction
]

John Patrick Allanegui is a recipient of two national writing fellowships in creative nonfiction. His works have appeared in publications across the Philippines, Hong Kong, Singapore, South Korea, and the United States. He holds degrees from Ateneo de Davao University and Ateneo de Manila University, where he served as managing editor of
Verstehen
. His academic background in the social sciences and interest in creative writing have put him across a number of work, ranging from journalism to policy development and speechwriting in government. [
Creative Non-fiction
]
Jona Branzuela Bering is at peace with her state of lostlessness. She authors
Alang sa Nasaag​
(
For the Lost
), a poetry collection that swings between domesticity and wanderlust. She calls Hanoi, Vietnam her Point A. She is from Cebu, Philippines. She won the Carlos Palanca Memorial Awards for her fiction. [
Poetry
]
Jose Santos P. Ardivilla is an Assistant Professor at the University of the Philippines Diliman (UPD) College of Fine Arts Department of Visual Communication. He is a political cartoonist, printmaker, and a graphic designer. He has earned his MA Art Studies major in Art History. He has written on popular culture, digital humanities, gender and sexuality. Contact: This e-mail address is being protected from spam bots, you need JavaScript enabled to view it or
@chonggo
[
Art
]

Julian dela Cerna works as editor at the Ateneo University Press and is studying for an MA in Philippine Studies at the University of the Philippines-Diliman. He has been a fellow to KRITIKA: National Workshop on Art and Cultural Criticism and the Ateneo National Writers Workshop. He is from Davao City. [
Fiction
]

Kabel Mishka Ligot is currently an MFA candidate at the University of Wisconsin-Madison, where he also works as an instructor in Creative Writing. Originally from Quezon City, he received his BA in Comparative Literature at the University of the Philippines-Diliman. Ligot has work published in
Akda: The Asian Journal for Literature, Culture, and Performance
and
Bukambibig Poetry Folio
. He also writes articles for CNN Philippines. [
Poetry
]
Karlo Antonio Galay David

Karlo Antonio Galay David has an MA in Creative Writing, and has won the Don Carlos Palanca and the Nick Joaquin Literary Awards for drama and fiction. He is currently writing a comprehensive history of his hometown of Kidapawan in North Cotabato, Philippines. [
Book Reviews
]

Katrina Bonillo, 23, was born a twin. She graduated from the Ateneo de Manila University with a degree in Creative Writing under the playwriting track. In 2012, she was awarded First Prize in the Kabataan Essay category of the Carlos Palanca Memorial Awards for Literature. Her current preoccupations include modern poetry, professional wrestling, and Marvel movies. She now resides in Mandaluyong City, Philippines. [
Creative Non-fiction
]
Luisa A. Igloria was the inaugural Glasgow Distinguished Writer in Residence at Washington and Lee University (2018) and the winner of the 2015 Resurgence Prize (UK), the world's first major award for ecopoetry, selected by former UK poet laureate Sir Andrew Motion, Alice Oswald, and Jo Shapcott. Former US Poet Laureate Natasha Trethewey selected her chapbook
What is Left of Wings, I Ask
as the 2018 recipient of the Center for the Book Arts Letterpress Poetry Chapbook award. Igloria is the author of the full length works
The Buddha Wonders if She is Having a Mid-Life Crisis
(Phoenicia Publishing, Montreal, 2018),
Ode to the Heart Smaller than a Pencil Eraser
(selected by Mark Doty for the 2014 May Swenson Prize, Utah State University Press),
Night Willow
(Phoenicia Publishing, Montreal, 2014),
The Saints of Streets
(University of Santo Tomas Publishing House, 2013),
Juan Luna's Revolver
(2009 Ernest Sandeen Prize, University of Notre Dame Press), and nine other books. She is also the author of the chapbooks
Haori
(Tea & Tattered Pages Press, 2017),
Check & Balance
(Moria Press/Locofo Chaps, 2017), and
Bright as Mirrors Left in the Grass
(Kudzu House Press eChapbook selection for Spring 2015). She teaches on the faculty of the MFA Creative Writing Program at Old Dominion University, which she directed from 2009-2015. Visit her
website
for more information. [
Poetry
]

Matthew Jacob F. Ramos holds a Bachelors of Fine Arts degree in both Creative Writing and Information Design from the Ateneo de Manila University. He has published works in
Philippine Genre Stories
(2012),
Tampu: Writing and Influence in Cebuano Literature
(2016),
Philippines Graphic
(Jan 22, 2018 ed.), and
Philippines Speculative Fiction 11
(2018). He has also attended a number of national writing workshops including the 31st Cornelio Faigao National Writer's Workshop (2015) and the 56th Silliman University National Writers Workshop (2017). He hopes his writing career can shed light on the many identities of the Philippines. [
Fiction
]

Mia Corazon Aureus is an MA Creative Writing graduate student at Singapore's Lasalle College of the Arts. She has recently published a travel piece on Argentina, published in the online journal,
Wanderlust
. Originally from Quezon City, Philippines, she is also working full time as a commodity market reporter in Singapore. In writing stories of her memories of home and life as a woman migrant worker, she hopes to find her space and voice in the Asian/international literary scene. [
Creative Non-fiction
]

Michelle Tobias is the Chief Writer and Editor of
Explora.ph
, where she merges creative writing with her obsession for travel. She graduated with honours from the University of the Philippines Diliman, and is a Creative Non-Fiction Fellow to the 50th Silliman University National Writers Workshop. She has published travel guidebooks about the Philippines and is currently looking for a publisher for her first creative work. [
Poetry
]

Miguel Syjuco, a contributing opinion writer of the
International New York Times
, is a novelist, journalist, and university professor from the Philippines. His debut novel
Ilustrado
was a NY Times Notable Book of 2010 as well as the winner of the Man Asian Literary Prize, the Palanca Award, and many other accolades. Currently an Assistant Professor of Practice, Literature, and Creative Writing at New York University Abu Dhabi, Syjuco has worked for the
Montreal Gazette
and the
Independent Weekly
in Adelaide, Australia. His writing has appeared in the
New York Times
,
The Guardian
,
Time
,
Newsweek
, the
International Herald Tribune
, the
Globe & Mail
, the BBC, the CBC,
Inside Higher Ed
,
OpenDemocracy
, and many others. Born in Manila, Syjuco received a BA in English Literature from the Ateneo de Manila University, an MFA in Creative Writing from Columbia University, a PhD in Literature and Creative Writing from the University of Adelaide, and was a Radcliffe Fellow at Harvard University. Both his fiction and non-fiction focus on politics, history, inequality, cultural identity, literature, and formal experimentation. [
Creative Non-fiction
]

Natalia Delazari is an MPhil candidate in English Literary Studies at the Chinese University of Hong Kong. Her current research interests include narratology and twentieth-century literature, primarily Vladimir Nabokov. She is also a freelance English-Russian translator. When not working, she finds pleasure in traveling, photography, and experimental cooking. [
Book Reviews
]
Nerisa Del Carmen Guevara

Nerisa del Carmen Guevara is an Associate Professor teaching at the University of Santo Tomas. She has exhibited her installations and performance pieces at the Cultural Center of the Philippines, and other spaces. She has received a Palanca Award for Poetry, a Silver Cup for Dance Solo in the April Spring Festival in Pyongyang, and a Catholic Mass Media Award. She has an M.A. in English Studies from University of the Philippines, Diliman, and she is currently studying for a PhD in Creative Writing in the same university. A featured Southeast Asian performance artist, her documentaries "Elegies" and "Infinite Gestures" are currently in the archives of The Live Art Digital Agency (LADA), London. Guevara has done performance art pieces for the Philippine International Performance Art Festival, SIPA International Performance Art Festival, PERFORMATURA, and Grace Exhibition Space, New York. [
Poetry
]

Pauline Joyce Gonzalvo worked as a broadcast news producer in the Philippines before she came to Taiwan to study international relations for her MA. She has a BA in Broadcast Communication from the University of the Philippines-Diliman. A woman of faith and a musician, she used to breathe books on crime fiction and fantasy (and then academic readings came along). She is passionate about videography, video editing, and having meaningful conversations about life. In a world full of men, she considers herself an empowered woman—strong, confident, determined and independent; one who thinks, speaks and acts for herself. [
Creative Non-fiction
]

Pearlsha Abubakar is an essayist, fictionist, and music composer. She has contributed many articles for major Philippine publications. She was a recipient of the Japan Airlines Summer Scholarship in 1996 and was a fellow for fiction at the UP National Writers Workshop in 2000 and the Iligan National Writers Workshop in 2002. Her music for Ligaya Amilbangsa's Pangalay dance choreography
Stillness In Motion
was a finalist for the Onassis International Prize in 2001. She continues to make original music for special commissions, documentary and independent movies, many of which have been screened in film festivals abroad. She is married to filmmaker and photographer
Robert Quebral
. They have two children. [
Fiction
]
R. Zamora Linmark is a poet, playwright, and novelist. His latest poetry collection is
Pop Vérité from Hanging Loose Press
. Next year, Random House will publish
The Importance of Being Wilde at Heart
, his first novel for young adults. He is currently at work on a novel
Exotica
and the stage adaptation of Lois-Ann Yamanaka's
Blu's Hanging
. He divides his home between Honolulu, Manila, and elsewhere. [
Fiction
]

Rayji de Guia is a writer and an artist. Her writing can be found in
DANAS: mga pag-aakda ng babae ngayon
(Gantala Press),
SCUM Magazine
, and the forthcoming
Literary Apprentice
(Balangiga Press), while her illustrations can be found in Rogelio Braga's
Si Betchay at ang Sacred Circle
(Balangiga Press). She is a member of UP Writers Club, and she resides in an eighty-year-old ancestral house in Maragondon, Cavite with her family and some ghosts. [
Fiction
]

Sandro Lau, born and raised in Hong Kong to a local father and Italian mother, is currently working towards a PhD in English Literary Studies at the Chinese University of Hong Kong. He received his BSSc in Architecture and MA in English Literary Studies at the same university. His major interest is speculative fiction, and his personal interests include learning about languages and cultures. [
Book Reviews
]

Sean Labrador y Manzano lives on the island off the coast of Oakland. His family hails from Pangasinan and Zambales. He edits
Conversations at the Wartime Café
, curated the MFA reading series Mixer 2.0., organised the symposium
"From Trauma to Catharsis: Performing the Asian Avant-Garde,"
and performed as Jose Rizal in the jazz choreo-poem, "Das Kapital—Volume 4: Elimination of the Industrial Phase and the Accumulation of Debt." His current projects examine Buddhism and graduate student suicide, H.D. and colonialism, Balikatan, and race and violence. [
Poetry
]

Shane Carreon is author of
travelbook
(UP Press, 2013) and
Then, Beast
(UP Press, 2017). Ze received an Academy of American Poets Prize, an honourable mention in the Allen Ginsberg Poetry Awards, as well the Carlos Palanca Memorial Award for Literature and the Nick Joaquin Literary Award. Hir poems have been consecutively nominated for the Association of Writers & Writing Programs (AWP) Intro Journals Project. Currently on a Fulbright Fellowship, ze lives in Cebu and New York. [
Poetry
]

Sigrid Marianne Gayangos was a fellow for fiction in the Amelia Lapeña Bonifacio Writers Workshop, Silliman University National Writers Workshop and Ateneo National Writers Workshop. Her essays, short stories and poems can be found in
Savor the Word
,
Mindanao Odysseys
,
Fantasy: Fiction for Young Adults
,
Maximum Volume: Best New Philippine Fiction 3
,
Payag Habagatan
and
Philippines Graphic
, among other places. Born and raised in Zamboanga City, Gayangos now resides in Quezon City, where she divides her time between writing and training a bunch of mathletes. [
Fiction
]

Vincen Gregory Yu obtained his Doctor of Medicine from the University of the Philippines-Philippine General Hospital in 2016. His fiction and poetry have appeared in venues across the United States, United Kingdom, Singapore and his native Philippines, where he has also earned a number of writing fellowships, including one for fiction to the 56th
Silliman University National Writers Workshop
, the oldest of its kind in Asia. He is also a contributing theatre reviewer for
the Philippine Daily Inquirer
. Currently he divides his time between Manila and Iloilo City, Philippines. Visit his blog for more information. [
Poetry
]

Xyza Cruz Bacani (b.1987) is a Filipino street and documentary photographer based in Hong Kong. Having worked as a second-generation migrant domestic worker in the city, she used photography to raise awareness about under-reported stories, focusing on the intersections of labour and human rights. She is a
Magnum Foundation Photography and Social Justice Fellow
2015, and she has exhibited her work worldwide, won awards in photography and is the recipient of a resolution passed by the Philippines House of Representatives in her honour, HR No. 1969. Bacani is the recipient of grants from the WMA Commission, the Pulitzer Center, and Open Society Foundation Moving Walls 2017, she is one of the BBC's 100 Women of the World 2015, 30 Under 30 Women Photographers 2016, Forbes 30 Under 30 Asia 2016, and a Fujifilm Ambassador. [
Photography
]

Zola Gonzalez-Macarambon is a writer and teacher from Cagayan de Oro City, Northern Mindanao. Her works have appeared in various national and international publications, including
Cordite Poetry Review
,
Tingog Nanay: Anthology of Motherhood Stories
,
Best of Dagmay 2
,
Yes Poetry
,
Misfit Magazine
,
Peril Asian-Australian Arts and Culture
,
Literary Yard
,
Dead Snakes
,
Zombie Logic Review
,
The Philippines Free Press
,
Philippines Graphic
, among other places. Her short story was Highly Commended at the 2016 Monash Short Story Competition. She is currently studying at Monash University, working towards a PhD in Film, Media, and Communications. [
Creative Non-fiction
]