Reviews / September 2016 (Issue 33)

Veils, Halos & Shackles: International Poetry on the Oppression and Empowerment of Women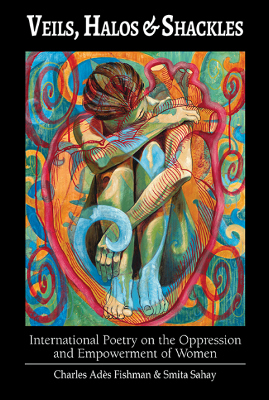 Charles Fishman and Smita Sahay (editors), Veils, Halos & Shackles: International Poetry on the Oppression and Empowerment of Women, Kasva Press, 2016. 584 pgs.
A horrific act of sexual violence that occurred in New Delhi in December 2012 started many reflections and conversations about violence against women across the world. A 23-year-old student, Jyoti Singh—who the media initially referred to as "Nirbhaya" or "Fearless" due to a law in India against the naming of rape victims—was brutally beaten and gang raped on a private bus.[i] Singh who died a little over two weeks later in a Singaporean hospital, and her male companion, Awindra Pratap Pandey who was also injured in the attack, quickly became symbols of an unsafe world, loyal friendship and much more. Protests erupted in Delhi as a result of the attack, as did artistic works about the event. And considerably disturbed by the world around them, two sensitive folks—the poetry-lovers Charles Fishman from the United States and Smita Sahay from India—got together to compile and edit a volume of poetry that is unique in all respects. Veils, Halos & Shackles is arguably the first ever anthology of international poetry to address the global issue of the oppression and empowerment of women.
What the works by nearly 200 poets in this anthology make clear is that the Nirbhaya incident is by no means unique—women are subject to the same violence and atrocities wherever they live. The emotions and the range of voices contained in Veils, Halos & Shackles affirm this. The featured writers are wide ranging and picked out from every corner of the planet: from the US, to Puerto Rico, to Mauritius, to India, to Pakistan, to Australia. Nor are they only women but men too, which is the chief beauty of the book.
It is very difficult to settle down to read Veils, Halos & Shackles as a usual volume, because of the diversity and challenging nature of its content. Abuse, violence and harassment of every kind, including genital mutilation and women being stoned to death, are represented in the poems here. A reader such as me, who is addicted to resistance poetry, therefore thinks it wise to attempt a random selection and opens the book at a blindly chosen page.
The first poem I see is short, and by Linda Pastan. Titled "On Violence against Women," it reads itself into my heart instantly:
when Adam took
that second bite
he said
you'll get what
you deserve
and spat out the pits
and led Eve
in lockstep
from the garden
and oh
the sweetness
of blame
continues
toxic
down the ages
And then I start a feverish game of tasting random verse. I wade through the entire set of pages, flipping, choosing and reading bits that appeal, marking those that I want to go back to later and sometimes re-reading a poem that I could not bear to leave behind. This anthology is certainly not for the faint-hearted or those who looking for euphemistic representations of gender violence. The statements are bold, and sometimes graphic, but isn't violence so too?
Look at the poem from Pakistan, "The Trials and Tribulations of a Well-Endowed Woman," in which Hira Azmat confronts what her body means to her:
My breasts offend my father
even more than my opinions
She goes on to say with a heart-breaking frankness:
I envy other women their ability to wear
their sexuality like a mask.
Diane Lockward's poem "The Missing Wife" was inspired by a bumper sticker on a pickup truck, which said "Wife and dog missing. Reward for the dog." I quote from the beginning and the end of the poem:
The wife and the dog planned their escape
months in advance, laid up biscuits and bones,
waited for the careless moment when he'd forget
to latch the gate, then hightailed it.
[…]
In spring the dog wandered off in pursuit
of a rabbit. Collared by a hunter and returned
to the master for $25, he lives
on a tight leash now.
[…]
And the wife? She's moved deep into the heart
of the forest. She walks
on all fours, fetches for no man, performs
no tricks. She is content.
The poignant "Hands," by Indian poet Pervin Saket, deftly weaves the idea of incest in "how her father's hands are nothing like her mother's" into that of marriage "how her husband's hands are nothing like her mother's." The effect is staggering.
Ameerah Arjanee, a poet from Mauritius, writes in "Marriage is Like a Mosque" about how the taboo on divorce forces women to stay in abusive marriages. One cannot but see the power of the recurring metaphor in "the gossip of empty cupboards."
To savour more of the work, I later decide to read in small bits, picking up even more gems. Jan Napier says that "Even rejection is communication." Smita Sahay in one of her poems writes about how "you have to change your stories and the way you tell them." And Steven Sher describes how "My Daughter at Three Asks if God is a He." I could go on quoting from Veils, Halos & Shackles forever, as each page brims with ideas and words. But I now need to talk about the cover of the book.
Lucy Liew's front-cover artwork provides exactly what the subject of the anthology requires: a sensitive, evocative and bold rendering of the effects of violence against women. And the back-cover photograph by Sheri Wandermolen, a picture of flickering flames in the wind, captures precisely the spirit of the book.
My only quibble with Veils, Halos & Shackles concerns its sheer size, which prevents me from curling up with it on the sofa. But perhaps this book is too important to be read in such a manner.