Interview / March 2016 (Issue 31)

"Literature is a Mansion with Many Rooms": An Interview with Indian poet Meena Alexander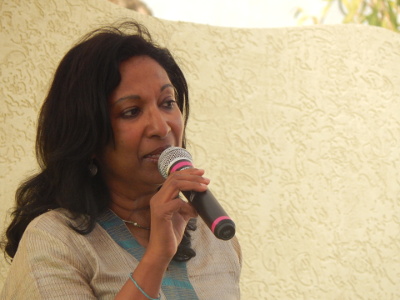 This interview was conducted at the Hyderabad Literary Festival on January 8th, 2016.
Jhilam Chattaraj: What inspires you to write poetry?
Meena Alexander: You know, it is really mysterious to me. It is the oddest thing. I can't predict it. Sometimes it is something I see, something I hear, and with that comes a very deep feeling that I cannot put in words just now.
JC: How did Atmospheric Embroidery happen?
MA: Well, the title poem was written when I was on the seacoast in the United States, in Massachusetts. I was a National Fellow at the Indian Institute of Advanced Studies in Shimla. So I had a lot of time. I laid out the poems. It takes a lot of time to turn poems into a book, you know. Some poems fall out. The central poem is called "Crossing the Indian Ocean"; that is the main poem because as a child I crossed the Indian Ocean at five. My father was posted to Sudan by the Indian government.
JC: Do you prefer free verse or forms? What is your take on English Ghazals?
MA: I have written in form very rarely. I tend to write in free verse. But free verse has an internal structure to me. It may not have an end rhyme, or an internal rhyme, but the shape of the poem is important, so that you craft your own shape. I think English Ghazals are wonderful. They remind me of my friend the late, Agha Shahid Ali. In a book called Birthplace with Buried Stones, I have an elegy for him.
JC: What is your take on the rise and criticism of popular literature in India?
MA: I think that literature is a like a mansion with many rooms. I don't believe in criticising anyone's work because it is popular or kitschy. Everybody should write. It is up to the reader to choose and decide. I don't think popular fiction is bad at all. It is great, it is there. It may not be my taste, but someone else may enjoy it. So it's fine. I don't think one should prescribe what people should write and what is good and what is bad. I don't think that way.
JC: Who are your favourite poets?
MA: I love Mirabai. I also love Wordsworth. I like contemporary poets like Kamala Das, Jayanta Mahapatra, Adrienne Rich and Audre Lorde.
JC: Many women poets are in your list. Do you think women write differently than men?
MA: I do not think women poets are different. There is a difference in the way society treats women because, if you look at the canons of famous poets, there are very few women and not because women are not as gifted, but perhaps they have not received the encouragement or the opportunity. Often women's experiences are different, but I don't think that a woman is necessarily different from a man when she writes poetry and what is different are her experiences. So that will enter into her poem.
JC: Any advice to aspiring women poets?
MA: Do not give up. Keep writing and believe in yourself. Sometimes it looks like it is a boy's world. It is very difficult out there but keep persisting. I think that is the best advice that I can give. And revise your work. Read it, look at it; don't think it is immediately finished. Writing takes a lot of discipline. You have to have the inspiration otherwise you can't write. If you have the discipline, you can rewrite it.
JC: Your latest collection has a poem on the "Nirbhaya episode"; how do you respond to the contemporary gender crisis in India?
MA: I think it is something serious. I think it is not something new. It's been there for some time. My novel Nampally Road had the same issue. But I think what is wonderful is that there is a whole generation of young women—such as yourself and younger than you, such as your students—who are very aware of these issues. Whereas thirty years ago, people were not willing to talk about these issues, after the Nirbhaya incident there were such huge protests. It made a difference.
JC: You are so right. But moving on, what role do you think emerging literary festivals like the present one play in India?
MA: Well, it is nice to have them. It is nice when your students can meet me, and I can meet them, and I can read with a few friends and make some new friends. I think sometimes they get a little too big. I think it would be so much better if they were smaller sometimes because they could be more intimate. But it gives people an opportunity to read and meet each other, and, for people who may not have the chance to see a living writer, is that not nice? To see just an ordinary person and that she is writing. It makes a difference. For instance, you and your students can meet authors they read about in classrooms.
JC: What are the things you love the most about Hyderabad?
MA: Oh my goodness, I just love coming back here. I love the rocks. I love the coffee houses, my old friends.
JC: But the coffee houses are disappearing …
MA: I know they are disappearing and they change. In fact, I wrote a poem in this book called "Mysore Café," and one of my former students, he said actually it is called "New Mysore Café" and it does not exist anymore. That's the thing—the world changes. La forme d'une ville / Change plus vite, hélas! que le coeur d'un mortel.[i] I love Hyderabad. It is one of my favourite cities.
JC: Thank you so much.
---
[i] From "The Swan" by Charles Baudelaire: "Le vieux Paris n'est plus (la forme d'une ville / Change plus vite, hélas! que le coeur d'un mortel)"[Old Paris is no more (the form of a city / Changes more quickly, alas! than the human heart)]".