Reviews and essays / March 2014 (Issue 23)

The Letter and the Lens: Priya Sarukkai Chabria and Christopher Taylor's Immersions: Mumbai/Bombay
by Shaily Sahay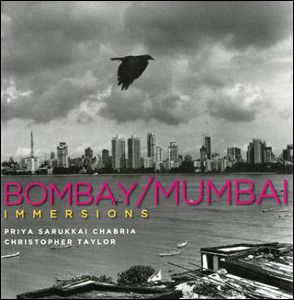 Priya Sarukkai Chabria (author) Christopher Taylor (photographer), Immersions: Mumbai/Bombay, Niyogi Books, 2014. 277 pgs.
In Immersions: Mumbai/Bombay, the result of two Mumbai aficionados' engagement with the letter and the lens, the city's centuries of existence come alive though Priya Sarukkai Chabria's lyrical prose and Christopher Taylor's intimate photographs. The ancient jostles with the modern, as one dips into and stays immersed in pages and pictures full of romance, history and beauty. The great metropolis nestles within these pages. Immersions redefines and transcends genres: it's a photo essay, a travelogue, a personal narrative, a prose poem and much more. Its love story with Bombay, recorded in words and photographs, is lyrical and personal.
These words create prose that is mythical and historical, bring out and reflect the shifting shapes of this un-pin-down-able city, while the play of monochrome and colour through a film camera, caressing and assured in the click of its shutters, closes in upon the reader/viewer, urging her to live in that moment, where the boundaries between yesterday and today are indiscernible—the very moment that a new Bombay/Mumbai is born every day. As Chabria says, "Both Christopher and I seek the sempiternal amidst the ephemeral."
Mehta's Maximum City, Pinto-Fernandes' Bombay Meri Jaan, Roberts' Shantaram, Rushdie's Midnight's Children, Chaudhuri's The Immortals, Swarup's Q & A and Thayil's Narcopolis all have one thing is common—Bombay, the muse or the trope, wholly or partially, or both. But before one wonders about why yet another Bombay book—albeit, one that draws the reader into its beautifully hardbound pages and allures her with meditative photographs—wait for what Ranjit Hoskote has to say:
Priya Sarukkai Chabria and Christopher Taylor persuade you to change your mind, with their captivating exploration of the public and the secret lives of one of the world's largest metropolitan hubs ... This book explores not only the politically contested present and the vibrant colonial past of Bombay/Mumbai, but also the city's deep history, traceable back to the early centuries of the first millennium CE.
Immaculate research, statistical and scientific, enriches every section of the book. The titles are revealing in themselves: "Concrete to Basalt," "Mosaics of Movement," "South to North: From Old to New," "Immersions" and "Cab Ride through Bombay/Mumbai." History, geology, socio-economics and politics are woven into quotes by filmmakers such as Pier Paolo Pasolini, poets such as Dilip Chitre, social scientists such as Sunil Khilnani, journalists such as Khwaja Ahmed Abbas and Rafique Baghdadi. These personal, reflective words bring alive landmarks in time and geography, drawing us deep into the evolution of life as it has been in Bombay. Chitre says, "It is a huge nightmare [where] people struggle to keep their dreams alive. It is a city of survivors though they are not as visible as those who have tasted success" shortly after Chabria observes, "Bombay/Mumbai is home to fantasies—on celluloid, the cricket pitch and in people's minds, it is the unparalleled 'soft' city of personal construction, myths and nightmares; it is the compressed cloud of dreams that people unfurl in private."
Chabria's prose makes subtle shifts in keeping with the subject of each section of the book, as when she writes in words full of magical beauty in "Mosaics of Movement: Tide." Writing about Bombay, or the sea, is as challenging as writing about love, for does anything remain unexplored in these subjects that writers and poets have written about through the millennia? Oh yes, there is, one discovers, as Chabria writes, "At noon, the sea becomes a liquid carpet of glitter ... High tide brings in the romance of lunar splendor, spreading like silk the full moon's roundness over its heavy darkness. Enchanting, ethereal, ephemeral, the sea becomes the Romancer of Romance" and "This is everybody's beach: from the toddler's discovery of the first taste of sand grains, to the peanut seller carrying his wares.., to the grizzly drunk.., to crows nimbly alighting between footprints."
Her prose then turns polyphonic and pragmatic, as she captures the cacophony of the chaotic traffic on a page facing a photograph of a crowded street showing blurry movement, underscoring that a large part of life in Bombay is actually lived on the streets. Then Chabria's sensitivity takes over in "Tales of Migrants," where the unnamed migrant is brought to life, with a name, a profession, a face. This part of the book is not dreamlike, but talks with empathetic melancholy about displacement and homelessness. She observes, "The taxi driver is, possibly, the most visible metaphor of the migrant settlement ... Most Mumbai taxi drivers are ready to share their opinions about whatever becomes the topic of conversation during any cab ride. Their loquaciousness makes me wonder if this is not due to loneliness."
I love to hold her hand through "Un-riddling Etymology," as she unfolds an engaging tale of names—of Bombay and of the various parts that make her up. Every name is a story, Chabria tells us, and comes with its history and anecdotes. This section is a tapestry bearing names that weave the Kolis, the island's earliest inhabitants, the Britishers and the Portuguese into the topography, secularism and fauna of the island city. In the same section, she talks of landmarks like Kala Ghoda, whose "street life has been immortalised in Arun Kolatkar's eponymous poems," the Asiatic Society of Mumbai that "perdures as a building of immense elegance that holds over hundred thousand [rare] books" and CST/VT[i] that has been "inscribed into celluloid dreams ... most often as setting for drama and song, twinning emotional peaks that announce arrival at new thresholds of experience. VT/CST is also a site for tragedy. On 26 November 2008 two terrorists entered the passenger hall, opened fire and threw grenades at the commuters."
The writer and the photographer close the distance between the observer and the observed many times, including through "Ferry Wharf," which will leave you either with a smell of fish or an immediate desire to cook and eat fish. Then they take you to the wedding of Abbas Kureshi at Meskewala Chawl. The photograph of the garland-laden, self-conscious groom will make you smile at the warmth and intimacy of the book you are holding. Then the narrative turns to take a look at the marvelous wares sold at Chor Bazaar and Mohammad Ali Road. My favourite section is the one on "Sarvi's at Clare Road, Nagpada," that Chabria is interested in "because Saadat Hasan Manto of racy salacious tongue lounged here ... I ask which table this caustic writer of despair and gleeful yellow journalism would sit ... Here, I am told, it is a bare marble top veined with age. Daylight dims, spectres guffaw in the imagination." And I am already planning a trip there, as to Afghan Church and to Banganga.
The section, "Holy Trinity - Bhuleshwar - Kalbadevi - Madhav Baug" is redolent with Jain philosophy and talks of the place where "[c]ommerce and religion, the secular and the sacred rub against each other without seeming friction or fall out," and together with Taylor, Chabria takes you to the Shwetambara and Digambara Jain temple in Bhuleshwar. This section completes the jigsaw puzzle of Bombay suburbs and gives you a glimpse of nameless, faceless people as one encounters on a real taxi ride through the city. Through the smells and sights, the vignettes and the faces of nameless people, the exploration of Mumbai seems complete, though you will turn the pages again and again, quietly agreeing with Chabria, when she says:
No journey of true discovery ends for the traveller, for the end of one journey merely marks the beginning of the next one. In this sense, our journey is also not complete. We realised that what one saw at noon must be seen again in starlight; that which was seen in summer reveals another aspect in the monsoon; sights and smells cherished in childhood vanish and are replaced with other sensations and a different understanding.
Taylor's intensely intimate and meditative photographs complement the text and create visual delight across the pages, and vice versa. Chabria's poetry holds the mythical and the sacred, as in Not Springtime Yet and her fiction has a lucid imagination, sensuality and scientific marvel, as in Generation 14, but the recurrence of the history and geography of the subcontinent holds a special place in her writing. In Immersions, the many elements of her work—poetry, short fiction and scientific facts—come together in a deeply meditative and assured experimental voice, transcending genres, delighting in the many sensory delights of Bombay and placing them into the hands of everyone—poets, journalists, travelers and connoisseurs alike.
---
[i] Chhatrapati Shivaji Terminus (CST), which was formerly known as Victoria Terminus (VT).