Reviews / September 2012 (Issue 18)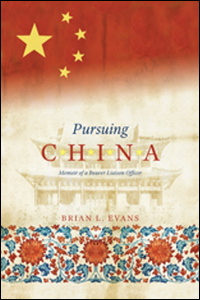 Brian L. Evans, Pursuing China: A Memoir of a Beaver Liaison Officer, University of Alberta Press, 2012. 312 pgs.
The question is simple enough: "What sparks an interest in a youngster's mind?" And, for author and Professor Emeritus of Chinese History at the University of Alberta, Brian L. Evans, C.M.[i], the answer is pretty simple, too. But the effects of that spark, recounted in his memoir, Pursuing China: Memoir of a Beaver Liaison Officer, have taken a lifetime to unfold. A richly detailed and intimate account of Evans's lifelong relationship with the Middle Kingdom, Pursuing China is a fascinating read. It is not about politics. Nor is it specifically about China. Both have a place, to be sure. But at its heart, this is the story of a man who, as a boy, got inspired and chose to live that inspiration.
Born the youngest of four to Evan and Dora Evans in 1932, Brian Evans grew up humbly during the Great Depression on the "arid prairie" of southern Alberta, Canada. Young as he was at the time, he recalls that his parents and older siblings did most of the work around the farm. Evan does, however, remember mixing flour, and more vividly being lowered into inspect a new water well. It was on his first day of school that he met a young Chinese boy named Herbert How. Evans says of the encounter that "[How's] impact on me was greater than mine on him ... [I]t was Herbert How's disproportionate impact on me from our very first meeting that led to my interest in China and the desire to know more about its culture and people." It was this friendship that sparked the series of events detailed in the book.
Brian Evans would go on to study Mandarin and Chinese history in London before returning to Canada to teach at the University of Alberta in Edmonton. During that time, he would also serve as a "cultural counselor" at the Canadian embassy in 1970s Beijing. These events are described in Pursuing China in a manner which is at once sweeping and focused. From Canada to the U.K. and France, Japan, the USSR and, of course, China, Evans weaves a grand tale. Indeed, people with whom Evans has had barely a passing encounter are described or quoted, random conversations are recounted. But it is never overwhelming. These splashes of colour adorn each of his stories, and do much to bring his anecdotes to life. With Evans himself as the common thread throughout, one never gets lost. Over the course of the book, he deftly guides his readers through eight distinct periods of his life. Accompanied by his amusingly dry sense of humour, it is a fun ride.
Take, for instance, the subtitle: Memoir of a Beaver Liaison Officer. At first glance, we readers might assume this to be a fully legitimate embassy position. Knowing that we are reading about a Canadian, and knowing how important beavers are to all things Canada, it makes sense. "Well," Evans concedes, "it is hardly a state secret that nothing gets Canadian diplomatic blood boiling faster than the knowledge that somewhere, some place, there is a vexed beaver." But in this case, the title is one of the best jokes in the book and unfolds over one of Evans' most important stories: the establishment of diplomatic relations with China with Prime Minister Pierre Trudeau's historic visit in 1970. While reading, one can almost see the twinkle in Evans' eye.
"The world knows of the early 1970s as the era of Sino-American ping pong diplomacy, but for Canadians it was not ping pong but pandas that kept us entranced," Evans writes. In previous state visits, President Richard Nixon and Prime Ministers George Pompidou and Edward Heath had given nationally symbolic gifts and had each received giant panda bears in return. But what, Evans asks, could Canada offer?
"What better than the beaver," he answers, "Castor canadensis, dammer of rivers, felter of hats, prodigious breed, and the symbol of Canada? Surely the Chinese, schooled in subtlety, would not fail to get the point." When no one at Canada's Beijing embassy volunteered to oversee the beavers' transit, Evans jumped at the opportunity: "Dear Ambassador," he wrote, "I wish to formally apply for the position of Beaver Liaison Officer for the visit of the Prime Minister of Canada to the People's Republic of China."
Little touches like this, which are rife throughout the book, make manifest the joy with which Evans writes, and the keenness of the mind that did it. The book is quite accessible, but there is a depth to his writing that serves close-reading and meta-analysis alike.
But it is all done simply, without flowery language, which lends his words a touching candour. Concluding a smile-inducing paragraph about two childhood dogs, Nip and Terry, whom he loved for eighteen years before they passed, he writes simply: "The trauma of their loss has remained with me and I have not wanted a dog since." Later, he recalls of his older brother that "Evan remains a shadowy figure to me—my memories of him are relatively few." He goes on to relay a few stories of camaraderie and care, and good old brotherly teasing. And then he says, "Of course, I will always remember receiving news of Evan's death at age twenty-one." These narrative arcs, and the simplicity with which he conveys them, greatly increase the reader's emotional engagement. When he writes of a trip he and his wife took to Hong Kong, "The six weeks we spent on a Dutch freighter was one of the travel highlights of our lives," the reader's smile is true.
And his cultural comments are nothing short of fascinating. For those who did not experience China in the 70s and 80s, reading a personal account of China's currency for foreigners (Foreign Exchange Certificates) that could only be redeemed at special shops, or about the difficulty of travel to and within China, is enlightening. Compared with today's near 24/7 shopping options, to read that in 1970s Beijing, "shopping was a daytime-only occupation," and then go on to see a list of streets—Qianmen, Liulichang, Wangfujing—and what items they were good for, is fun. The following litany (again written with a wry smile) is one of my favourites:
Which airline in the world kept eighteen new Boeing 707s on standby for the country's top political leaders? Which airline allowed its plans to make unscheduled stops because the pilot was hungry and knew of a good restaurant in a town en route? Which airline studiously encouraged its passengers not to observe safety regulations…? Which airline allowed passengers to pile luggage and parcels in the aisles and in the open overhead rack? Why [the Civil Aviation Authority of China], of course. It follows that it would be foolish to ask passengers to buckle their seat belts. They had to be free to dodge falling objects.
And this, "Those patrons with nervous stomachs had only to hear the cook clearing his throat of Beijing dust to hesitate about consuming the food," is still true today!
Similarly interesting are his political comments. Recalling World War II as a child, Evans says that he and his family "listened to FDR like he was our father, Churchill like an older brother, and Stalin like an uncle." Later, he describes how a weekly pick-up hockey game in Beijing between the Soviet Embassy staff and "The Rest of the World" gave him insight into the Sino-Soviet ideological split of the 70s. Though "The Rest" typically lost the game, this was the Soviets' primary interaction with foreigners in Beijing, including the Chinese. As Evans writes, "They were now pariahs and shunned."
These stories are fun for anyone who finds the nuances of real-life Cold War politics interesting. But for people born in the mid-90s, who have had to be taught about September 11, 2001 and for whom the Cold War is ancient history, anecdotes like these are priceless glimpses at an earlier, pre-3G world.
All told, this book is not for everyone. It is not a history book, nor a political analysis book, nor a "China" book. It is a memoir, an intimate look at one man whose life happened to involve history and politics and China. This is the story of Brian L. Evans, a person who lived life at the crossroads of history and was careful enough to take notes as he did. And it is well worth reading for precisely that fact.
---
[i] "C.M." designates a member of the Order of Canada, a civilian honour granted for a "lifetime of outstanding achievement, dedication to the community and service to the nation."