Reviews / February 2011 (Issue 13)

The Problem of Bodies, the Problem of Water, the Problem of Man: Anindita Sengupta's City of Water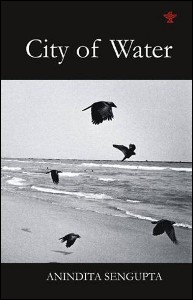 Anindita Sengupta, City of Water, Sahitya Akademi, 2010. 77 pgs.
"Man's body is a problem to him that has to be explained," the anthropologist Ernest Becker tells us.[1] This body comprises, biologists assert, some 60% water. Water outside, water within: we enjoy, or suffer, an ambivalent relationship to water in both locales: outside and in. Outside it is the stuff of life, without which non-life quickly ensues, but it is also floods, rip tides, torrents, death by drowning. Inside it irrigates the corpus, swells the blood, feeds the brain. We're but 40% without it, which is to say we're nothing; and the brainwork it fuels...well, therein lies the dilemma: how to square the circle of "the existential contradiction between the symbolic self, that seems to give man infinite worth in a timeless scheme of things, and a body that is worth about 98¢"?[2]
The problem of bodies, the problem of water, the problem of Man—and particularly of man and the rules and regulations, terms and conditions, mandates and prohibitions, he clings to in the face of these and other problems—here are the themes that animate Anindita Sengupta's arresting first collection of poetry, City of Water. "I hear there are special places for pain in my city," she reports; "... loneliness? It churns—a weather vane in my city!" she observes. "They never learned to spell 'mundane' in my city," she chides ("Bombay"). Descrying the habits and mores and the petty, terminal perditions of her city-folk, she will teach us how to spell this and more.
Technically, the collection is adept. Sengupta shows her range as a poet by employing forms as diverse as the ghazal—the sixth century Arabic verse form which is said to be particularly suited to themes of love and separation—and the triolet, originating in medieval French poetry.
Through it all flows water. And drips water. And boils water. Water as water and as rain and as wine and as blood. Water's many guises, those blessings and curses, are sketched out in the subtitles of the six sections that comprise the collection—"Thirst," "A Sense of Rain," "Flash Flood," "Drown," "Still Water," "Swim"—and unfold in the pieces that fill them up. For all its ubiquity, Sengupta never permits us the solace of imagining we have encompassed or contained water or the forms that it takes: "It's time to talk of rain," she declares, but, in talking of rain, we are directed towards its complicity in a range of conflicting scenarios. In "Desire. 15." it is the alibi for outlawed passion:
[... ] I wait
for the next humid or rain-stopped afternoon
when your fingers will find their way
into the right places.
In "The City of Water" the backdrop to quotidian despair:
Outside, the relentless drip—
it can make people mad.
In "A Sense of Rain" a spur to action:
[...] A woman sprinted past
in a towel-turbaned head, plucked clothes

off the line with the urgency of saving someone
from drowning.
A spur to action, yes, and quite incommensurate with its cause—here we approach a second theme. Sengupta's world is characterised by urgency in the face of trivia, inertia in the presence of moment. Mankind's best efforts, she seems to tell us, are employed in the weaving of a social web, designed to rein us in, to domesticate, to ward off the frightful vitality of living: "Ignore the radio static in your head./Maintain decorum." ("Mourning"). It's a conservative and fearful world, for the most part—in which etiquette, playing the part, not causing a fuss, assume ordinance.
The scale at which this pact with deadness and oppression plays out varies. In "Speaking in Tongues" it is little more than the humdrum and mellow compliance that serves to lubricate family politics:
Tomorrow, I will meet ma at Levitate,
buy silver earrings, beady bags,
boho hats I can never wear
anywhere polite.
(You said 'be dignified').
Ma will pretend to approve.
In "The Anatomy of a Suicide," however, a more sinister acquiescence descends upon a mother mourning a newly dead son:
'Thank you for coming,' she said.
'Thank you all. Thank You,' as if
good manners could still somehow
save the day...
From whence stems this submission to what Erving Goffman has termed "face ritual," if not from a brooding anxiety in the face of life's unpredictability and essential impoliteness ("the terrible rudeness/of somebody dying suddenly" ["The Anatomy of a Suicide"])? A third theme emerges here: the disgrace of corporeality, the scandal of the body, that 98¢ bag of water and bone. "There's shame (I've heard) in things that concern the body," Sengupta reports in "Codes of the Body," with parenthetical scepticism—but she's too honest an observer to neglect the insistence of the blood and skin and guts in human affairs:
His father looked as if the world had jerked
all energy out of him in measured kicks. ("Oddly")

Who found you, father, on the bathroom
floor that night? Sunk. An upturned
tanker spilling blood like oil ...
... Nothing would scare me again. ("The Vivid Stream")
Little wonder she is drawn to two extremes of physical suffering in the emblematic figures of Piergiorgio Welby and Noel Martin ("... a life sentence/in a chair, an airless living full/of boredom and hurt"); we all exist on the continuum of which they form a pole—as Sengupta would have it, we exist within "Codes of the Body": "In bedsores and in boredom, life chugs by grimly." But Sengupta is no Cartesian despiser of human creatureliness. Quite the contrary—in knowing when our materially bound lives are no longer worth the candle, she affirms, precisely, all those many other times when they should be and are. In "Mourning" she declares her own "cogito ergo sum" in tribute to the joys of flesh and blood:
Do eat.
The digestive system
is your one, unassailable proof
of being alive.
And "In Pondicherry" is her buoyant, forceful prescription for surmounting the problems of body, of water and of man; of escaping the strictures, the conventions, the blindnesses, that fetter us to ourselves.
In Pondicherry, we'll be French:
we'll cycle seawards, drink good wine
and frolic naked. Come unclenched...
---