Reviews / February 2011 (Issue 13)

The Magpie and the Mirrors: Tropical Affairs and Something Beautiful Might Happen
by Alice Tsay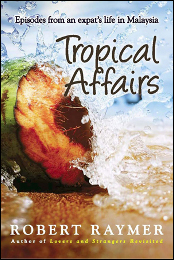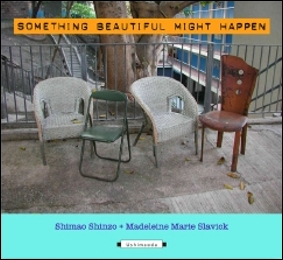 Robert Raymer, Tropical Affairs: Episodes from an Expat's Life in Malaysia, MPH, 2009. 303 pgs.
Shimao Shinzo and Madeleine Marie Slavick, Something Beautiful Might Happen, Ushimaoda Publishing, 2010. 138 pgs.
In a letter of 1903, the Polish-born, English-language novelist Joseph Conrad declared himself a "homo duplex," articulating a sense of internal division that travelers and émigrés have experienced many times before and since. Two proves too scanty a number for the writer Robert Raymer, who now lives in Borneo but originally hails from the United States. In his collection of essays, Tropical Affairs, the American expatriate divides his work to reflect seven facets of identity: "On Being a Movie Extra," "On Being a Teacher," "On Being a Father," "On Being a Writer," "On Being an Expat," "On Being Myself," and, in a cheeky twist of language, "On Being Out of Luck." Meet the homo septuplex.
This sense of resolute overabundance runs throughout the work, a collection of pieces that Raymer describes as creative non-fiction "colored and influenced by his own experiences living in Malaysia." A tree is not just a tree, as he tells his English students in "Tree Methodology." It is a playground, a habitat, a symbol, a riot of possibilities. His enthusiastic approach is deeply engrained, effusively embracing all: "I wanted to give them plenty of food to eat and plenty of love," Raymer writes in account of playing Santa Claus to hundreds of schoolchildren, "so they'll grow up to be loving adults who can later bestow the gift of love onto their children, and their children's children."
As the last line intimates, Tropical Affairs is weakened by the fact that Raymer does not always intuit when and where to stop. One must be impressed, albeit grudgingly, with the mileage he gets out of a handful of fleeting encounters with maniacs, movie stars and monitor lizards. Bit parts in films such as Indochine, Anna and the King and Beyond Rangoon receive repeated treatment, as do anecdotes about his infant son chucking away Raymer's first book and a dead owl whose body he heroically rescues and buries. He is constantly validating the things he has done—in films, in life, in publications. "This story, by the way, has been published nine times in six countries," he comments at one point, "including France and the US." Robert Louis Stevenson's observation of Samuel Pepys comes to mind, writ small: "Whether he did ill or well," Stevenson commented on the seventeenth-century diarist, "he was still his own unequalled self; still that entrancing ego of whom alone he cared to write."
Upon occasion, this self-entrancement leads to stark honesty. In "A Private Moment between Father and Son," Raymer frankly recalls his trepidation leading up to the birth of his first child:
As the baby grew inside my wife's womb, well-meaning friends often asked me for my thoughts on fatherhood. Thoughts I evaded. Thoughts I could not honestly tell them. For my thoughts were mostly second thoughts: I was scared.
In other places, however, Raymer's tendency to make himself the subject leads to major strain; the desire to elicit laughs stifles introspection. "I once spent four days in the hospital. The doctors never did find out what was wrong with me." So begins a piece called "Hospital Blues." It continues with two punch lines: "Then again, I wasn't the patient. The patient was our six-month-old son, Zaini. I was just the impatient father." A few moments later, he channels the nurses and continues bandying readers about: "'He's so cute!" they say, meaning the baby, not the father." Might we really get confused?
Tropical Affairs is a collection of vignettes, many of them fascinating, by a writer who is earnest and possesses dramatic flair. Unfortunately, it is ultimately little more than a collection of republished vignettes, many of them told and retold, by a writer often lax in his craft. In an early essay, we are informed that the movie Beyond Rangoon "examined the nobility of the human spirit when caught in an extreme situation." The maddening flatness in this reference to Burmese history is one shared by the book's glimpses into life in Southeast Asia, particularly as the work of a man with seven separate identities to bring to bear. Robert Raymer has better in him, should he only hold back and allow complexities to come into focus rather than doggedly pursuing his hook.
On a whole, Something Beautiful Might Happen is characterized by precisely the restraint largely absent from Tropical Affairs. A collection of poetry by Madeleine Marie Slavick and photographs by Shimao Shinzo, the work revels in the potentiality that its title suggests. In its pages, Hong Kong emerges without polish. Paint flakes like dry skin, graffiti obscures bus signs, cardboard boxes are partially squashed. At the same time, there is something magical amidst the mundane: "a flowering tree brushes against the evening bus," "frogs appear like talismans," and in the darkness "peace is prepared."
Both artists bring to Something Beautiful Might Happen a spare aesthetic that nevertheless captures a great deal:
all night the wind
changes its mind
These lines by Slavick, from a poem called "Sleepless," illustrate the laconic precision at work. The second half is a surprise, providing a turn that echoes the ones being described. The psychological experience of wakefulness, the passage of time, the setting of a scene—all are encapsulated in the seven uncapitalized, unpunctuated words. Elsewhere, her work uncovers a permeability between the tangible and intangible worlds, perceiving "silence/almost a color" as well as a man who "lower[s] the spoon of rice/as if a white sigh." Life and landscape have been absorbed, then rendered in selected detail.
Shimao ably complements Slavick's vision with his evocative shots. "I have tried to capture what it is in a place's atmosphere that leaves a deep impression," he writes of his approach in the Photographer's Note, "the blend of diffused colors and shapes that creates the distinctive aura of a place." His lens captures a city full of story fragments, rich in humor and mystery. A wall of sheet metal opens into a room filled with upended glass jars; outside is hung a reclaimed box of almonds, covered with scrap paper and labeled "mailbox" in Chinese. Similar in its inexplicability, a massive round of mandarin oranges tilts ever so slightly on its unattended trolley, and yet a man less than half its height strolls by without a glance at the mountain of fruit.
Something Beautiful Might Happen renews Hong Kong by allowing the city itself to suggest what it has to offer, whether in the grim facade of an old woman in a traditional apothecary or the moon shining through the window: "every night she sits in a different chair," Slavick writes of the latter. The travel writer Paul Theroux has written of his first trip abroad, as a Peace Corps volunteer in Africa, "It shaped the way I see the world and showed me that there was more to write about than my own inner miseries." One of the works here has been inspired by its foreign surroundings to turn outwards in this way. The other, regretfully, has not.