Reviews / July 2011 (Issue 14)

Bloodheads, Dust and Mud: Yan Lianke's Dream of Ding Village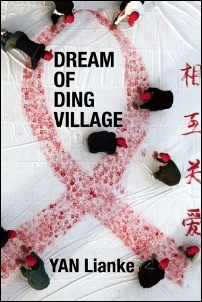 Yan Lianke, Dream of Ding Village, Grove Press, 2011. 341 pgs.
Set in Yan Lianke's home province of Henan in the contemporary era of economic reform, Dream of Ding Village has a familiar rural setting but an unusual narrative voice. It is narrated by a dead boy, twelve-year-old Ding Qiang. He tells the story of his Grandpa Ding Shuiyang, his father Ding Hui and the people of Ding Village. They live in a poor area of the countryside, with dusty fields beside a dried up channel of the Yellow River. But they have recently tapped into a source of wealth that they think runs deep.
Ding Hui was the richest and most influential "bloodhead" in the village, the only man with a three-storey house in a village where government rules set the maximum height of private dwellings at two storeys. The bloodheads of rural Henan were ordinary villagers or former peasants who struck it lucky. At the urging of the Party or in response to newly emerging commercial opportunities, they moved into the lucrative business of collecting and selling human blood.
Ding Hui paid 85 yuan per vial of blood, beating out the competition and building up a broad network of customers across the county. Some villagers sold their blood every two or three months, but others sold it every fortnight. Ding Village experienced a blood boom.
To cut production costs and maximise profits, the untrained blood collectors reused cotton swabs and hypodermic needles. They took blood from the sick and the weak. They took more blood than they paid for.
After a decade of growing rich on the blood of the local peasants, the fever hit Ding Village and the surrounding county: HIV/AIDS. People withered and died like drought-blighted crops on the Henan plain. Nearly every family was stricken.
Many residents of the village just sat and waited to die. New Street, with its row of freshly built two-storey houses, lay quiet.
Some villagers gave up any hope. Others still clung to rumours of a new medicine that would instantly destroy the fever and restore them to health.
Some reacted violently. Ding Hui, the most prominent bloodhead, was secretly attacked. They poisoned his chickens. They poisoned his pigs. They poisoned his son.
But Ding Hui refused to apologise or take responsibility for his devastating actions, despite the urging of his father, the upright but disappointed Grandpa Ding. Grandpa Ding was caretaker of the elementary school and father to another son, Ding Liang, who was himself a blood seller who became infected with HIV/AIDS.
Grandpa Ding took it upon himself to house the infected in the school, providing them with a source of mutual support and comfort. In a distorted echo of former socialist collectivism, the dying pooled their resources and ate together. But Grandpa Ding also unwittingly provided the sick with a stage for domestic drama and intrigue, with the dying stealing from each other and some of the younger patients beginning adulterous relationships in a desperate final burst of passion and empathy. The fallout from Ding Hui's recalcitrance and the public exposure of Ding Liang's adultery in the school's storeroom with Lingling, his cousin by marriage, undermined Grandpa Ding's reputation and established the conditions for a political coup that robbed Grandpa Ding of his practical authority in the school and his social status as an honourable man. Grandpa Ding became isolated and alone, silently tending the grave of his twelve-year-old grandson.
The new forces in control of the elementary school de-collectivised and privatised. The school desks and chairs were taken away, along with the teacher's beds and the kitchen benches. They were sold off, turned into coffins or stockpiled in the private homes of the new directors.
Meanwhile, Ding Hui continued to prosper, enjoying the status of a county cadre and planning to move his wife and daughter out of Ding Village and into the provincial capital of Kaifeng.
First he traded in blood. Then he traded in coffins. And then he traded in dead teenagers.
For the families of youngsters who died before they could be married, Ding Hui arranged eternal unions in the afterlife. For a fee. He even betrothed his own dead son to the daughter of the county governor, securing for them a privileged burial plot overlooking the Yellow River and securing for himself the political connections necessary to grow and perpetuate his wealth and power.
But there are limits to power just as there are limits to lies and humiliation. There are limits to repressing or controlling the lives and dreams of ordinary people. Grandpa Ding cannot ignore the desperate cries of his dead grandson, calling out and pleading not to be removed from Ding Village and sent to be reburied in Kaifeng with a dead woman he has never met. So Grandpa Ding stands up to his powerful and overbearing son. Grandpa Ding stands up in the way thousands of ordinary Chinese stand up each year when their land is confiscated, their homes are demolished, their taxes are extorted or their petitions are intercepted or denied. It is just that Grandpa Ding stands up more forcefully than many and publicly proclaims his action once it is done.
In Dream of Ding Village Yan writes with barely controlled passion and anger. Violence is always a possibility, a sickness in the blood or an inevitable eruption of pent-up frustration, humiliation or outrage. When it strikes, violence strikes like a lump of wood to the back of the skull.
Yan Lianke's Dream of Ding Village is a very different novel to Serve the People!, the iconoclastic comedy that brought Yan international attention in 2007 for subverting Chairman Mao's famous slogan and spicing up the Cultural Revolution with sex and satire. Both novels have been banned in China, but while Serve the People! is predominantly funny and sexual (with some cartoon elements), Dream of Ding Village is serious and stark, yet also tender and at times compassionate. There are moments of vengeance or righteous anger in this novel which may be shocking and disturbing, but which are unsurprising given that the blood-contamination scandal at the core of the narrative is based on actual events. Yet Yan also creates scenes of tenderness and self-sacrifice. The people of Ding Village seek love or comfort despite prejudice and the imminence of death. The compassionate suicide of Lingling—freezing her own naked body in breaking the fever that threatens the life of her lover—is a poignant moment in this novel that takes self-sacrifice to a whole different level from the rhetorical sacrifice of self-described revolutionaries in the Cultural Revolution or the orchestrated Learn from Lei Feng campaigns that used to periodically sweep across China.
Both novels take ordinary people as their protagonists, and both deal with deceit, authoritarianism, passion and humiliation. But while Serve the People! focuses on lust, love and estrangement for one young couple in the unique context of the Cultural Revolution and lampoons dogma and revolutionary rhetoric from that era, Dream of Ding Village is far more ambitious in its sweep and scope. From the plains of Henan and the banks of the ancient Yellow River, Yan's novel ranges from Ding Village to the imagined skyscrapers of Shanghai and Guangzhou. In the imperial-style tombs of young people killed by AIDS, coffins engraved with the names and images of China's leading banks empower the dead to enter the underworld with all the wealth of China at their disposal. Yan Lianke links imperial China, folk tradition, superstition, Party authority, official corruption, ambition and greed to give a broad and deep understanding of contemporary China and the human condition.
Despite its many barren channels the Yellow River continues to flow, delivering sorrow to generation after generation but also bringing new life. In his final dream Grandpa Ding returns to the village but everyone is gone. AIDS and then the drought have finished them off or driven them out. He is totally alone. In his dream he visits all the places he had known. They are all deserted. But he sees a woman digging with a willow stick in the rain. With each flick of the stick she raises a small army of tiny mud people from the soil. Soon there were millions. "Grandpa found himself gazing at a new and teeming plain. A new world danced."