Poetry in translation / July 2011 (Issue 14)

by Kang Cheng, translated from the Chinese by Vivienne Guo and Ralph Parfect
Scream

What is a man made of?
He is made of screams,
his first love and his bones,
which make his wine glass happy, and make it feel like crying.

She screams.
All that's left is her scream,
surging into my sweating palms.
It's not fate that connects one cell with another,
as if by accident,
sparing greetings.
Your dating at home has my approval.
In mineral water, the blackish distance has been washed clean.

The sharp thorns of her scream have pierced through me.
She is pointing at you,
At me, at the ghost and the wild animal.
Only to say,
No one is guilty.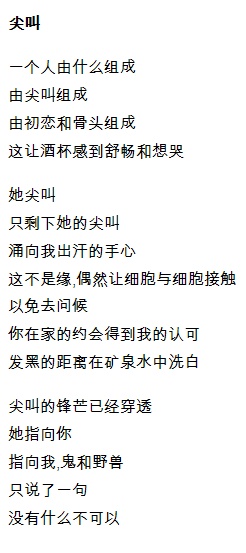 Animals' eyes
"Where are you going?" "What time am I headed for – is that what you're asking?"
When the whole world is unreal
It's only love that cannot repeat.

There's no way to believe; an animal's eye,
Forms the simple structure of a dark night.
The wildest imagination comes from eyes,
The part of a human body where branches grow out easily.

Eyes advance in different directions at the same time.
The objects they encounter are placed in a basket close by.
Feelings were engendered in the body long ago, falling behind time.
The eyes can only see the body.

Habitually we hold our breath.
Morality heavily presses on eyelids.
Compared with the animals,
We sleep longer and see less.