Reviews / February 2011 (Issue 13)

Inside Singapore: Fifty on 50
by Vivian Ding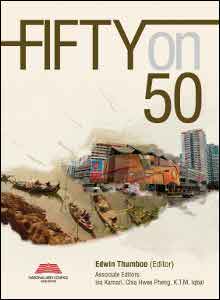 Edwin Thumboo, editor, with Chia Hwee Pheng, Isa Kamari and K.T.M. Iqbal as associate editors, Fifty on 50, National Arts Council (Singapore), 2010. 148 pgs.
After setting down the hardcover copy of Fifty on 50, I could still feel its weight in my hand. Containing fifty poems written by fifty poets on various subjects, this anthology celebrates Singapore's fiftieth year of self-governance, with poems accompanied by photographs and illustrations. Featured here are works originally written in English, as well as those translated into English from Chinese, Malay and Tamil. Hence, Fifty on 50 not only tells of the journey of Singaporean development since gaining its national independence in 1959, but also its varied cultural landscape.
During this time, Singapore has undergone a remarkable transformation, establishing itself as a global financial center, a point of exchange between Asian and Western cultures and arts and a modern and beautiful garden city. This development has given Singapore a new prosperous facade and also a sense of national pride:
We've learned to govern ourselves, to navigate
Through long, civil discourses of justice
Without the cheeks of double speak and shades
Of wigs; we've dug deep and returned to our roots,
The essence of our being, and changed the way you
Saw us, the way we saw ourselves, […] (J-son Wooi-chin, "The Feeding")
For some of the writers in this collection, however, this modernization and urbanization has not come without a price. There is a nostalgic undercurrent running through the book, especially palpable in several poems contrasting the present with the past. In "The Children of Robinson Road" by K. T. M Iqbal, the speaker revisits Robinson Road, where he lived as a child, and is disturbed by the changes brought about by progress:
The small buildings
The children of Robinson Road
All grown up like us
Unrecognizable
For others, this sense of loss is made manifest not only on a personal level, but also on a social one:
Entertainment district and night vices
3-star hotels well patronized even for just 2 hours
Eating houses sprout to whet various appetites
Malay village since born had a deformed soul
Will be demolished as decreed in urban renewal plan. (Isa Kamari, "The Koran Chanter of Geylang Serai")
Kamari's poem focuses on a street Koran chanter at the intersection of Joo Chiat and Geylang Serai, who crosses the road to a spot near the entrance of a new market, sensing this location will offer more foot traffic and a larger potential audience. However, in the hustle and bustle of the shopping area, his chanting is deemed by officials to be "too often a nuisance." Religious faith is thus challenged by the booming market and the city's modern lifestyle; the same may be said of the old villages, the local mode of trading and the indigenous cultures, which constitute the focus of many poems in this anthology.
Perhaps the city's traditional ways of life will inevitably be reduced to shadows in our memory. Nonetheless, the ability to reflect, to appreciate the arts and culture and to strike a balance between economic development and contentment remains important for the writers in this collection. Edwin Thumboo, in his poem "Two Harbours," strikes a reflective and meditative tone in his comparison between Hong Kong and Singapore:
More alike than we care to know, we compete,
Yet share creative get-up-and-go, vie to be tops,
How tickets sold, count good reviews.
But the Arts
Conclude to start again, to shut doors so open others.
A shadow on stage comes alive, demands its hour.
One poem begets another, another another. Art only
Arrives to depart, as we search for what to cherish,
Hopefully a truth.
There are a lot of similarities between Hong Kong and Singapore: both emerged from colonial histories and they have since attained a high degree of prosperity. They both also have prominent harbours which bring business opportunities and resources to the city. Yet the poet acutely senses the negative impact that these successful harbours and the accompanying economic development have had on Hong Kong and Singapore: everything becomes a statistic, and the cities themselves become only a temporary harbour, not only for material goods, but also for the arts and ideas. In such an environment, can its people appreciate art shorn of its commercial facade? Can the cities provide a stable anchor for their residents' way of life?
Most of the poems collected in Fifty on 50 demonstrate a social awareness to one degree or another; at times, this awareness culminates into an authentic personal voice:
Singapore and Hong Kong are to mummy and daddy what Hong Kong and Singapore will be to both of you. I can't help but think I'll lose you to Hong Kong, the way I am losing Titus, who no longer talks about the MRT the way he used to back in Singapore. You might grow up thinking that the MRT in Singapore is the subway with its "R" misplaced. (

Eddie Tay

, "Letter to My Baby Daughter Born in Hong Kong")
The speaker's homeland, Singapore, is associated with the MRT (the name of its subway system), an acronym very similar to MTR, its counterpart in Hong Kong. To those born in Singapore but living elsewhere, home cannot be easily replaced, just as the MTR is always the subway with the "R" misplaced. However, the speaker is forced to acknowledge his children's estrangement from his own country—they may come to see the MRT as the train system with the wayward "R."
The anthology's subjects are diverse, ranging from the history of Singapore's independence and its modern society to the minute descriptions of a father's feelings for his newborn baby. Every bit of its content draws the reader closer to the inside of Singapore. Even a single word has its local story: the significance of MTR can only be fully understood if the reader knows about the subways in Hong Kong and Singapore. In this way, the works in this collection are unified in their celebration of Singapore's unique and individual character—they all share the same terminology, geography and myths. And yet through its writer's various languages and culture, Fifty on 50 also provides a glimpse into the varieties of Singapore's multicultural society.