Essays / September 2010 (Issue 12)

Brazen Ignorance and Balls of Steel: A Recipe for Survival as a Children's Writer and Publisher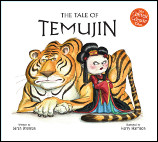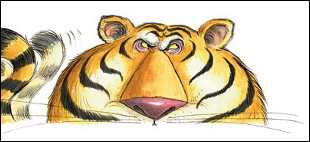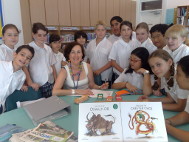 "You've gotta have balls of steel to survive in this business." That's what my graphic designer said with a sceptical grin when I asked him to design the layout of my first self-published children's book in 2007. Seven books and three years on, I'm still here, so maybe I do have balls of steel—although perhaps the qualities most in demand in my line of work are blind optimism, pig-headedness, an ability to talk the legs off a donkey and a fervent desire not to do any other job!

A Brief (-ish) History
Like most authors, I've been writing since I was a kid. I've always written for fun—whether it was writing epic poems recording family events, satirical verses sending up my lawyer colleagues or a story about a feral bagpipe, MacScreechin' wa' his name, who used to roam the Scottish hills a searchin' for a hame. Indeed it was the latter story which led me, quite by chance, to my career as a children's author in Hong Kong.

For years I'd fantasised about becoming an author but had followed the path of common sense dictated by my parents, i.e. find yourself a proper job. This resulted in a legal career which, though always interesting, was frequently stressful, and in particular carried the dubious privilege of having to work with other lawyers. When my first husband and I moved to Hong Kong and I had my babies, my creative juices began flowing anew, and I penned a couple of humorous articles about parenting for my children's kindergarten magazine. As luck would have it, Playtimes had just been purchased by local publisher P3 and taken to the high street. I was invited to become lead feature writer, which resulted in a year's worth of columns (these in turn became the basis for my tongue-in-cheek parenting advice manual Dummies for Mummies, published by Haven Books in 2006).

That same year, after rashly inviting me to a Burns night supper where I declaimed my aforesaid Feral Bagpipe poem in a thick Scots brogue, my publisher David Tait asked if I'd written any children's books. I produced a story I'd written years ago—A Dirty Story, chronicling the epic battle between the nauseous Neats and gruesome Grots. David showed it to Harry Harrison, famous cartoonist for the SCMP, and my first children's book was published in 2004. My career as a children's writer had begun.

I took the book straight into Hong Kong English-language schools and the book sold well, so the next year P3 published the sequel, An Even Dirtier Story. It was great fun reading the stories in schools, but increasingly I felt a sense of disconnection between the material—set in the mythical but very European Twinkle Downs—and the identity of the kids to whom I was reading, who were mainly of Chinese origin. At the time there were some beautiful picture books by authors such as Roseanne Thong and Karmel Shreyer for younger children relating to Asian themes. But for my market—primary school kids up to Grade 6—there was little if anything on the English-language shelves that was funny, fictional and about Asia. So I decided to try to fill the gap, and in 2007 set up my own company, Auspicious Times, to publish a funny story about a child-eating Chinese dragon that lived by the South China Sea. Looking back, I was brazenly ignorant about the publishing process, in particular the financial risks involved—but perhaps all the best decisions are made that way! With nothing but a small loan from my new husband, I bounced into Harry Harrison's studio one day and read him the story. In a cunning move to get me out of his office, he agreed to show the story to his kids. They gave it the thumbs-up and Harry agreed to illustrate it. I then realised that I knew nothing about book production. My friend Dania Shawwa introduced me to graphic designers e5, who explained the production process from start to finish and warned me about those essential steel balls. Harry then drew the illustrations, e5 pulled the book together, and in nine weeks my first self-published book, The Tale of Chester Choi, was on the shelves.

Chester Choi sold quickly in shops and schools. With The Year of the Rat and the Olympics fast approaching, I thought it might be fun—and profitable—to publish a second book which covered both phenomena. Thus The Tale of Run Run Rat, about a feisty Chinese village rat who unwittingly wins the Olympics marathon in Beijing, was launched in April 2008. To my great surprise and satisfaction, it became HK Time Out's Number One children's best seller for six weeks over May/June 2008, with The Tale of Chester Choi at Number Two! I realised that the formula—Chinese subject matter, humour and Harry's amazing illustrations—was potentially a winner for the Hong Kong market, so I wrote and published The Tale of Oswald Ox (the story of a retired ox who saves a Chinese farming hamlet from starvation) for the Year of the Ox in 2009.

I bought back the rights to my Dirty Story books from P3 in 2009, then published The Tale of Temujin—about a man-eating tiger with a terrifying roar, based on the story of Genghis Khan—for Chinese New Year 2010. I have since reprinted the Dirty Stories with a wonderful fold-out map of the Twinkle Downs by Harry. And now another Chinese Calendar Tale is in production for next year —no prizes for guessing which beastie that's about!

And finally, this techno-Luddite has at last embraced the power of the Internet, with a funny if noisy website launched in January this year designed by the brilliant Creasians and a blog which is alternately the joy and the bane of my existence depending on how busy I am!

The good news about writing and self-publishing
People often ask what motivates me as a writer. That's an easy one. Writing makes me happier than almost anything else. I also get an immense buzz out of working with kids, and I've fallen in love with book production from start to finish. It's a hugely creative process, and I relish the control I have over it. If I were with another publisher, I would have no control over the final script, the choice of illustrator, the appearance of the book, when it was released or how it was distributed and sold. Also, with reputedly 95% of a mainstream publisher's marketing budget devoted to the top 5% of its authors, the vast majority of authors today must do their own marketing, largely at their own cost. So why not control the process and make money from it at the same time?

And there are many other benefits to self-publishing. As a small company I can exploit openings quickly without waiting for committees to make decisions. It is said that an inventor is the best marketer of his product, as no one else has the same knowledge of it or the same incentive to sell it. I believe that this applies strongly to books, especially at a time when book sales are under huge pressure from competing technology, over-saturation of the market and cut-price selling in megastores. Now more than ever, it is essential to be able to reach one's market quickly and cheaply. In this internet age, I have immediate and direct access to my market which obviates the need for agents and publishers, and reduces the need for a distributor in every market.

The bad news about writing and self-publishing
I'm yet to experience a downside to writing. It's pure, unalloyed joy. But when a writer starts publishing, she suddenly discovers that writing is just the starting point and that publishing is a business like any other, with exhilarating peaks, depressing troughs and extremely hard work in between. It's hard to believe, but I'm actually working longer hours now than I ever did as a litigation partner in a law firm!

And for someone who defines herself as a writer, I now spend very little time writing. I spend the vast majority of my time on the business, with the bulk of that time spent on marketing and distribution. So yes, you do need balls of steel, as the world of book-publishing is highly competitive and notoriously difficult. You also need to be an unabashed salesman. Self-publishing is not for shrinking violets, nor for anyone who finds marketing their own work distasteful. Above all you need to love what you do because only a madman or a masochist would go on this rollercoaster ride otherwise!

And thank you with all my heart to…
Writing is a famously lonely activity. And self-publishing is fraught with risks for the newcomer. I've been fortunate enough to have had some great mentors and supporters along the way. Nury Vittachi read my first parenting articles and generously suggested various publishers; David Tait of P3 first published my work; Dania Shawwa of Haven Books not only published me but has also been a loyal friend over the years. My distributors FEML have been enthusiastic promoters of my books since the outset. Hong Kong Women in Publishing has been a great source of inspiration and support. And then there are my loyal fans, the kids, parents, teachers and librarians of Hong Kong and elsewhere. But most thanks must go to my amazing team—Harry Harrison, e5, Creasians and my printers Macmillans—not to mention my incredibly supportive husband and long-suffering children.

So where to from here?
The book publishing industry is currently mired in gloom and doom and the world of children's books is no exception. I do believe however that children's picture books occupy a special niche which is less likely to be affected by digital alternatives. Cuddling up in bed with a child to read a picture book from a hard screen just doesn't have the same emotional resonance as opening and exploring the pages of a picture book together. Nor in my opinion do digital screens hold the same allure for kids as a medium for reading and re-reading favourite stories and poring over their pictures. But perhaps this is wishful thinking—only time will tell, and as a publisher I have no choice but to watch the market and adapt where necessary.

In terms of content, I think that there will be an increasing number of books published to cross the East/West divide as increasing numbers of Asian children learn English and as China and India continue to rise on the world stage. We are already seeing some excellent children's books translated from Chinese into English and the trend is likely to continue in both directions. It's a great thing for kids not just in Asia but also world-wide. Asian culture and history are fabulously rich and deserve a world-wide appreciation amongst children as well as adults.

Final words…
There are days when I would cheerfully turn my back on my business and return to the safe haven of life as a salaried lawyer. But they are few. Most mornings, I jump out of bed excited, energised and ready to do battle again. I've always loved writing, I've always loved books, I love working with kids, and publishing is fabulous fun when it's not downright painful. I have to pinch myself on a regular basis to believe that I'm making my living from my grande passione.

So if all this rings a bell with you, and you don't mind working seven days a week, or at 2 in the morning when the rest of the family is sound asleep, then life as a children's author and publisher is definitely for you!
Bon voyage!