Contributors / May 2010 (Issue 11)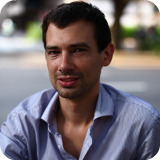 James Bent is a British born, Singapore based Learning and Design Consultant who recently started the blog
Outré Singapore
. The blog, which he runs in his lunchtimes, after work and in the weekends, focuses on bringing together a collection of Singapore street portraits. No doubt,
The Sartorialist
by Scott Schuman is the greatest influence on this—it started out as a writing project for which Bent used
The Sartorialist
's photos as character studies, but now all he wants to do is take great photographs of people from the street, showing their style on any given day.
Outré Singapore
is starting to build a solid name for itself having been featured on
Vogue France
's website,
Glamour Paris
' website and with interest growing from local and regional magazines. [
View
]