Reviews / February 2010 (Issue 10)

Dressing up: Wena Poon's The Proper Care of Foxes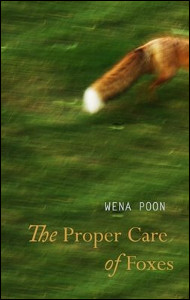 Wena Poon, The Proper Care of Foxes, Ethos, 2009. 225 pgs.
Wena Poon's The Proper Care of Foxes is a collection of eleven short stories set variously in America, Europe and Asia. This trans-national landscape is occupied by characters living in a state of geographical and cultural dislocation. While by no means homogeneous, the stories call on several overriding themes. Notable among these is the search for things lost, including the individual's sense of self—the right voice. The characters, by turn frustrated, confused, confident and ebullient, occupy a world of chance meetings and unexpected reunions in which they attempt to reclaim what they were, understand what they are and, sometimes, dress up as something new.
In Justin & the Cenotaph Wena Poon's narrative is at its most convincing. Justin is a 42-year-old Singaporean architect with a successful career. Awarded the contract to design a new cenotaph for Singapore (the old one is to be bulldozed to make way for a new road) Justin travels to London to revisit the cenotaph in Whitehall. His journey is motivated not by professional interest but by personal remembrance. The commission has brought to mind his days as an overseas student, and his doomed relationship with an Australian girl.
Through this journey, from Singapore to London and back, the story delivers a portrait of three generations: parent, child and grandchild. The parent, Justin's mother, remembers Singapore as a British colony, has never travelled and experiences the wider world through the adventures of her son. The granddaughter, an 18-year-old student newly free in London, worships the surfer culture of America, a country she has never visited. In between old and new generations is the son/uncle, the architect, whose life has been prescribed by duty.
Several of Wena Poon's stories explore the subtle realization of how much has unwittingly been lost as a result of self-imposed and externally inflicted decisions. Take Justin as an example. In his youth, he was a "nervous and pallid student" ill-equipped to exploit the noise of university life. His more binding restriction, however, was external—a contract with Singapore in the form of a government scholarship to be repaid through his return home to work. The cost to him an end to romance, independence, and youth:
Yes, his country was a country of bonds, invisible chains that weighed on its young men and women - work bonds, National Service bonds, State-regulated promises that had to be carefully navigated even as you were struggling to free yourself from adolescence and the well-rehearsed anxieties of Chinese parents that had fettered your childhood. It was easy to be so consumed by these restrictions that you were often deep in your thirties before you realized that life might have passed you by.
Here is a man whose emotional life has indeed been "consumed" by the paternal nation. In contrast, the younger generation—his niece—is not only relatively free but, crucially, able to exploit that freedom, to step with ease into the unknown. This is not to say that Justin's tale is one of middle-aged bitterness and blame. Rather, it is a sympathetic glimpse at a life, set against a changed world, which gently delivers a moment in which opportunities and time lost are faced up to, accepted and consigned to the past:
He put away the blueprints that his colleague prepared and turned the computer off. He went to his other desk, where there was a vast expanse of blank vellum. He picked up a pencil.

It was time for a new design.
It is worth noting here that, in the landscape of Wena Poon's fiction (at least as evidenced here) age fast becomes short-hand for character. 20-somethings are young, cool and fully engaged in living; 30-somethings are confused, lost, fading; older (60+) maternal women tend to be fuzzy creatures only in the modern world by virtue of their children. At 42, the architect Justin, delightfully labelled as "slightly middle-aged," falls within a category of almost beyond hope. As his niece puts it: "Forty-two is ancient, dude."
Creeping age and the sorrow of lost time also permeate the story Vanilla Five, along with another frequent concern—identity. The narrator of this tale is a 30-something (for which read life-is-passing-her-by) woman who has shelved her own literary ambitions to support the career of her novelist-academic husband. (Another character short-hand here—successful male intellectual means self-obsessed lecher, as also seen in the whiskered professors of New Order). After seven years of marriage, the husband has disappeared abroad and asked for a divorce, abandoning his wife in an unfamiliar New York.
As she deals with the reality of her dislocated situation—years, youth and self lost to the role, now defunct, of wife-of-brilliant-man—the narrator finds her match in the boy downstairs. Sato is the 20-something (read "fearsomely hip") manager of a used designer clothing store. The shop, full of cast-off costumes, represents the ability to play dress-up, to change oneself, to try on different personalities. Sato is a living embodiment of this—a white English boy with a Japanese name raised in New York by a Japanese couple. He plays with his triple identity, switching between languages and accents as the mood takes him. But this is more than play, as Sato confesses: "I'm trying to find the right voice for this face. I'm still trying."
The contrast between appearance and behaviour, between face and voice, is a motif often employed here. A privileged young American chooses to marginalize himself through his outrageous costumes (Siegfried & the Avalanche; Siegfried & Regina); a Californian-Chinese babe turns out to be involved not with the smug male academic but with his wife (New Order) and, in a reversal of Western man as sexual predator and Asian female as prey, a dutiful Chinese daughter escapes to the UK on a two-week hunt for sex (The Proper Care of Foxes). (On the flip side of this coin are the gently-repressed architect Justin, and the buttoned-up auditor, Regina, workaholics who are aware that they are, to outward appearances, living predestined roles, fulfilling expectations.)
It would be wrong to suggest that these contrasts form a grand challenge against social norms, or even against the prejudices of people who categorize others by race and face. Indeed, even the most sympathetic, urbane characters view the world in terms of their own limited experience and understanding. (In fact, the protagonists can be curiously illiterate when it comes to other cultures, or even other generations.) Rather, and in line with the focus on the internal journey of the individual, contrasts (both within and between characters) appear to be a reminder that life can be quirky; that, under the surface, things are not always what they seem.
This is not to say that the stories steer clear of external realities. As with Justin & the Cenotaph the world intrudes on life and individuals have to strike uncomfortable bargains. And, indeed, the context is often refreshingly contemporary. Technology sustains a web of fragmentary relationships, while the financial crisis and the H1N1 pandemic both have an impact. One story, Development, takes a social issue in Asia's wealthy cities as its central theme. Focusing on the experiences of migrant domestic workers in Hong Kong and Singapore, Development is not the most successful story in the collection, but its topical theme makes it worth a mention here.
Told by a third-party narrator, Development discovers a vulnerable, exploited workforce of economic migrants from the Philippines through the lens of a Scottish photojournalist. MacGregor is sent to capture images of both the benign (a Sunday gathering in Hong Kong) and the malign (maids in Singapore who have been abused by their employers.) The process of discovery mapped out here depends upon an extreme lack of knowledge on the part of MacGregor (a device which, as elsewhere in this collection, can rankle.) The cynical MacGregor is eventually lured out from behind his camera by the evidence of appalling violence hidden under a veneer of normality: the harm done to maids in seemingly genteel homes is just the type of "horror lurking in boring places" which he dreads.
MacGregor is provoked into looking, for the first time, into the plight of those whose lives he documents. He rails not only against the physical abuse, but more broadly against a system built upon exploitation and the casual infliction of small indignities. But Development is not an example of fiction trailblazing a social issue. Despite the exposé, the bold start, the narrative loses momentum. As a personal journey, the characterization of MacGregor is also troublesome. He is too much the stock Western pressman to be convincing, but not a grotesque enough parody to be absurd. As a result, it is hard to know what to make of his parting shot as a barstool philosopher delivering crass, offensive conclusions to an audience of drunks.
Overall, The Proper Care of Foxes certainly offers much that will interest and entertain. It examines personal motivation, self-awareness, the clash of difference and dislocated lives (dislocated generations and cultures, even) with humour and, often, with a delicate touch which makes for engaging reading. The introspection of many of Wena Poon's characters produces a strong feeling that existence is essentially a solitary and self-interested business in which, nevertheless, the contemplation of the external—culture, nationality, family, friends—remains highly significant.
This collection does cover a great deal of ground, with other stories set in Texas, Vietnam, Cambridge, on a Pacific island, and even in an apocalyptic future. Moving with ease around the world is, however, a task perhaps harder in fiction than in reality, and the consciously diverse trans-national dialogue does sometimes take its toll. It is fair to say that, as a collection of works, this is uneven. The use of obvious contrasts, and of ignorance, to allow for moments of revelation, feels at times a little heavy-handed and contrived, as do some of the characterizations. That said, the tales told in The Proper Care of Foxes give a strong sense of forward momentum, of life as an ongoing work of introspection and interaction in which the search for the right voice is not finite, but may continue even after the recorded narrative ends.
Editors' note: Wena Poon's poem "Copernicus for a Singaporean Grandmother" is published in this issue (issue #10) of Cha.