Reviews / February 2010 (Issue 10)

Ways of Seeing and Remembering: A Review of Three Poetry Collections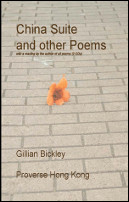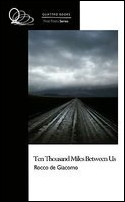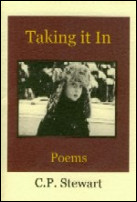 Gillian Bickley, China Suite and Other Poems, Proverse, 2009. 125 pgs. (includes 2 CDs containing readings of all the poems by the author)
Rocco de Giacomo, Ten Thousand Miles between Us, Quattro Books, 2009. 78 pgs.
C. P. Stewart, Taking it In, Koo Press, 2009. 27 pgs.
Gillian Bickley's China Suite and Other Poems is a collection refined by the sensitivity and spirit of a poet who observes with the wonder and clarity of someone who is at once an insider and outsider. In her poetry Bickley, who is based in Hong Kong, describes the people and sites of Hong Kong, Shanghai, Andorra, Mexico City, Honolulu and many other places she has visited or sojourned. In her works, we see that Bickley's poetry has the ability to provide both spontaneous, on-the-spot immediacy and lingering, contemplative power.
Bickely's poetry lingers at the margins of the locations she writes about, allowing her poet-persona to watch lives and stories unfold. She describes every scene effortlessly, and her observations and speculations touch on the larger realities of the city and society. For example in "Cornwall Road Garden" she reveals the façade of innocence in a playground:
And we can only suppose
the obscene innocence
of the children's playground toys
a deliberate attempt
to claim
the sexuality is not here.

But two white butterflies
dance above each other in turns;
birds sing to attract
and call to summon their mates;

and even I sit creating a kind of life
in this unforgettable garden;
not so sidelines after all.

This children's superficial skewed world
(where fish are bigger than ponies
and even the toy clock points west)
is a surprisingly irreverent irrelevance.
Or take her poems on Hong Kong, which often reveal its less explored side. "David at Tai Po KCR Station" investigates the often ignored multicultural nature of the city by revealing the complex interactions and the mutual perceptions of people of different ethnicities and social positions. The persona, after an encounter with a youth from a racial minority who warns her of dangers in foreign lands, reflects:
He smiled with youthful benevolence and went back
to his menial chores.
His physique, good English, and easy confidence
with me, a non-Chinese,
suggest he has lived in some kindly institution,
run by altruistic English-speakers.

His intelligence suggests otherwise.

Perhaps a job in MacDonald's is so desirable here,
that one feigns a modest simplicity, to get it?
For Bickley perhaps, the most rewarding way to explore the lives of the city is not to immerse herself within any one community, but to observe the subtle, essential nuances that suddenly emerge in the fleeting encounters of people from different worlds.
Her poems sometimes also include references from cultures originally outside the places she writes about, stretching the interpretative framework and pushing our expectations. In "Fisherwoman: Two: She loved the Sea" written after the sea funerals held in Hong Kong waters for city residents, the persona juxtaposes the everyday experience of a deceased Christian fisherwoman with key Biblical stories:
To be a fisherwoman and a Christian too!

To hear the story of Christ's walk on water!

To know that first disciples
Whom Christ called
Were fishermen too!!

To know how He said to them,
"I will make you fishers of men"!
That, to one of them, Christ said,
"on this rock I will build my church!".

To hear the story of empty nets
Miraculously filled;

The story of the loaves and the fishes
And the feeding of the five thousand.

How close she would feel to it all!
In a similar vein, the biblical story of the Gadarene swine, in which possessed pigs run off a cliff into the sea, makes its way into the fisherwoman's reflections on Hong Kong's polluted waters:
Hearing how devils entered a herd of pigs,
who rushed to the edge of a cliff,
fell over, and drowned in the sea,
did she ever wonder
if there were devils
in the flotsam and jetsam
she must frequently
have increasingly seen
in the formerly clear deep waters:
always, once, reflecting the sky?
The issues explored in this collection are broad: one poem describes the experience of being regarded as a foreigner in one's home despite being a long-time resident, others offer perspectives on Hong Kong's current affairs, its character, history and traditions. "Wish you were here in Hong Kong" is a private poem for a daughter who wishes to share with her parents what she sees in the city, the place they all know well but have engaged with differently. "Fisherwoman" reflects on the collision between cultures and traditions, as well as how change and loss is experienced by different generations. Every city may have its gaps, ambiguities and unknowabilities, and the poet's intimate and candid reflections in this collection have successfully uncovered some of them.
While Bickley's poems often explore cityscapes from an observer's perspective, Rocco de Giacomo's tend to be probing. His collection Ten Thousand Miles between Us opens with a poem entitled "Begin," which juxtaposes the childhood experience of being cut by a shredder with the act of writing poetry. The poem immerses its readers in shock and terror:
the holy unwant
bit of me
fly clean
from the spinning teeth of a
back
yard
sun
turning
in the mouth of
every word
I'll ever write
Perhaps this imagery may also be compared with sculpting, a theme investigated in later poems such as "Michelangelo" and "Beringharjo Market." Whereas the sculptor discovers the statue inside a block of stone, the poet may have had to discover poetry within himself. He chisels pieces off himself for the sack of poetry and returns physically unharmed to rejoin the unaffected bystanders.
De Giacomo extracts the core elements of human conditions and re-casts them into new shapes, textures, objects, spaces and forms. In some of these poems, the boundary between human and non-human objects, or between the profane and the divine, are broken down to articulate larger, more inclusive truths. In "To the Old" the voice of the old is a "mahogany balustrade"—whose fury "polished, every word a marble face"—while that of the young possesses "a museum kindness" praying that one day "we will speak through/into a deeper zodiac/whose stars are now/crackling in your blood." I thoroughly enjoyed "Sucker" in which the jealousy of a man neglected by his praying lover is conflated with the divine story of Mary. The poet, sympathizing with Joseph's plight after having been abandoned by his wife in accordance with God's will, turns the tables on Mary:
Imagine if he was a she?
What if God was a Goddess?

Do you think Mary would have looked so placid and brilliant
watching Joseph leave for a little rendezvous
with the One above?
Or would the ivory-fresco calm of her face darken
just a little from jealousy?

And you,
would you have been so damned tenacious every Sunday
morning
to pull me out of bed
tired and grumpy

just to watch me bow my head and surrender
to some loving prophetess?
In "Early Bird Special" Judas's betrayal and Jesus' sacrifice are retold in a restaurant setting:
[...]What's the name again? Gethsemane!
Water under the bridge. In fact, Jesus had prepared a joke
about hitting him up for the pay for the bacon and eggs, Ha ha.
Something deep and twisted using that money to pay for bacon.
Ah, well, Jesus thinks to himself as he fishes for his wallet,
Maybe it's not that funny. Too soon, too soon. He pulls out a tenner,
Then he thinks: Well, why break precedence? So he fishes deeper,
And on the way he whispers to the cashier, letting her know
That he's paid the tab again, for everyone.
The poet-persona is often unsettled, especially in the second part of the collection, whereby a poem's narrator is situated via various kinds of distances and boundaries: between the ancient and the present, between the artificial comfort of a plane's interior and the natural turmoil outside, between the luxury of the tourist and the basic needs of the native people. It is when these opposites collide that we can peek into the more unstable elements lurking in the reality we inhabit.
Yet there often also seems to be an inexorable force, perhaps it is fate, looming over the people in the poems. Inside the Temple of Heaven in "Let there be no carelessness," we see a desperate Emperor who has burnt down his palace and slain his dignitaries for their failure to guard against a caterpillar that has desecrated a sacrificial ritual. In "Pre-Dawn" we see stone figures poised for war, their destiny later to be laughed at and dissolved into the scheme of ordinary life as the first rays of the sun emerge.
C.P. Stewart's Taking it In may not be preoccupied by the same sense of location and travel evident in the other two collections; in fact, the contexts of the poems are often absent. Instead this collection is concerned with the passage of time and its emotional effects: an object found by chance uncovers the memories and emotions buried deeply in the heart; lines jotted down in an old notebook remind us how a casual encounter can soon be forgotten.
Time is an important, encompassing force in these poems. Some of the pieces are about the fast pace of life, such as "Blink":
My father waved, as off I ran,
and ran, until I was a man.

The man stood, blinking in the sun,
and gazed back on the miles he'd gone.

The white sun sank, the moon sailed by,
a shining woman caught his eye.

He blinked and, when he looked again,
Seven children bore his name.

I'd tell you more but I must run,
another blink and he'll be gone.
There are other poems that ponder the passing of time in terms of decades, as in "Taking it In":
I watched you pass.

Took it in.

From the record shop
to the brown-stone church.

Left to right.

Thirty years.

Took it in.

Didn't blink.
Other poems recall brief, but formative, encounters disappearing into the continuous flow of time, as in the case of "I Will Always Remember" (first published in Issue #9 of Cha and discussed in A Cup of Fine Tea). In this poem, a single, transient event is nonetheless invested with significant meaning. Sometimes the past, present and future are compressed for the gravity of one significant moment. At that point there can be departures, embarkations, twists of fate, disappearances and losses, belatedness and quiet premonitions of the end. In "The Sickbed," for example, fate conspires to prevent a wife from being at her husband's deathbed:
The day I died a wind got up.

You were hanging out sheets
at the bottom of the garden.

Head thrown back, mouth full of pegs,
wet sheets flapping around your legs.

So you never heard,
when I called out your name…

but I called out your name the day I died.
While some of these poems set out to capture the mood and feelings of important moments, there are some which are not grounded in any concrete events but instead speak on more universal themes. "The Trail" is about the human consciousness of time:
Time does not pass
We pass through time,
the moon in tow,
the stars on wires,
toward that land
of beckoning spires,
our wagons creaking
under the weight of clocks.
This collection reminds us of the importance of accepting, receiving and retaining experiences and memories. Sometimes it is about the tangible things—the things we can hold on to, such as a photo—but most often it describes more ephemeral memories and sensations. There are times when we are suddenly reminded of a person while walking down a road in a warm October evening. There are also times when we remember a broken promise, or a moment when we were captivated by January snowdrops, in such a way that the image lingers in our mind.
Editors' note: Rocco de Giacomo's poem "Rite of Passage" was published in issue #4 of Cha and his "Angels" is published in this issue (issue #10) of the journal.
Editors' note: C.P. Stewart's "Three Poems" can be found in issue #9 of Cha.