Reviews / November 2009 (Issue 9)

Tsang's Metamorphoses: A Review of of Phoebe Tsang's Contents of a Mermaid's Purse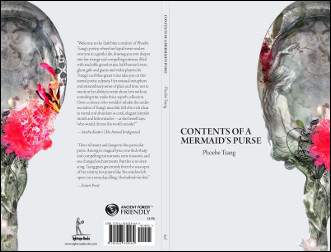 Phoebe Tsang, Contents of a Mermaid's Purse, Tightrope Books, 2009. 56 pgs.

In Ovid's Metamorphoses, gods become bulls and goddesses; men are changed into deer and woodpeckers; women are transformed into men, bears, spiders, trees and stones. In Pu Songling's Liaozhai Zhiyi, men fall in love or are loved by, variously, fox spirits, bee spirits and ghosts. In her marvelous new collection, Contents of a Mermaid's Purse, Phoebe Tsang, a claimant to both Asian and Western literary traditions, also portrays a world infused with magical transformation—and, following Pu Songling and Ovid alike, suggests that love and lust in their many forms remain the usual source for metamorphosis.
Phoebe Tsang is tri-continental; born in Hong Kong, raised in England, living in Canada. Ms Tsang has also displayed her talents in several fields, including architecture, arts journalism and the violin. She has a keen eye for nature, which she imbues with human and supernatural meaning. Cataloguing the motifs that occur in Contents of a Mermaid's Purse—natural, magical and transformative—can only suggest its dark and joyful richness.
The world the poems inhabit is a watery one, filled with seas, swamps, the sounds of wild rapids, snow and ice, rain and rivers; indeed, section I of the collection is named "River," section III, "Rain, Roses," and one poem brags, dispiritedly, that its speaker is "Not Yet Dead in the Water." For Tsang, as for many, water represents fluidity and the possibility for transformation, as well as for life; in one poem two lovers drive following the "scent of a river."
Metamorphosis occurs in several poems. "Butterfly Nights" sees the lover, whom the speaker thought she had trapped as a minnow, is
the boy with the jam jar
crouched on grass banks
lush as meadows, ready to slip
and screw the lid over
with a few pinholes poked for breath
At the same time, she suddenly realizes that she has always been the butterfly he's been intent on catching. In other poems, women are mermaids, living in water or trying to survive with human lovers on land. Elsewhere, a woman's feet might turn to stone, tai chi practitioners might become statues and scarecrows, or a lover can be served as a succulent suckling pig, the last in a poem, which is not the only one in which Tsang toys with the relationship of cannibalism to love.
Tsang fills even poems not about transformations as such with the imagery of human as animals: waiters are depicted as spiders, musicians as beetles. A woman's hair resembles the mane of a thoroughbred horse. A black cat apparently is also her own familiar. The body of a woman—or a witch—tastes like gingerbread. We "fixate like magpies on golden things."
At the same time, in Tsang's poems, inanimate things become alive. Musical notes "sing and leap across the manuscript / like a trained flock of black sheep." As the season turns cold, sweaters "sneak out of their drawers one arm at a time." Air can become drunk. A cathedral "broods like a giant crow." The whole world is charged with life. Yet it is also charged with more sinister transformations. In "Ghost Girls," red paint becomes blood, and the blood soaks into the earth to become "a thousand ghostly girls with crimson lips." In another poem, when the speaker picks a leaf, the tree quivers in pain.
This is a world of magic in other ways. In "The Magician's Wife," the wife only knows "the expressions" of her husband's face "by touch;" he has "chameleon skin." In another poem, a conductor uses "a conjurer's wand." In "Seven Days Without You," the speaker's very body seems subject to the invasion of her missing lover's dreams.
Tsang's references to Western folklore are more frequent—or more recognizable to this reviewer—than her invocations of Chinese tradition. "Jack and the Beanstalk," "The Princess and the Pea," "The Little Mermaid," and "Hansel and Gretel" all make their appearances. One poem is set in Fulda, home to the Brothers Grimm. Nonetheless, Tsang also employs Chinese motifs. Fox spirits—hu li jing—appear in Chinese, Korean and Japanese culture. They have been portrayed as unmitigatedly evil; there is no spirit worse than Daji who led the Emperor Zhou to the pleasures of mass torture. But Pu Songling's subversive tales suggested that hu li jing and other spirits were often more humane than the humans they encountered. Hu li jing appear twice in Contents of a Mermaid's Purse. In "The Fox and the Lady," a fox puts on her "lady's mask" to greet her lover, even though one day the lover, forewarned, caught her "at the table in fox furs." Apparently, the lover is not alarmed; the real magic is how love and lust transforms all lovers' perceptions:
Sometimes on the verge of sleep before you cast off this dream like any other borrowed body, you ask me who I really am—swathed in your patchwork love, disguised by the curse of your desire.
But in "Fox Fire," the lover too, whether man or woman, apparently can take the form of a fox cub in the morning, before, with its morning coffee, it becomes human.
This is the kind of truth we can learn from Phoebe Tsang's collection: if we but admit it, we all make love to hu li jing.
Editors' note: Read Phoebe Tsang's poems published in Issue #6 and Issue #9 of Cha.