Reviews / November 2009 (Issue 9)

Unpeopled Spaces: Built and Un-built Environments in Andrew Guthrie's Plain and Ruins
by Alice Tsay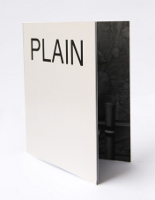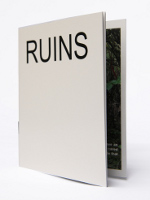 Andrew S. Guthrie, Plain, 2008. 20 pgs.
Andrew S. Guthrie, Ruins, 2008. 20 pgs.
Whereas prevailing marketing strategy calls for arresting images coupled with custom fonts, photographer Andrew Guthrie takes the opposite route with Plain and Ruins. The two cardstock booklets are pocket-sized affairs, their blank white covers broken only by the title emblazoned in plain capital letters in black across the top. For someone whose main trade is in pictures, it's a striking opening volley for the two collections that take on overlooked aspects of human-habitat interactions as their subject while experimenting with modes of visual consumption in their form.
Respectively photographed in United States in 2000 and Hong Kong in 2008, Plain and Ruins both invite the viewer to consider, through the pictures and accompanying text, how unseen people have shaped the urban and natural landscapes framed by the camera lens. The town of Allston, Massachusetts is captured in twenty black and white images, while the photographs taken in the Hong Kong districts of Tai Hang and Choi Sai Woo are in color. An interesting inversion results, in which the concrete sidewalks and brick buildings of the American East Coast take on qualities of age and distance while the forests and abandoned ruins of Hong Kong present themselves as immediate and new.
Plain is laid out like an outline in picture and prose. Beginning with a quotation from the writer James Agee ("…for any town is a pleasure, until you know it well enough to love it or hate it…"), it goes on to present numbered points that offer commentary and further quotations. Through these, the artist defines the idea of an "architectural vernacular," identifies brick as the defining look of New England, considers the coexistence of new and old in man-made environments, and repeatedly "declines the next scheduled stop to examine the glamourless nowhere structure where someone lives, or has left behind."
Among the images are those of trash-lined alleyways and empty rooftops, flyer-covered telephone poles and papered store facades; we follow Guthrie as he gives us a city where signs of life are everywhere implied but nowhere to be seen. Particularly because of the grayscale, shots of house fronts and empty lots can seem at once impersonal and desperately lonely, the vision not of an everyday city inhabitant but of a detached soul who turns away from the street crossing or forward path in order to face, obliquely, the fenced building or side of the wall.
Accordingly, the strongest pictures in Plain are those that combat the sense of alienation by corresponding most closely with the booklet's closing claim, "This text has a point of view." In these photographs, the viewers are given a stake in Allston by being brought into the scene. In one, we stand in front of a laundromat bulletin board, where someone has ripped off a phone number from a music lesson ad. In another, we are in a bookshop looking down the narrow path outlined by the teetering stacks of used volumes filling the room. By bringing viewers into the thick of things, Guthrie subtly prods us to notice their surroundings and engage, as he has, in thinking about how we fill and modify the spaces in which we live.
"I came upon a ruin one day," he writes on the second page of Ruins, "and I didn't know where it came from." So begins the second booklet, which continues some of the same lines of enquiry in a setting continents and oceans away from the first. In this collection, the photographer leaves the densely-populated sections of Hong Kong Island to explore abandoned villages just outside the urban landscape, capturing ruins that are slowly succumbing to moss and the surrounding forests. Through this, he ruminates on how these rich environs are now largely ignored, worrying that in the new rush to develop valuable real estate and embrace the modern life we are unwittingly cutting our ties to the past.
By incorporating first person narration, Ruins represents a more accessible convergence of the artist's philosophy and work. Guthrie's comment on a neglected gravesite that "Nature has elegant ways of combining the living and the dead" seems to me one of the poignant insights of the collection. Moreover, a series of quietly striking images fills the rest of these pages, testifying to a curious mind and patient eye. In a central spread, fragments of clay pottery mix with the refuse, undergrowth, and fallen leaves at the foot of a tree; broken lengths of pipe emerge like man-made tree roots. In another picture, a handful of banyan roots have been tied in a knot and left hanging over a crumbling tiled floor in the middle of a grove, juxtaposing intimations of human life in the recent and long-ago past. Color photography works to Guthrie's advantage in these photos, nicely capturing the subtle textural contrasts, the dusty, dirtied "in-between" states that are so central to his artistic task.
Unfortunately, the prose in which Guthrie presents his ideas sometimes pales alongside the pictures. Though on the whole his stream-of-consciousness makes the narrative voice of Ruins feel accessible and close, it also seems to entice the author into occasionally letting down his guard. There are moments of pretension that unnecessarily obscure straightforward ideas, as when he refers to "traces of hominoid enterprise" in a natural scene. Conversely, he can also slip into oversimplification and didacticism in setting up an opposition between venal, destruction-minded land developers and "the rest of the people, the average ones" who still care about history and culture.
In creating these portable, low-cost booklets as a way of sharing his photography projects, Andrew Guthrie poses an interesting solution to the contemporary dilemmas of art distribution, which only grow when concept and content are equally weighed. Few can afford the financial commitment of original prints or coffee table books, and gallery exhibitions limit accessibility while individual postcards break up the permanence that artists seek when putting together coherent bodies of work. A website, on the other hand, makes the artistic encounter digital, a disservice to the tangible nature of photography and art. There is still space for Guthrie to refine his vision, and one hopes he does. In Plain and Ruins, however, he already presents a call to greater awareness of the environments around us in a manner that is thought-provoking and worthwhile.