Poetry / August 2009 (Issue 8)

Reptilian Chant #2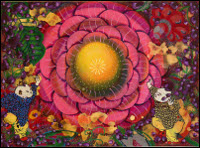 As a child I swung in a hammock
beneath two breasts. As a child
I leaned on the back of my father.
As a child I learned
the names for mother.
Then I sought the arms of desire.
Then I fled the roof and the floor's crust
of burned rice.
I hung my skirts on the doorpost.
I filled a gourd with water.
I walked in the direction of the sun.
(This poem is inspired by Amy Cheng's painting "The God Approaches"; Amy Cheng and Luisa Igloria began an informal painting-poetry collaboration after they met at a Ragdale Foundation residency two years ago.)
Who Is The Mother


of the severed
hibiscus heads
the children

pounded to a pulp
on the sidewalk,
those hot summers
when water

and dishwashing
detergent
were simply
not enough

for the bubbles
they desired?
Green-smelling,
prismatic,

lifting too
quickly away,
waving goodbye
and goodbye.

(This poem is inspired by Amy Cheng's painting "A Baiana Ana".)