Book reviews / December 2017 (Issue 38)

Narrating Hong Kong Through the Handover: Guy Sanderson Shirra's The Accidental Prawn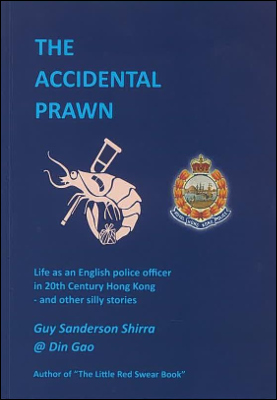 Guy Sanderson Shirra, The Accidental Prawn: "Interesting Times" – Policing 20th Century Hong Kong and Other Stories (2nd Edition), Sherriff Books, 2016. 188 pgs.
In The Accidental Prawn, Guy Shirra effortlessly raises a number of issues through his lively autobiographical narration of his life as an English police officer in 20th Century Hong Kong, such as the role of colonial authority represented by the Royal Hong Kong Force (RHKP), questions of ethnicity and race relations and the contrasts between historical and present-day Hong Kong. By inviting us to revisit the past, Shirra asks us to question the present and to consider possible futures for the city.
Shirra has mastered the narrative portrayal of humour, curiosity and discovery. As pointed out in the book's introduction, this autobiography offers a collection of stories of an Englishman's life with the Voluntary Service Overseas in Sarawak, Malaysia from 1965 to 1966, and in the Royal Hong Kong Police Force (RHKP) from 1967 to 1997. These "interesting times" (as the second edition's subtitle puts it) somewhat ironically include, for example, the Cultural Revolution-inspired 1967 disturbances, riots and refugees. To soften the seriousness of these events, Shirra writes with a sense of humour and self-deprecation through his interactions with Hongkongers, e.g., his being tricked by a stall owner selling apples, and his handling of a case concerning Cantonese foul language. We accompany Shirra on his trip down memory lane, beginning with his British upbringing to his final years before parting with the RHKP. However, due to his overly detailed and prolonged narration, readers may find themselves pondering the authenticity of various accounts. Shirra himself acknowledges this situation:
[M]y […] friend and Best Man, Michael Addy, who opined that I had "made it all up" and a certain publisher who rather pompously suggested that I should re-write it as fiction.
Nevertheless, his inclusion of various details also allows us to contrast historical Hong Kong with the present, such as in descriptions of the long-demolished Kai Tak Airport and Kowloon Walled City, or of the still existing Stanley Prison. And through the fixed temporality of his photographs, Shirra also reconstructs moments of colonial Hong Kong under the British sovereignty. Here are a few:
Pgs. 96 –97
Pg. 96, Sha Lo Tung, 1973
As the title of the book suggests, Shirra also highlights the role of the pre-handover RHKP, in contrast with the post-handover HKP. It is likely that his occupation as a police officer carries much personal significance, not only because of his father's success at having been a Major at war or because his family name is "the Scots version of Sheriff," but also due to his own "[interest] in police work and the army from an early age" and the fact that he had been part of a police force that was once widely respected as "Asia's Finest." For Shirra, the question is, has this reputation changed with the post-handover to the HKP? He expresses the following:
the general public …, particularly after the 1980 demise of syndicated corruption, held the RHKP in continual and deserved high regard. The modern HKP is currently facing difficult and complicated times and again, by and large, it is performing its duties as it should.
The above passage has to be read in conjunction with an increased level of distrust of the post-handover administration, and a worsening relationship between the HKP and the public. Given the role of the police during the Umbrella Movement and the beating of Ken Tsang by seven policemen, the HKP's positive image has come into question. Given the book's original 2015 publication date, it is not entirely clear to what extent Shirra made these comments in light of Hong Kong's recent political and social history, or whether his opinion has shifted since then.
Another central issue in the book is the author's strong hope for a more ethnically diverse HKP. As Shirra notes:
The time is fast approaching when the last expatriate non-Chinese police officer retires; … Strict written Chinese language requirements are making it difficult for the HKP to recruit non-Chinese into its ranks but I believe that it is essential that the force strives to recruit more non-Chinese to more adequately reflect the ethnic balance of Hong Kong society as a whole to enable it to continue to fairly and professionally fulfil its role.
Although Shirra approaches ethnicity in relation to his former occupation, the social aspect is also of much significance in today's Hong Kong. In general, Hongkongers used to view other ethnic minorities via stereotypes, e.g., labelling foreigners negatively as "gweilo" or associating Filipinos solely with the occupational role of domestic helpers. Thanks to a number of success stories featuring non-Chinese individuals, such as Nabela Qoser, Gill Mohindepaul Singh and Ifzal Zaffar, there is now a generally greater understanding of ethnic diversity. Yet ultimately, what remains at question is whether Hong Kong will continue to evolve as a multi-cultural society or whether it will retreat into notions of cultural singularity and nationalist hegemony. The choice that the city makes will have deep consequences for all of Hong Kong society, especially, one imagines, for its police force.