Film reviews / December 2017 (Issue 38: Writing Hong Kong)

A Throwback to Hong Kong's Golden Age: Chi Fat Chan's Weeds on Fire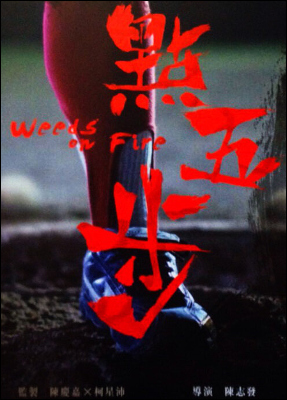 Chan Chi-fat (director), Weeds on Fire (Dian wu bu), 2016. 95 min.
Hong Kong is not known as a sports powerhouse, no matter the game. And if you ask people in Hong Kong about the popularity of baseball, most would say it's mainly confined to expat enclaves. And they probably wouldn't remember when a group of delinquent youths from Shatin became the first local team to win a championship back in 1984. Director and screenwriter Chan Chi-fat brings this story alive in his 2016 movie, Weeds on Fire, a low-budget film that went on to be nominated for eight Hong Kong Film Awards, eventually winning best new performer (Tony Wu Tsz-tung) and original film song.
Weeds on Fire is more than a baseball movie. It's also a coming of age story told during Hong Kong's golden era when young people—regardless of their finances—were filled with hope, even as the future loomed uncertain. At the end of 1984, Margaret Thatcher and Zhao Ziyang signed the Sino-British Joint Declaration, the treaty outlining the conditions of Hong Kong's return to Chinese rule. Yes, the future was uncertain, but Hong Kong was still in the midst of growth. That same year, significant changes took place in Shatin, providing residents with more services and entertainment. New Town Plaza opened, and, for the first time, dragon boat races were held on the Shing Mun River.
But all is not well at Kei Kok College in Shatin. The stoic and disciplined principal, Lu Kwong-fai (played in the film by veteran character actor Liu Kai-chi), is at a loss for how to change the atmosphere at his unruly second-tier high school. His students can't get through a game of basketball without a fight erupting. Their behaviour in the classroom is even worse, and they pay attention to anyone but the teacher. In this environment, Principal Lu comes up with a brilliant idea to teach the boys teamwork and self-control: baseball.
The original Shatin Martins baseball team (on which the movie is based) was a group of younger students at the Kei Kok Primary School, but in the movie they are teens at Kei Kok College. The real Lu petitioned the local government for a grant to purchase equipment and uniforms for his baseball team. In an early meeting when Lu brought his plan to the regional government, Shatin District Officer and future Chief Executive Donald Tsang sat at the table. The baseball team's 1984 triumph is reportedly Tsang's greatest memory from his time as a District Officer in Shatin.
In the film, the team is made of up students from low-income families that live in public housing estates or in shanties of plywood and corrugated metal. Since they know nothing about the sport, Principal Lu starts out by teaching them to throw, catch, bat and field, using crumbled balls of paper instead of baseballs.
For his pitcher, Lu chooses a cocky young tough named Wai (played by professional baseball player Tony Wu Tsz-tung). His best friend, Lung (played by actor and singer Lam Yiu-sing), becomes the team's catcher. The two boys live in Wo Che Estate, a public housing development not far from the school, where Wai has always outshone Lung. Wai is also the strongest athlete on the Martins, but his attitude proves detrimental to the team's success. Their first games are disastrous, including a shellacking by a Taiwanese little league team with players a good 6–8 years younger than the Shatin teens. Wai chastises his teammates each time they lose, alienating them and bringing down their morale. Lu has to do something to save his team, so he switches the two friends' positions. Now Lung will pitch and Wai will back him up behind the batter's box.
But Wai wants nothing to do with this new configuration. He not only storms off the pitching mound, thereby quitting the team, but also drops out of Kei Kok, finding solace in a local triad. By making this a movie of older children, Chan Chi-fat is able to address difficult issues like teen pregnancy, dropping out of school and life in the triads. Infidelity and divorce also feature prominently at the end of the film. These life changes are daunting, and, once again, the director shows the theme of hope under duress.
The scenery in the movie is often breathtaking. The baseball field sits atop a hill with green mountains surrounding it, like an oasis in the sky. A forest lines the bases and outfield. Compared to this paradise, the iconic baseball diamond in Field of Dreams seems subdued. Even the Wo Che Housing Estate—where Wai and Lung live—is portrayed as a haven where children run free, although their play area is limited to outdoor balconies. The students in the story don't have a lot in terms of material goods or money, but they still find joy in sports and spending time with their friends.
The cinematography during the final game seems a little melodramatic as Lung's and Wai's worlds diverge yet come together in a parallel manner. But that is a signature feature of older Hong Kong films, back when the territory produced 300 movies a year with local actors, film crews and sets. Now the Hong Kong film industry puts out only a hundred movies a year, many of which are co-produced with mainland studios and filmed in China with Chinese actors. Chan Chi-fat received a HK$ 2 million grant from the Film Development Fund in Hong Kong and made his movie the old-fashioned way: in Hong Kong with Hong Kong actors and crew members. At the box office, Weeds on Fire earned back almost double its budget.
The film both opens and concludes with quick scenes at Occupy Central, as a grownup Lung wonders what the future will hold for the protestors and for Hong Kong. He doesn't state his political feelings, but instead reminisces about the innocence of his youth and how in retrospect those years were so much easier than what Hong Kong youth face today. We know the answer to what will happen to the protestors. Some were jailed in August 2017. As to Hong Kong's future, that game hasn't played out yet.