Film reviews / December 2017 (Issue 38: Writing Hong Kong)

A Leap of Faith: Joe Piscatella's Joshua: Teenager vs. Superpower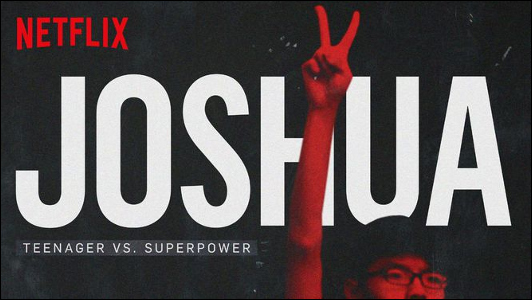 Joe Piscatella (director), Joshua: Teenager vs. Superpower, 2017. 78 min.
When Occupy movements sprung up around the world, it wasn't extraordinary when Hong Kong started one of its own. The protest culture in the territory had been slowly brewing since Tiananmen and more so after the handover. What stood out was that Hong Kong's Occupy movement lasted so long—almost three months—and that it was sustained by a sixteen-year-old.
Several months before Occupy commenced in 2014, Matthew Torne's Lessons in Dissent hit theatres in Hong Kong and was screened at film festivals around the world. Lessons in Dissent chronicled then fourteen-year-old Joshua Wong's efforts in 2012 to stop a national education curriculum that would have required Hong Kong students to pledge allegiance to China. Wong and the student activist group he founded—called Scholarism—saw national education as a threat to the Basic Law's (Hong Kong's constitution) principle of upholding "one country, two systems" during the fifty-year transition after the handover.
National education became an issue in 2012 when C. Y. Leung rose to power as Hong Kong's Chief Executive. Wong and his Scholarism colleagues camped out in front of Hong Kong government headquarters days before national education was to be implemented. The young activists set up tents and went without showers and the comforts of home until the government reversed its decision to require national education, which happened a week and a half later after 120,000 people came out to demonstrate. The stage was set for Occupy, or the Umbrella Movement, as it would be called.
Joe Piscatella's 2017 documentary, Joshua: Teenager vs. Superpower, recaps the 2012 national education protests, but also captures the tensions in 2014 when China suddenly changed the way in which Hong Kong residents could vote for their Chief Executive and Legislative Council members. If it wasn't clear before, the Basic Law no longer seemed binding. In response, University of Hong Kong law professor Benny Tai put in motion plans for an Occupy protest to paralyse Hong Kong's Central district—conveniently to begin on October 1st, 2014, China's National Day and the 65th anniversary of the People's Republic of China—but student activists couldn't wait that long. Wong and his Scholarism colleagues went on strike the week before National Day, joining thousands of older students from twenty local universities and colleges. When the police used tear gas to try to disperse the protesters, Wong and Scholarism reached out on social media for more people to join the demonstrations. The Umbrella Movement was born.
In Joshua: Teenager vs. Superpower, Wong explains his mission. He's worried that Hong Kong is heading down a path of no return, and that he can't sit back and let his beloved home become just another Chinese city controlled by Beijing. Wong also worries about the pressures and expectations for Hong Kong students. Hong Kong parents and society tends to view success in narrow terms, i.e., when people go into fields like medicine, law and investment banking. But Wong wants teenagers and younger children to define what success means for them. Derek Lam, another board member in Scholarism, likens the group's role to Jedi knights in Star Wars.
In one scene, Wong prays in church. In another, we learn that he met Derek Lam at a high school Christian group. Wong speaks briefly of his devout Christian upbringing, which prompted in his political awakening. When he was thirteen years old, he visited a poor family with his church group to spread the gospel and pray with them. But when he returned to visit that family the following year, Wong realised their conditions hadn't changed at all. It was then that he knew that prayer wasn't going to help the disenfranchised. Something else had to be done. This is the last we hear of Wong's faith, and, by the end of the film, we don't know what role religion plays in his life.
The film doesn't focus on Christianity in Hong Kong, but Piscatella could have gone a touch further here to explain how activism has changed Wong's relationship to his faith—if it has—as well as the way in which Hong Kong's devout Christian community (Benny Tai is Christian, plus many of the territory's primary and secondary schools are run by Christian groups) is deemed a threat to the leadership in China. On the Mainland, religious groups are outlawed, along with other organisations capable of mass gatherings. As China tries to absorb Hong Kong, this could be problematic because Kong Kong Christians are quite observant, unlike in the West where many are baptised but do very little with their faith on a day-to-day basis. (The only acceptable group in China is still the Communist Party, which people join for social climbing and job advancement). Since the Umbrella Movement, Christian leaders in Hong Kong have been split over the role the church should play in political discourse and their stance on China is at the core of this debate.
That said, the movie does a great job of showing the different sides of Joshua Wong. We see a soft-spoken Wong at home, eating dinner with his family in his typically small Hong Kong flat and talking to his parents about homework assignments. His mother shows her scrapbook of all the newspaper and magazine articles written about her son. Then there's the eloquent and confident Wong who appears on radio programs and meets with C. Y. Leung in 2012, bluntly speaking about the danger of national education. (The new Chief Executive changes the focus of the discussion when he pretends he hasn't heard of Scholarism. Joshua and his friends are not fooled.) Two years later, Wong has become the face of the Umbrella Movement. When Benny Tai surrenders to authorities, Wong continues the fight and goes on a five-day hunger strike until physicians convince him to eat again.
The film ends on several poignant notes. Wong disbands Scholarism after the government clears away the occupied areas, and forms a new political party, Demosisto. The Scholarism students reflect on their maturity since their mid-teens and recognise that Scholarism can't stay together just because they feel sentimental about their success in revoking national education and their ascent to the world stage during the Umbrella Movement. They understand that real progress can be made if they run for office. Nathan Law is the first Demosisto candidate to win a Legislative Council election and Joshua Wong eagerly waits until he's old enough to run for office. Joshua: Teenager vs. Superpower concludes at this point, basically on an encouraging note.
But since the movie has been released, both Nathan Law and Joshua Wong have been sentenced to prison for six to eight months even after they completed community service for storming a government property during the 2014 protests. They are also barred from running for public office for the next five years. Derek Lam recently left Demosisto after violating finance rules. Hong Kong's future is as uncertain as ever, but it's probably safe to say we haven't heard the last from Joshua Wong.