Book reviews / December 2017 (Issue 38)

Impromptu Performances and Wild Exhibitions: Christopher DeWolf's Borrowed Spaces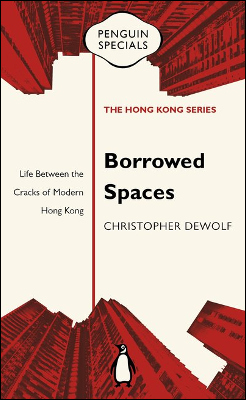 Christopher DeWolf, Borrowed Spaces: Life Between the Cracks of Modern Hong Kong, Penguin, 2017, 100 pgs.
My best literary friend in undergrad, then in his early 20s, and, à la Beat and Bukowski imaginary, never to be seen sans burning cigarette, bottled beer and dog-eared book, said something like this when he happened upon me in the park hunched over Lady Chatterley's Lover: "Reading this Lawrence is an exercise in splendour and restraint. You don't want to read the next sentence because it can't be as good as the present one. You don't want to read the next paragraph because it just can't continue being so good. You don't want to turn the page because … But, man, it just keeps getting better!"
Christopher DeWolf's 2017 book Borrowed Spaces, tellingly subtitled "Life Between the Cracks of Modern Hong Kong," evinces Todd Macfie's Lawrence appraisal, a super apposite (to me) ad hoc review I've only recalled a handful of times over the past two decades. I've appropriated and applied said assessment only a few times: to John Banville, to Arundhati Roy and to Mike Davis. And why to urban theorist Mike Davis? Well, for the same reason I'm now applying it to DeWolf. Banville and Roy judiciously invest their texts with the musical and metrical precisions of poetry, especially in the lyrical prose of the former's erudite acting trilogy (Eclipse, Shroud, Ancient Light) and in the playful pastiche of the latter's critical fiction (The God of Small Things, The Ministry of Utmost Happiness). Davis and DeWolf do something analogous in terms of the form of their respective social histories. Not unlike Davis's City of Quartz: Excavating the Future of Los Angeles, DeWolf's Borrowed Spaces makes a virtue of both official and unofficial stories; DeWolf too delivers said formal narratives and informal ones in precise, catchy, often cyberpunk-inflected phonology.
Witness, for instance, the following list of haunting locutions chronologically plucked from the 90-plus pages of Borrowed Spaces. They form a found poem I read as a synecdoche of the book I swallowed in a single, at once sad and celebratory, sitting.
The Magic of the Sidewalk Ballet
cathedrals of commerce
palimpsest streets
ephemeral bamboo theatres
informal urbanism
a city in extremis
a city of identikit buildings
a vast playground
your living room is the street
aerial shantytowns
intangible cultural heritage
organised chaos
no free market paradise
frontline civil servants
political deadlock
successfully rendered unusable
creatures of the street
a terrified vision
pedestrians running amok
penned in like animals
an eight-lane funnel of angry traffic
city of dead spaces
interplay between control and escape
laughter lingering in the air
The tensions in this poetic apostrophe are patent: magic and manic, laughter and loathing, community and chaos, informal and formal, culture and captivity, diplomacy and demagoguery, democracy and technocracy, beauty and bureaucracy and, to pirate and contort Chomsky, survival or hegemony—and all the spots in between as the territory-wide pendulum oscillates between "the person" and "the critic," the individual and the law, the self and/in the city.
DeWolf offers Foucault on surveillance and control. He coolly counters with De Certeau on subversion and creativity. In the background, in the cracks, DeWolf also delivers an inspired human geography of HK, one as indebted to Davis' analysis of public space in LA (City of Quartz) and Davis' global study of informal communities (Planet of Slums), as it is to "no man's land" Kowloon's The Mango King, to locavore M+ Museum designer Aric Chen, to hawker control officers (or policies, rather) at the Food and Environmental Hygiene Department, to an 1873 letter by missionary Reverend J. Nacken, to half-century-long Yau Ma Tei café owner Yeung Hon-yuen, to erstwhile rooftop coloniser and retired architect Alfred Tam, to the engineered obsolescence of the dai pai dong (the outdoor "big license [food]stalls" whose numbers have declined from 3000 in the 1950s to 25 today), to the night-long Fishball Revolution and its two gunshots on Chinese New Year 2016, to the 79-day Umbrella Movement lasting almost the length of fall 2014, to three-decade-long Mong Kok alleyway flower-stall owner Cheung Yuk-hing, to the 30,000 HKD (in 1978!) 3 x 2.4 metre iconic "Take me to the Cow!" sign abutting Sammy Yip's Sammy's Kitchen Ltd. in Sai Ying Pun from 1978 to just a handful of years ago, to …
Here I am, but halfway through my re-rereading, once again assembling telltale illustrations from DeWolf's first-rate book—a book, I hope I've at least begun to show, that informs as it inspires, one that reminisces as it presages. When exploring a new place, the author loves "to look for markets," not "go to museums." When walking in the city of Hong Kong, so DeWolf encourages us, we too should look at the things and people surrounding us as much as we peer up at the skyscrapers dwarfing us and squint down at the legal procedures and technocratic protocols ostensibly delimiting us. As his community-space guide Michael Leung in tactful measure avers, "In Hong Kong, there's so many rules, it's easy to break them. Some of the rules are ridiculous." Thus the form of optimism that frames Borrowed Spaces. In the cracks between past and present, old and young, affluent and poor and official and unofficial, lies Hong Kong's resolute "hustler's spirit"—a spirit evoked by the territory's many informal "fascinating spaces," spaces I'll leave unnamed, spaces we owe it to ourselves, and to Hong Kong, to discover and contribute to.