Book reviews / December 2017 (Issue 38)

The Weight of Lightness: Magnus Renfrew's Uncharted Territory
by W.F. Lantry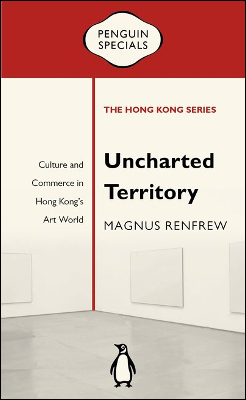 Magnus Renfrew, Uncharted Territory: Culture and Commerce in Hong Kong's Art World, Penguin, 2017. 115 pgs.
The landscape of the art world is variegated and ever changing, filled with nearly limitless possibilities, but also subject to earthquakes and ouragans. Just ask Magnus Renfrew, whose career has been marked with vistas from spectacular summits, and also with sudden unexpected seismic events. And yet, he seems to be used to the ground shifting beneath his feet: he remains optimistic even in difficult moments.
And there is good reason for optimism: Hong Kong promises to become a central hub of the worldwide artscape, if it can overcome a few stumbling blocks. Those obstacles will be familiar to anyone with even a casual acquaintance with the art sphere: money, politics, prevailing attitudes. Perhaps this is why Renfrew, formerly the founding director of the Hong Kong International Art Fair (ART HK) and twice director of Art Basel in Hong Kong, opens Uncharted Territory with a quote from the celebrated Hong Kong poet Leung Ping Kwan:
We need a fresh angle,
nothing added, nothing taken away,
always at the edge of things and between places.
This may be the perfect epigram, since Renfrew pins so many of his hopes on M+, the mega-museum presently under construction in the West Kowloon Cultural District. Even the site itself provides an excellent metaphor, as the very land on which the museum is being built was reclaimed from Victoria Harbour. It is fresh land, at the edge, between places. And the ambitions of the museum's visionaries are boundless: they invite comparisons with Beaubourg, the Tate, MoMA, and the Getty.
That order isn't accidental. Whitman wasn't the first to argue that civilisation flows westward, but he was certainly a proponent. Think about it for a moment: Mesopotamia, Greece, Rome, Paris, London, New York, the West Coast. The next logical movement is across the Pacific, and M+ may soon become the perfect catalyst. As with every institution, there are questions about funding, but seeing photos of the structure already rising makes one believe those questions may end as mere footnotes.
There are four details the casual observer may find significant. The museum already has acquired a substantial collection due to an impressive gift from Uli Sigg, by some accounts the most enthusiastic private collector of contemporary Chinese art. The gift encompasses nearly 1,500 works by over 300 artists, including creators as diverse as Ding Yi, Fang Lijun, Geng Jianyi, Gu Wenda, Huang Yongping, Liu Wei, Xu Bing, Zhang Xiaogang, and Ai Weiwei. It's an incredibly promising beginning.
Second, there are plans to allow visitors to view the staging process of new exhibits instead of simply presenting them with the finished cycle. Third is the creation of an L.E.D. facade across the entire face of the building, which will allow artists a "canvas" of immense dimensions. Imagine being able to look across the water and see a purpose-designed contemporary work, one that can be changed each evening.
Perhaps the most interesting construction detail is actually under the site itself. There is a bundle of Airport Express train tunnels underground, and the architects have planned an exhibition and performance space which physically mirrors their exterior form. They plan to name the gallery "Found Space," which seems fitting.
M+ is the hub of the global ambitions Renfrew cites, but he also focuses on local considerations. The arrival of branches of international galleries over the past decade, such as Gagosian and White Cube, combined with the burgeoning number of small local galleries, has expanded both display space and opportunities for enthusiasts to experience contemporary art. Late November now means ARTROPOLIShk, which goes far beyond traditional art walks. Yes, there's still one of those, but also symposiums, art days in various locations, an entire focused week of opportunities, exhibitions and events.
But all is not calm perfection in paradise, and Renfrew would have been remiss had he not addressed political considerations. 2047 is not that far away. Renfrew treats the issue delicately, which seems best, but does bring up the Add Oil Team, still a sensitive issue, and also discusses an even more volatile moment—the Umbrella Movement of 2014. Nor does he shy away from considering the incident of the booksellers' disappearance. All these and more are prismed into concerns about the freedom of expression necessary to any flourishing art scene. Perhaps the focus of that prism is his discussion of the "One Exhibition, Two Catalogues" incident of 2016, which was enough to give any art lover pause.
Because of his background with ART HK, Renfrew spends some little time on art fairs and international auctions, but he doesn't neglect local creators who haven't yet made it into Sotheby's autumn sales. An early mention of The King of Kowloon leads one on to Leung Chi-wo's dream of a path. And for every internationally famous artist, there are dozens moving forward now out of obscurity. This fact alone is enough to give one confidence in the future of the Hong Kong art scene.
Perhaps it's best to return at the end, as Renfrew does, to M+. Its current pavilion exhibition is titled "The Weight of Lightness: Ink Art at M+". Interested readers can view the trailer here. If this exhibition is indicative of the future, all of Renfrew's enthusiastic optimism is likely justified. Yes, he is relentlessly positive, but the buds he sees now opening into blossom seem nearly certain to bear fruit.