Reviews / June 2017 (Issue 36: Writing Japan)

I am Poetic: Collections by Goro Takano, David Gilbey and Peter Makin
by Matt Turner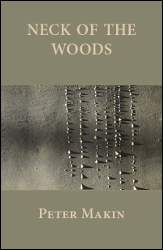 Goro Takano, Silent Whistle-Blowers, BlazeVOX, 2015. 106 pgs.
David Gilbey, Pachinko Sunset, Woodford NSW Island Press Cooperative, 2016. 132 pgs.
Peter Makin, Neck of the Woods, Isobar Press, 2015. 102 pgs.
Written by a Japanese national in English and published in the US by a small press, Goro Takano's Silent Whistle-Blowers neither fits well into established ideas about literature, nor does the author fit well into current ideas about identity. Crossing genres and identities, it also subtracts those qualities from the text—what we read is more like an abstraction.
The book densely plays verse, prose and dramatic personae across Western and Japanese settings and references. Heteroglossia rules the text and a transgressive sensibility guides it. "A Lustful Lexicon: A One-Acter," for example, is a dialogue of sorts between a grandfather and granddaughter about sex, origin, and the difficulty of communication.
[Granddaughter]: And why did you use the word "adultery" in the first place? Weren't you single then? Did you have an affair with a married woman?

[Grandfather]: Every decently edited Japanese-English dictionary may say so, yet the "e-ku" in my moan at that time should be rather translated as "cum," right? You may say I was just having a pathetic dream at that time. Was I, really? Why, then, does it feel so real to me?
Takano also obsesses over language: his English carries second-language markers, and its lack of elegance renders speech raw (as in the above), dislocating the speaker from any colloquial, naturalised spoken-language setting. In his poem "Welcome to Latvia," he soliloquises on international writers' communities and the difficulty of international communication.
You had no idea where on the globe my home country exists
You said every foreigner with a face like mine might be
automatically treated as an American in this country
I love your country, I said in the decent Japanese
pronouncing each word with the utmost care

We introduced ourselves to each other as poets
I asked you what kind of poetry you usually write
My poetry cannot be written alone, you said shyly
I didn't understand what you meant
Now I do, though, and here is my first verse to you
The crossing of linguistic registers between the above two excerpts makes Takano's transgressions even odder—appearing intentionally cruder in the first case. The reader looks askance at established models of locution and taste, against poetic qualities of invention and Takano's non-Japanese, international sensibility.
Takano writes of poet David Gilbey's "cross-cultural art," and Gilbey's collection Pachinko Sunset is nothing if not a dialogue between the author's home in Australia, his English heritage and his experiences working in Japan. Similar to Takano, Gilbey weaves references from Virgil to Haruki Murakami together. He also attends to an at times harsh eroticism. From "Bundadon Quartet":
This kindly, tolerant man
who bought the house and property in order
to deed it away (and house his art)
paints pain, guilt, fearfulness—
Susannah runs near a creek
her vivid bush just below the centre of the canvas
and the bush's cleft hills, its cave echoing her cave,
as in other work—the vulva
desired and feared by elders.
Unlike Takano, Gilbey's English is smooth, giving the impression of a settled poetics. Both poets, however, revel in dialogue and quotidian life. Takano does this in highly stylised English, creating an abstract space where poetics of taste are called into question, whereas Gilbey more often looks sideways at historic models. He even recalls haiku poets, describing Japan in a simultaneously affectionate and exoticising manner. "A Diary of Two Butterflies in the Pleasure Quarters"—notably called a haibun, and not a prose poem—transitions from elegy to a plodding history.
As many others have done, I wept when walking through the Peace Park at Hiroshima. It was not planned. I had to turn aside and sit somewhere. The chains of threaded paper cranes, from school children across Japan, like wreaths of DNA, daily draped over memorials; the emptiness of flattened rubble still around the brick central dome, once an industry promotion centre …

Japan is a hierarchical society, with somewhat surprisingly rigid barriers and rankings testifying to its legacy of a militaristic past. Influential networks of older men rule government, commercial institutions and enterprise. It is difficult for talented, intelligent young women to get jobs where they are not subservient to men in more powerful positions. Even now Japan is ambivalent about its roles in World War II.
The role of haibun can be called into question here: is it a form for any subject at all? Historically, it has elements of the travelogue that prose poetry does not necessarily have—yet prose poetry could. Gilbey asks what can be said of the modern past in a foreign and seemingly old-fashioned form like the haibun—as opposed to cross-genre formations like Takano's or unresolved forms like the prose poem.
Strikingly different from both Takano and Gilbey is Peter Makin—an English Pound and Bunting scholar, as well as resident of rural Japan, published by a Japanese press. Like Takano and Gilbey, in Neck of the Woods he crosses cultures, but the similarities stop there. Makin is writing tightly wound verse that mines the past to expose intellectual and emotional complexes in instants of time. For example, in the poem "Ato," images collide with a language that emphasises its there-ness.
Slithering down snow, grabbing branches that
shower me with snow while I try to
stop and fix images relating to pattern
for the book of patterns we would have
writ: comes to mind that photograph
of her, descending a slope in snow in
large boots with her cats, the thick
fur jacket, the high collar, the solid her
and her smile, before ever
we began. The bamboos
wait to crack / under the snow.
Makin uses lines of verse to propel the image forward, without which the images would be too commonplace. Instead of an intentionally transgressive content that implies a division from the form used, the poem does not "fix images" to the page. The repetition of "patterns," and referring to "that photograph," does not tell the reader what the poem is. Instead, it points the reader toward an imaginative space that exists, somewhere, in the physical world.
It appears there's little Japanese preference for subject matter or form in Makin's poems, but I don't believe he is discounting the use of Japanese motifs or styles. In the tradition of Bunting and Pound, he is positing a poetry which revels in imaginative particulars. "Shore-wrack," for instance:
Ah,
Oh.
Go,
therefore,
and be at peace with one another
meanwhile.
Makin relays individual utterances while evading any of the larger kinds of statements about poetry that Takano or Gilbey make. Although he's writing in an established tradition of poetics, he isn't passively repeating clichés. Unlike Takano and Gibley, he is neither attempting to establish a new image of the poem, nor open up a space in which the exotic bleeds through.
Makin displaces the individual by loosening him or her from the page—a more radical step than attempting more exuberant language on behalf of the individual. His writing strikes me as written by someone who feels the urgency to express his ideas in concrete terms, however inexact he may be as a person.