Reviews / March 2017 (Issue 35)

The Questions that Cannot be Answered: Robert Yeo's The Eye of History
by Natalie Liu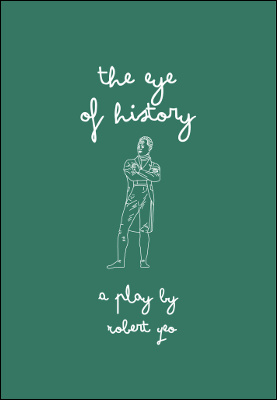 Robert Yeo, The Eye of History, Epigram, 2016. 100 pgs.
I have a confession to make: I am not Singaporean. Thankfully, one does not need to be Singaporean to understand Robert Yeo's questions in The Eye of History, his 1991 play revolving around preoccupations with the evolution of a community and/or a nation. Framed by a narration from Munshi Abdullah, revered in Singapore as "the father of modern Malay letters," Yeo's play takes us from past to present, then slides into a fictional temporality in which the past and the present meet and discuss the future.
Yeo deals with this chronological dance with a deft hand, and he effectively negotiates the interplay of Stamford Raffles, Munshi Abdullah and Lee Kuan Yew with gentle humour. The result is a thought-provoking historical fantasy (as Yeo terms it) that self-reflexively contemplates historical subjectivity and authority: who is it at the centre, the "eye," of any historical event, and whose eye is it that looks at and historicises the event? In the play, Munshi Abdullah is ostensibly the historical authority—his word is, after all, the basis of most conjectures about early Malay and Singaporean history—yet that authority is called into question, quite literally, through interjections from modern scholars. Munshi Abdullah for his part calls into question the validity of modern Singaporean history textbooks and biographies, questioning the authority and objectivity of their authors. This undermining of historical authority leaves readers with the sense that there is no absolute objectivity in history, not even in supposed cold, hard facts such as ship numbers.
Though The Eye of History is a thought-provoking read, we must also remember that a play does not exist to be read. It exists to be performed, to be given life through speech and action. It is in these two areas that the play is slightly more flawed.
As previous critics have noted, the pacing of The Eye of History is rather problematic, and I would argue that this is mainly due to the dialogue. The dialogue lends itself better to a cinematic portrayal than a theatrical one, partly due to the amount of historical detail included in the lines, and partly due to the "tableau effect" that Yeo wants to create to facilitate the suspension of belief. An example is Munshi Abdullah's monologues. As Munshi Abdullah speaks, sitting at his desk in his 19th century home, one can picture from his words the rolling landscape of early Singapore, the arrival of a fleet of ships and the rapidly changing settlement in which "grasshoppers … become eagles, bedbugs tortoises and earthworm serpents"—but can only see on stage a seated man reading from a manuscript for the whole scene. This stasis prompted by the dialogue can also be seen in the scenes involving Abdullah and his translator A.H. Hill, and to an extent in the conversation between Abdullah and Lee Kuan Yew. The sheer length and wealth of detail in these lines mean that the actors cannot help but be frozen in a tableau, which can be effective theatrically, but often only after it has been earned through action—say, for example, through a heated scuffle, or a spirited dance. After such movement, stillness becomes a visual reprieve and a moment of clarity for the audience.
Cinematically, however, the dialogue would be quite effective, because the camera would allow the audience to see what the actor is describing, and close-ups or cutaways would provide the movement that is denied by the lines. One can imagine, for example, Abdullah's lines in voiceover, as the camera pans over the waters and hills of Singapore, presenting the viewers with the changes he is describing. During lengthy dialogues, cutaways to other characters or other scenes could enliven the exchange, even as the characters are frozen in a tableau on-screen. For this reason, I would argue that Yeo wrote the play with a cinematic eye, not a theatrical one, and that the play would perform better under the eye of a camera.
The dialogues between Stamford Raffles and Lee Kuan Yew, meanwhile, are livelier, and are gently humorous due to their relatability. One cannot help but smile at the thought of the statue of Stamford Raffles, the founder of Singapore, leaving his pedestal by the river to chastise Prime Minister Lee Kuan Yew for forgetting his birthday. Yeo's Stamford Raffles is admirably human, and any actor would have vast amounts of fun portraying this character and his indignation at being neglected by the nation he founded. Yeo's Lee Kuan Yew, however, is (as reviewer Hannah Pandian has noted) rather tepid. He is carefully noncommittal, apologetic and academic; he, just like every other married man, is subject to irate calls from his wife when he is late for dinner. Perhaps that is the point. With a figure that looms so large in the country, the urge is to show him at his most human and relatable.
Finally, we turn to the characters of the three workmen. They are reminiscent of the mechanicals in A Midsummer Night's Dream. Their scenes are full of gaffes and poses, and they are obviously intended as comic relief. It is in their characterisation that I feel Yeo is at his least careful. The workmen are the face of modern Singapore—they are neatly representative of each major ethnicity in the city-state, and they are literally and figuratively the people who put Stamford Raffles and Lee Kuan Yew on their pedestals. As such, they represent an opportunity to comment on the two principal makers of modern Singapore, and by extension, on modern Singapore itself. Yeo abandons them after Act 1, which is a missed opportunity to both increase temporal and physical movement in the play and to include social commentary outside of that offered by Raffles.
Ultimately, The Eye of History makes for an interesting read with its ambitious topic, though theatrically it will present certain issues for the prospective director. The battle between subjective histories in the play points to questions that are pertinent to anyone, Singaporean or otherwise. The questions are as follows: what are we, as a community? Where did we come from, and where are we going? To these questions, there are no objective answers.
Natalie Liu is currently reading for an MPhil in English (Literary Studies) at the Chinese University of Hong Kong. She is the assistant director for Moliere's
The Learned Ladies
with the local theatre group
The Shadow Players
, set to tour Adelaide in May 2017. Her next project is Tennesse Williams's
The Glass Menagerie
, also with The Shadow Players.