Reviews / December 2016 (Issue 34)

Et cetera: Hiromi Kawakami's The Nakano Thrift Shop
by Jan Filart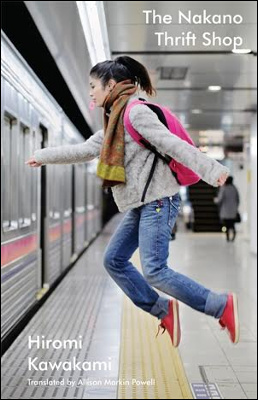 Hiromi Kawakami (author), Allison Markin Powell (translator), The Nakano Thrift Shop, Portobello Books, 2016. 256 pgs.
"These are not antiques. They're second-hand goods. That's what I sell here." Before going any further, Mr. Nakano just wants to be particularly clear about the nature of his shop. Much like how a thrift shop offers various goods for sale, The Nakano Thrift Shop delivers refreshing and fun variety for the reader—a novel that can equally be approached as a chronological short story collection. The book is Japanese novelist Hiromi Kawakami's third full length work to be translated into English and the second successive one translated by Allison Markin Powell following The Briefcase / Strange Weather in Tokyo.
The Nakano Thrift Shop is spliced into chapters of similar length, each one named after an object (or creature) involved within or outside the shop. Effectively, the book's chapters are "episodes," and they revolve around things such as a letter opener, a dress and a bowl, to name a few. Each of these chapters provides a new story in a similar manner to an episodic television sitcom. Kawakami's quirky writing style certainly helps reinforce the sitcom characteristic of the book but that is far from the work's essence. Her focus is instead on the interactions and dialogue between characters, allowing her to bring out their quirks and peculiarities, eliciting the book's own charm, a charm which Powell's translation is able to preserve. Quotation marks within dialogues are often forgone, almost as if the text came out of a free writing exercise, but because of Kawakami's craft, the final product feels skillfully refined.
The book's main plot revolves around four characters involved in the thrift shop's daily operation. Mr. Haruo Nakano is the shop's proprietor, and a young woman, our narrator, Hitomi Suganuma, works the till. Also on Nakano's payroll is Takeo Kiryu, an awkward young man and Hitomi's main love interest, who helps pick up the second-hand goods sold in the shop. Finally, occasionally helping out at the store is Mr. Nakano's older sister Masayo, an artist.
While Hitomi and Takeo's romance develops slowly throughout the book, the Nakano siblings are also involved in respective love affairs. Mr. Nakano—who is over fifty years old, has been married thrice and fathered at least one child with each wife—is engulfed in an affair with a mysterious woman named Sakiko, who comes from "the Asukado," a real antiques dealer. They have a rather steamy affair that involves frequent visits to love hotels and a lurid, "erotic" manuscript that Sakiko wrote and gave to Mr. Nakano.
Masayo is unmarried in her mid-fifties, but like her younger brother, is involved in an affair of her own, with a Mr. Maruyama. The two of them had dated in the past, but Maruyama eventually married another woman. However, after his retirement, Maruyama's wife presented him a divorce letter, and he has now ended back again with Masayo.
Kawakami adds to the rather peculiar circumstances of these characters by finely detailing their nuances and individual quirks. For instance, Mr. Nakano has a habit of starting sentences with "You know what I mean." Likewise, the author presents Takeo's right-hand little finger, which has been chopped off at the top knuckle, and his tendency invariably to apologise when he speaks. Finally, Kawakami paints Masayo as cryptic and cheeky, at one point advising Hitomi about the aloof Takeo by saying, "If you can get them into bed, they tend to relax a bit." The novelist brings these characters and their eccentricities together well, making her narrative both steady and off-beat.
One night, Hitomi invites Takeo for dinner at her place. Discovering that Takeo sketches well, she poses—dressed—for his pencil in a manner similar to Francisco de Goya's The Clothed Maja. Later on in the shop, when a customer inquires about a picture frame, Hitomi discovers that the image inside the frame is Takeo's sketch of her, only this time naked. Upset that Takeo has mentally undressed her in his drawing without her permission, she confronts him and rips the sketch apart.
As Hitomi's relationship with Takeo hits rough waves, she finds Masayo a reliable pillar to lean on. "What has happened, my dear Hitomi, is you have stepped on his tail," she offers regarding the young couple's fight. Even if there's always a need to read between her lines, Masayo provides a wizened old perspective for our younger protagonists. When Hitomi starts to unravel because of her standoff with Takeo, Masayo quells her, saying that one shouldn't go around being angry at others, lest they are already dying. With this insight, Hitomi imagines Takeo dead and learns that she can't bear the thought of losing him. She runs out to seek Takeo and eventually confesses her love. But Takeo, ever aloof, has a hard time trusting people.
As Hitomi and Takeo's connection turns into a love-hate relationship, shop operations continue and more customers come in. One client, Hagiwara, wants to rid himself of a supposedly "cursed" Goryeo celadon bowl given to him by an ex-girlfriend. Sakiko ends up taking it to the Asukado, after Mr. Nakano insists she display the bowl in her shop despite its backstory. This puts a strain on their relationship, and later on, when Mr. Nakano becomes transfixed by a wine jug up for auction, Sakiko confides to Hitomi that she is "ready to quit him," just as Hitomi has also started to entertain the idea of resigning her post at the till. Eventually, Mr. Nakano temporarily closes his shop when Sakiko asks to break up with him.
Various events happen as the narrative progresses, but the main storyline never gets lost in the shuffle. All the while, Kawakami keeps to the novel's episodic style but does not neglect her characters' growth. Following the shop's closing, we jump three years forward to find that Hitomi has moved to another neighbourhood and found a desk job as a bookkeeper. When she takes on a new job at a different company, she runs into Takeo, learning that he works as a web designer in the same place. Hitomi finds it difficult to reoncile the Takeo she came to know with the seemingly new person in front of her, saying "I doubted this was the real Takeo." But when the Nakano shop reopens at a new location a short time later, the four main characters reunite for a drink after closing time. In the end, there's hope for Hitomi and Takeo.
The novel is akin to the slice-of-life genre common in Japanese anime and manga. Its plot wanders along as the narrative moves from one episode to another. Our capable and observant narrator Hitomi readily allows us to borrow her perspective, immersing the reader in her life within the Nakano shop and her interactions with all the characters. While the episodes of each object and its backstory fill the book with variety, it is the nuanced characters that truly give The Nakano Thrift Shop its colour, painting it as the whimsical and light-hearted read that it is.