Reviews / September 2016 (Issue 33)

Shifting Scale and Changing Perspectives in Anna Yin's and Elaine Woo's Poetry
by Kerri Lu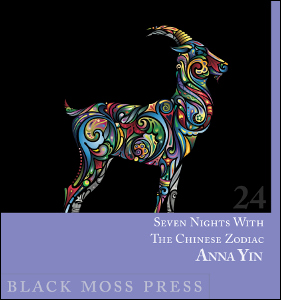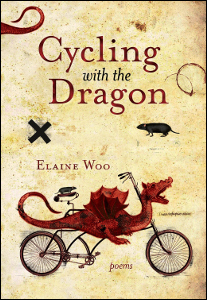 Anna Yin, Seven Nights with the Chinese Zodiac, Black Moss Press, 2015. 116 pgs.
Elaine Woo, Cycling with the Dragon, Nightwood Editions, 2014. 96 pgs.
The first noticeable commonality between Anna Yin's Seven Nights with the Chinese Zodiac and Elaine Woo's Cycling with the Dragon is their titular appeal to mythological creatures. In combination with their names—distinctly Western first names and Chinese surnames—these titles suggest work that identifies as part of the diasporic literary canon. Given this set-up, readers are invited to judge the value of the art presented as in dialogue with the wider canon's questions of nationhood and identity, communal shared experiences and individual stories.
Many of Woo's and Yin's poems are indeed driven thematically and formally by topics that are of interest to the Chinese-Canadian diaspora. Both collections grapple with identity politics, stereotypes (Woo's "They Eat Dogs"), experiences abroad and at home (Yin's "My Father's Temple") and the ambiguity as to which is which, among other themes. However, the ultimate value of their poetry lies in not only contributing to this canon—which I believe they do—but on a different level, engaging with experimentations in form and poetic framing, which try to answer questions that extend beyond those of nationhood and identity in order to advance the craft of poetry through the lens of the diaspora.
Let's begin with Anna Yin's Seven Nights with the Chinese Zodiac. Her work in this collection is a continuous, long-term exercise in recursion, through which she traces common threads across what feels like completely distinct themes and references. She contemplates the idea of homecoming, chance encounters, miscommunication and solitude in the modern age (witty puns abound, especially in "We Chat," a play on words with the popular Chinese messaging app WeChat), and her speaker addresses several unknown readers with confessional storytelling and personal anecdotes. Colours and weather tropes return repeatedly, with mentions of "white" and "snow" being particularly memorable. Her direct references to other writers are diverse, almost in an overwhelming way. She jumps across a wide range of discussions with artists predominantly of the Western canon and pop culture, from Van Gogh, constantly returning in between lines, to a poem riffing off Beatles lyrics, to Yeats, to several mentions of Sylvia Plath and to a rewriting of William Carlos Williams' infamous poem about plums. Even her opening poem, whose title this collection borrows, have direct quotations from Canadian authors Margaret Atwood and David Day.
This direct discussion, this piecing together of "East" and "West" in her poetry, is where some of Yin's best work in this collection is done. Split into seven short parts, the point of departure for "Seven Nights with the Chinese Zodiac" is ethereal and timeless:
it isn't as in your other dream—
under a white bone-eyed moon
a green dragon quiet and tame;
This tone guides the reader's expectations surrounding this discussion of the zodiac to be shrouded in fantasy, as the myths themselves can be. Almost immediately, however, Yin reverses these constructions with mentions of a "polar vortex freeze" in the next line—a glimmer of science in an otherwise atmospheric poem of "sunlight's glory" and an ice snake "spiraling like a mountain road." Eventually, modernity invades folklore, as this excerpt in Part VI of the poem shows:
paparazzi rush in
cats chase them away
the dragon wears a giant mask
the tiger measures his own blood pressure
the police-monkey escorts a well-suited rat
followed by his cloned brothers
The images presented here, as is echoed throughout the rest of Seven Nights, present a challenge in imagery, of expanding the reader's expectations towards the dimensions of her topic. Yin's project in uniting these has an effect of injecting established, well-known Western frameworks with her own cast of characters, rejuvenating them with new stories, such as the speaker's retelling of conversations with her therapist, which makes a reference to Emily Dickinson's "XLVII Part One: Life." In doing so throughout the collection, Yin is claiming the right to rewrite these poems through the personal lens of the diaspora, just as she allows herself to reimagine Chinese traditions and zodiac mythologies.
To this end, Yin's work tries to defy the associations that come with her carefully chosen tropes. As the poem moves through mentions of the other animals of the zodiac, the poem becomes increasingly populated by allusions to the "West" in what seem to be references to America. In Part IV, she repeats the colour "white," a common thread in the whole collection, and appears to reference the White House:
you stare at a white house
white smoke lingers
among white-framed windows
the startled jade rabbit leaps…
a white moon looks back
This reference follows the mention of a "white tiger" curling up under the "Summer Palace," an allusion to the palaces—including the "forbidden city [sic]"—in Beijing. This juxtaposition of indirect and direct (named) references frames the possible reference to 9/11 in Part V as all the more remarkable:
the sky descends
the river rolls
in this closing-up world,
the dragon thunders behind hefty clouds
the earth quivers
the towers fall down
Everywhere is the wild lament
of lost souls.*
*David Day, The Animals Within
The possible allusion to the Twin Towers is further clarified and mystified, in paradoxical manner, with a poem much later in the collection titled "The Absolute World Towers" which, once again, does not directly name which "towers" it refers to.
Yin's framing here poses an important challenge to readers like myself who are approaching literature with a distinctly Western perspective: these American cultural and historic events have a stronghold over certain spaces in our literary imagination. Though one can argue that 9/11 is a world historic event, the lack of direct recognition of this connection on Yin's part through the poems begs the question of whether I've been too presumptuous as a reader. Chinese references need the guiding posts of proper nouns whereas American institutions are presumed and imposed on ambiguous references. It is a reminder that readers should be careful in noting the many other missed indirect Chinese references Yin might be making in these poems, the ones who are not "Absolute" in my mind. And why shouldn't they be?
The lines quoted earlier from the poem itself can be read dangerously as making assumptions that these "towers fall[ing]" is part of a natural order of a world "closing-up" and descending—but descending into what? In this poem and many others, Yin's collection does not offer any easy answers for the reader, and many of the poems leave off with a perplexing image for the reader to wrestle with. In the conclusion of "The Absolute World Towers," Yin's speaker quotes Yeats' "Sailing to Byzantium" and asks a sage, "What (else) is past, or passing, or to come?" The sage disappears "among… 'Sold Out' signs" for both the speaker and the reader's questioning. This constant lack of defining answers is equal parts frustrating and rewarding, but the ultimate pay-off for asking these questions to begin—and the reimagination of Yeats—makes the initial lack of answers a worthy challenge.
***
Whereas Anna Yin fills broad frameworks in the Western literary canon with non-Western characters and tropes, Elaine Woo's work in Cycling with the Dragon excites by bringing the large scale of mythologies and the pathos of the human condition down to the micro, personal level. Her poems are largely confessional, communicated by what feels like a unified speaker. Woo's work is unflinching, confronting difficulty head-on by diving repeatedly into childhood traumas, the failures of desire on both personal and societal levels, contemplations on pregnancy and motherhood and the broader socioeconomic concerns of today's world.
Woo's language is wide-ranging and constantly moving. At times, her poems are close studies of sound and scale: "Virtue of Smallness" moves from the scale of a minuscule pinky toe to the infinite ocean, conflating these two dichotomies altogether ("barnacle cone houses") in lyrical onomatopoeic lines ("soft-skinned / bladderwrack bulbs" or "hard-hatted clams" are my favourites.)
In "Guardian Angel," the poem directly following "Virtue of Smallness," the poet shifts her focus to imagery and an atmospheric depiction of childhood sickness:
wrapped in shrouded darkness I seesaw upright in my top bunk
hot curds hurtle from my depths incinerate my throats' mucosal lining
dumps a swamp on my blanketed lap
stink puts me on high alert
No matter her focus, Woo never strays far from the vibrancy of her chosen words. Her images are lively and colourful, even when the subject matter is dark or difficult. This comes to the fore in "Sleep: Not Really a Reprieve," a poem circling around verbal abuse from the speaker's mother in a childhood recollection:
epoch night after night
sky splitting at the seams neon snake #1 Mom's face foams forth
a shaken carbonated drink
fiery she arcs her head
cutlery tines of forked tongue wounds
You buried any chance
I have of a meaningful career
Shaped like a coiled snake in its presentation, the true magic of this poem is the language that drives relentlessly for a cathartic but difficult revelation.
This poem and many others in Woo's collection evoke the true violence and possible dangers of empathising with others. In "We Perch On the Edge," Woo's speaker speak to a just-born babe "swaddled in a heated cube" whose "half-moon forehead / guards a brain / not yet patterned to resilience." In the world that Cycling with the Dragon depicts, this need for resilience and survival is necessary against the repeated traumas of childhood, the lack of fulfillment for aspirations and desires. However, this plays into Woo's vision and her motivation for experiments with interpreting personal life through a larger scale. In "Feminine Ecology," she ends the poem with an equation of the female body that
...weathers
fires, storms and calm alike,
all kindling for discovery
and self-reclamation
birthing the linguistic
explore the contours
of the universal.
Here, Woo reveals her brave vision: weathering through the "storms" of trauma is necessary for giving birth to language ("linguistic") and fully understanding the "contours" of this universe.
Woo presents this not only as a necessary burden but also as a conflicted, unbearable responsibility when it concerns empathising with others. Her final poem, the one that lends the collection its name, "Ride Along East Hastings from the Patricia Hotel to Woodward's" shows the speaker confronting this issue. After a bike ride where she sees presumably the homeless community of East Hastings Street in Vancouver, describing them through images of their "fissure deep pain," she concludes:
The Chinese say everybody
in the world is their brother or sister,
but this trip
earthquake of my fastidious universe
open gash of humanity.
I swan dive under my two-hundred-thread count
snowdrift-white comforter
and like a snake swallowing eggs
down orange pills that keep my voices silent—
the only distance that keeps me from being one of you.
The problem with bringing the larger scale of humanity down to the personal level is the loss of the individual within it. Woo challenges the reader in thinking about what makes each person unique and the responsibility that comes with working through our personal traumas and telling the stories that shape ourselves.
In line with the altruism that drives much of her questioning in the collection, Woo begs the reader to be biased towards empathy. Yet, in this poem is revealed a unique and problematic challenge in empathising with others through art. In each of her vignettes, the homeless are reduced to a range of stereotypes, each seeking "crack nirvana" and a secure and stable home, without the literary space to ever escape these situations. They are hopeless imaginings, yet there is no doubt from the rest of Woo's work that she wishes to bring hope to others, and not take it away in a literary space. As is the question plaguing many visual artists surrounding objectification—is it ever possible to empathise with someone through art without objectifying them?
This lingering question is, no doubt, raised by Elaine Woo's final words in this collection, a question that Anna Yin shares in hers: what are the ethical responsibilities of writing, to not "keep [our] voices silent"? Both collections are worthwhile and daring pursuits in using shifts in perspective and experiments in scale to drive people towards empathy—of bridging the "distance" with non-Western experiences, other people and, ultimately, with ourselves.