Responses / December 2015 (Issue 30)

A Response to "Unlocking a City and a Self We (Mostly Don't) See" (January 2016)
by Kate Rogers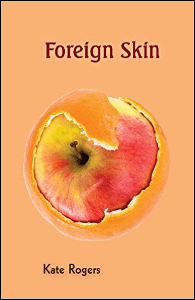 Foreign Skin, Aeolus House, 2015. 83 pgs.


This piece has been written in response to a review of my poetry collection, Foreign Skin, by Dragoș Ilca which appeared in the December 2015 issue of Cha. While I am frustrated with Cha for printing the review without having checked the credibility of the reviewer's claims, I do appreciate the chance to respond to his assertions.
Dismay was my first reaction to Ilca's review. He sets out to compare Mary Jane Newton's Unlocking and my poetry collection Foreign Skin with the agenda of deciding which one has more merit. I believe this approach to reviewing is simplistic and creates false points of comparison. Ilca states about Newton's collection, "... I believe that there is a danger of being dismissive." In fact, in the review he is dismissive of Foreign Skin and the assumptions upon which he bases his critique are false.
Ilca jumped to conclusions about the audience for the book. It appears he did little investigation into where it was published, where it has been launched and in which literary journals the poems in its pages first appeared. Near the end of the review, Ilca expresses the opinion that the collection has little relevance outside Hong Kong. He also makes the charge that Foreign Skin has an "Orientalist" perspective.
I will deal with Ilca's claims that the book has an "Orientalist" perspective first because I do not take such an accusation lightly. Ilca states that the "cosmopolitanism" of Foreign Skin is "secondary to the foreignness of its environment." He remarks that Foreign Skin presents "an image of Hong Kong that is at once relevant and stereotyped in the West" and asks whether the last part of the book, "Ah Ku Poems," "reinforce[s] traditional Orientalist views."
I have been a resident of Hong Kong for fifteen years and teach in local tertiary education. I would never seek to reduce Hongkongers, or any other Asians to stereotypes. Deeper analysis of the poems in Foreign Skin would have uncovered an attitude by the narrative persona opposite to that of "Orientalism."
Edward Said defined Orientalism as
a way of coming to terms with the Orient that is based on the Orient's special place in European Western Experience … and one of its deepest and most recurring images of the Other.
Thus a very large mass of writers, among who[m] are poets, novelists, philosophers, political theorists, economists, and imperial administrators, have accepted the basic distinction between East and West as the starting point for elaborate accounts concerning the Orient, its people, customs, "mind," destiny, and so on ... despite or beyond any correspondence, or lack thereof, with a "real" Orient. (1–3, 5)
The last thing the poems in Foreign Skin do is objectify the people of Hong Kong or Asia for the purpose of the author's lyrical reflection. The reviewer fails to notice that in the poem, "At the Daipaidong," in the section, "Distant Relations," the narrator explores the search for the missing "other" in herself—Ukrainian maternal origins.
I do wonder whether the questions about identity and language posed by that poem were so close to home the reviewer missed them. If his name is anything to go by, the reviewer has origins in Eastern or Central Europe.
The persona poems in the "Ah Ku" section of Foreign Skin are meant to express empathy and admiration for the women portrayed, not to be "Orientalist," reduce those women to stereotypes or diminish the power of their experiences.
Poems in that section frequently credit sources of inspiration: Karayuki-san Diary, May 24, 1895, Singapore (Photo Session 1, page 63); The Fisherman, after Wu Zhen and Liu Zhongyuan, 9th century, page 67; Another Spring, after Tz'u poet Li Ch'ing Chao (1084-1150), page 68 and so on.
Many non-Chinese living in Hong Kong—with tenure of long duration, or short—do not bother to learn any Cantonese, but instead inhabit expat enclaves related to their professions or social circles. Several poems in Foreign Skin intersperse Cantonese and Putonghua with English to reflect the code-mixing which is common among locals of many ethnic backgrounds in Hong Kong, not only the Cantonese, but also people from other Asian or Western backgrounds. Code-mixing reflects the diversity of Hong Kong and its dynamic and heterogeneous society.
The reviewer also misses the irony of the choice of book title, Foreign Skin, and the cover design. He fails to comment on the language, humour, irony or playfulness in the poems in Foreign Skin. He does not, for example, catch the humour or vulnerability expressed in the poem "Tripping in TST" in the section "Crossing the Village by Night," but instead repeats regularly in different words that the narrative persona of Foreign Skin "adopts the position of the Baudelairian disinterested observer."
Humour and irony are important in my poetry, and I can see that a sense of humour is helpful when responding to this review. One poet friend with experience of Hong Kong who saw this review commented that the charge of "Orientalism" is often leveled without much thought at expat poets living in Asia. Another poet friend, who has lived in Hong Kong, but now like the first friend, also resides elsewhere, kindly suggested that I not take the review too seriously. That person said I risk "becoming Elizabeth Bishop" in Hong Kong. (Her adopted city of New York inspired her poetry, but reduced her to depression, aggravated her asthma and contributed to her alcoholism.) They are both right. I don't want to give this review too much importance. Nevertheless, I remain annoyed that someone who did not bother to really look into the audience for Foreign Skin makes what amount to pronouncements about its relevance outside Hong Kong.
To clarify the point of the "relevance" of my book Foreign Skin outside Hong Kong, not only do I have a Toronto publisher, Aeolus House, but I launched Foreign Skin at Art Bar in Toronto in July 2015 to an audience of sixty plus. That is a respected local venue, and I was paid to read there by the Canada Council for the Arts. I have also been invited to read from Foreign Skin in cities in southern Ontario, Canada, in the summer of 2016. Finally, several times in the past seven years, I have had Toronto launches and co-launches for my poetry collections and a world anthology of women's poetry I co-edited. Clearly there is interest in my poetry outside Hong Kong.
Did the reviewer bother to read the publication credits listed at the back of Foreign Skin? They are from literary magazines and anthologies in the UK, Canada, Israel, Malaysia and Japan. Obviously those journals thought the poems were relevant outside Hong Kong before they were collected in the book.
I find irony in the reviewer's comment that Foreign Skin's "'feminine' lyrical presence" is "coming to terms and finding some stability in a Hong Kong that is at once oneiric and stereotypical." The reviewer stereotypes and dismisses the narrative persona as a certain type of expat woman for whom "love is something that comes to fill a need for products." The reviewer is a man. I would be curious to know whether he lives his new life in Asia as a celibate, or might possibly seek out love while he lives here himself.
The reviewer fails to catch the satire of the female expat experience in the poems "Portrait of Rage" and "On a Walk with Resentment" in the first section of the collection. In the previous paragraph, his reference to the "feminine" perspective of the narrator in Foreign Skin also misses the humour used to leaven loneliness in the poem "You can't find good bread in China."
***
I would like to wrap up this review with some questions directed at the reviewer Dragoș Ilca himself:
How do you define "home"? Like me, you are not a Cantonese Hongkonger. You have come to Hong Kong to live, and now study at a local university. Why choose Hong Kong?
Have you read Pico Iyer?
Iyer, who lives in Kyoto, Japan, writes on travel, philosophy, history and culture from the perspective of someone who has three or four "origins." He defines himself this way:
people … are, more and more, themselves as many-tongued and mongrel as cities like Sydney or Toronto or Hong Kong. I am, in many ways, an increasingly typical specimen, if only because I was born, as the son of Indian parents, in England, moved to America at 7 and cannot really call myself an Indian, an American or an Englishman.
In the same essay Iyer quotes Harvard philosopher George Santayana and his reference is relevant to Dragoș Ilca's review:
If a diploma can famously be a passport (to a journey through hard realism), a passport can be a diploma (for a crash course in cultural relativism). And the first lesson we learn on the road, whether we like it or not, is how provisional and provincial are the things we imagine to be universal.
I suggest that the reviewer take a step back from the stance he adopted when he wrote the review of Foreign Skin and consider the choices which brought him to Hong Kong. Reinventing her/himself is something anyone who chooses to leave her or his "home" takes on when she or he chooses another. To not be changed by a city like Hong Kong would be the height of arrogance. How is it changing Dragoș Ilca and his writing?
Editors' note: Foreign Skin can be purchased here.
Works Cited
On Elizabeth Bishop:
http://ebandnyc.blogspot.hk; Retrieved January 4, 2016
Iyer, P; "Why we Travel"; Retrieved December 31, 2015 from
http://picoiyerjourneys.com/index.php/2000/03/why-we-travel/
Said, E; Orientalism, New York: Vintage, 1979. Retrieved December 31, 2015 from
http://www.postcolonialweb.org/poldiscourse/pol11.html