Reviews / December 2015 (Issue 30)

Ending on a High Note: Nigel Collett's Firelight of a Different Colour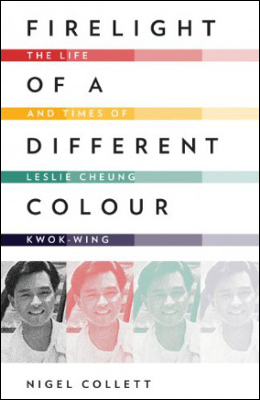 Nigel Collett, Firelight of a Different Colour: The Life and Times of Leslie Cheung Kwok-wing, Signal 8 Press, 2014. 463pgs.
I still remember how my parents' countenance changed when they heard on TV that Leslie Cheung Kwok-wing (nicknamed Gor Gor, or elder brother) jumped to his death on 1st April 2003. It was dinnertime, but they stopped eating and rushed to the screen to watch the news. I do not recall a similar gloom ever having hung over our dining table, except when Princess Diana passed away in 1996. What an apt comparison indeed, I remember remarking to myself at that moment, for no other Hong Kong star had Leslie's same "noble" disposition. His suicide was the worst April Fools' joke.
Nigel Collett's Firelight of a Different Colour is an amazing biography that brings Leslie's legendary life and achievements to the awareness of an English-speaking readership. Using a chronological narrative, the book is organised into six sections, the first of which details the first twenty-two years of Leslie's life. The second section covers the next seven years in which he struggled towards stardom and the third describes his first golden period in the late 1980s. The next two parts of the book deal with the 90s, focusing on the low points of Leslie's career during his retreat to Canada and then his later return to superstar status. The final section describes his decline and eventual suicide.
Faced with the methodological difficulty of not having firsthand access to those closest to Leslie—most of Cheung's family would not speak to Collett for the biography—the author deserves great credit for combing through an enormous quantity of multilingual and multigenre sources, as shown by the book's over 700 footnotes and its exhaustive bibliographical appendix. Collett's sources include newspaper articles and interviews, radio and television clips, video recordings, films, CDs, blog posts and databases, critic's reviews and academic studies. In the early chapters, Collett combines original field research with a careful contrasting of different impressions of the star to produce a nuanced picture of the complexities of his family relations and artistic attitudes. In later chapters, the author comments on most of Leslie's films, albums and concert recordings, proof that he has made an effort to get to know all of the artist's works. In these sections, the book reads like a meticulously annotated discography and filmography. Collett has made an impressive effort to do justice to Leslie's career.
In almost every country, there is an iconic celebrity who dies young, and looking at their legacy can help provide a deeper understanding of that nation's culture. For Japan in the 80s, it was Yutaka Ozaki; for Hong Kong, it is Leslie Cheung and his good friend and fellow singer Anita Mui. In many ways, Leslie's legend mirrors the story of Hong Kong. His rise to stardom in the 80s and 90s coincided with Hong Kong's rapid development into a global financial hub. His temporary emigration to Canada reflects the period of doubt surrounding Hong Kong's future after the 1997 handover, in which many Hong Kong citizens left the city to begin new lives in the West. And his depression in the final years of his life, leading to that fateful jump, is reminiscent of the challenges Hong Kong faced during the same period: the ravages of the SARS epidemic, the boiling social dissatisfaction that led to the first July 1st protest three months later and a series of high profile celebrity deaths, most notably Anita Mui's, which came just half a year after Cheung's suicide. Suitably subtitled "The Life and Times of Leslie Cheung," Collett's book draws sociocultural parallels with Hong Kong by supplying readers with contextual asides, such as the 1983 Sino-British talks over the future of the city post 1997 and the two-decade rise and fall of the Hong Kong film industry of the 80s and 90s.
Since Leslie was one of Hong Kong's biggest stars who was gay, his sexuality, love life and coming-out unsurprisingly receives a lot of attention in the book. Here the tone of Firelight shows compassion and understanding, detailing Leslie's growing frankness on the subject despite Hong Kong's comparatively conservative social views.
In addition to the occasional misspelling of Chinese proper names (such as Chip Tsao as "Too Kit," Charlene Choi Cheuk-yin as "Choi Cheuk-lin" and Zhongshan as "Zongshan"), there are a couple of possible criticisms to be made. First is the difficulty the reader may have distinguishing Collett's personal take on Leslie's works from critical or general opinion. Perhaps reviews or fans' testimonies could have been mentioned more prominently, so that readers could understand, for instance, whether the film Aces Go Places V was received by both critics and the audience as "a very silly romp" or whether the 1997 album Red really "lacked much pizzazz and any unity of theme." Granted, Collett makes it clear that this unofficial biography is his (subjective) "attempt to understand Leslie's achievement and the cause of his death." But that fine line between the personal and the circumstantial is sometimes difficult to delineate.
The other issue concerns the structure of the book. The strict chronological treatment of Leslie's life is sometimes rather epistolary, giving priority to the timeline of events and therefore jumping back and forth from his films, to his music, to his personal life. The result is that his artistic development is blurred, and readers unfamiliar with his work may fail to appreciate the full extent of his contributions in music and in film. Although one can appreciate Collett's effort in maintaining chronological cohesion, the narrative focus still feels dispersed at times. Leslie's relationship with his partner Daffy Tong, for example, is scarcely mentioned in some chapters while prominent in others. One alternative structure would have been to divide the book into sections based on the categories of film, music and personal life, providing a holistic evaluation of the significance of his artist achievements. Such a structure would also have provided Collett with more space to address the existing body of writing and research on historical developments in Hong Kong and in its entertainment industry, and to draw a clearer sociocultural link to Leslie's career.
Still, there is no question that Collett has made a huge contribution to Leslie's legacy. Unlike the tragic end to the artist's life, Collett's work ends on a high note. Kudos to him for accomplishing a very challenging task.