Reviews / March 2015 (Issue 27)

Defining a Hong Kong People: The Queen of Statue Square: New Short Fiction from Hong Kong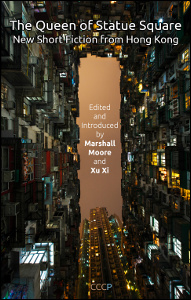 Marshall Moore and Xu Xi (editors), The Queen of Statue Square: New Short Fiction from Hong Kong, Critical, Cultural and Communications Press, 2014. 159 pgs.
In his introduction to this collection of eight new stories by Hong Kong authors, Marshall Moore puts forth an enduring question: "Who is a Hong Kong people and who isn't, and what does that mean?" As Moore notes, the phrase "Hong Kong people," which he describes as a "common second-language error," is in fact a fitting term for encapsulating the complex identity of the kaleidoscope of people who consider Hong Kong a home—a term that probably cannot be expressed by the grammatical confines of one language alone.
In these stories, every character has a mission. For some characters, that task is personally significant—coming to terms with the death of a loved one or atoning for old sins. For others, the mission is a rebellion: the privileged children of wealthy expats sell ketamine to bored international school students at night clubs; a team of foreign domestic helpers enacts a plan to change the way Hong Kong and China's legal and economic systems will be linked after 2047. As these characters carry out their missions, there is often a pervasive sense that they are being observed.
For Ruth, one of the protagonists of Stephanie Han's "Swimming in Hong Kong," the mission is simply to swim from one end of an Olympic-sized pool to another, a feat she cannot accomplish without the help of an unlikely friend. Ruth is a middle-aged Jamaican-American expat working in an architecture firm in Hong Kong, and when she's not being berated by her boss, she's swimming in Victoria Park, all the while contemplating whether it isn't time for her to move on. Froggy, an old man born and raised in Hong Kong and a lifelong swimmer, comes to the pool and watches Ruth's progress almost every day, occasionally coaching her mostly through pantomime. Han tells this story from both of their perspectives, often narrating the same events twice—first through Froggy's somewhat out-of-touch but concerned eyes and then with a heavy dose of Ruth's sardonic humour. When Ruth at last completes her lap, she informs readers in a sentence, almost as an afterthought. A short time later, she quits her job and moves to India, still searching for something, but a little less stuck. Ruth will never know what readers know: that for Froggy, Ruth's accomplishment is the highlight of his day. The pride he feels after "coaching" her reminds him of how he felt teaching his son, from whom he has been estranged for some time, to swim. Afterward, he calls his son and invites him to swim at the pool again.
Although Han overburdens readers with suggestions of what swimming "means" to each character, swimming is ultimately a form of communication, a point of genuine connection between two people of different backgrounds. Han's narrative reminds us that every mission, big or small, is viewed from more than one perspective—especially in a city as crowded as Hong Kong, where our daily routines are almost always observed by others.
In Ruth and Froggy's case, the outsider perspective is helpful. But for the privileged title character of Peter Phillips's "The Troubled Boyhood of Baldwin Wong," the eyes of parents, other socialites in the Wong family's circle and even the reader are such an enormous and destructive presence in Baldwin's life that he loses sight of the missions he once had. Heir to the Wong fortune, Baldwin's parents plan for him to one day take over the family business and marry a girl in their tax bracket. Born with a severe cranial deformity and influenced by a childhood of bullying, Baldwin envisions a different narrative for himself: a lifetime of loneliness, anxiety and fear.
But it is the narrator of this story who ultimately controls Baldwin's narrative. From the story's opening—"There are generations in all great bloodlines to whom genetics are not kind. For the Wongs, the boy's name was Baldwin"—the narrator conveys the sense that Baldwin's doomed life was written before his birth. Phillips's narrator is cheeky and intrusive—"How deep [Baldwin's] emotional scars zigzagged we shall see later." But what is most odd about the narrator's presence is the occasional reminder that Baldwin's life is nothing more than a story. After Baldwin's father dies, the narrator informs us that "[a]t this point in the story, Baldwin could have ..." But Baldwin's life is not his own and Phillips doesn't even allow us the illusion that it is—it is simply a plot narrated by someone else. His inability to make plans for himself, to set his own missions, robs him of the opportunity to truly establish his own adult identity, stranding him in "boyhood" until middle age. He has the existential angst of a story character who has an inkling that he is a story character, but it's an inkling that those of us in the real world may also share—what forces watch over us, controlling our lives with and without our knowledge? Baldwin's is a story of restrained hopes and ambitions when the outsider gaze is too intrusive.
But it is the intrusive gaze we're rooting for when we read of Jason Ng's despicable protagonist in "Neville's Painting." Neville Hermann is a partner in a big shot law firm in Central District. Originally from Detroit, he has come to enjoy "behaving like a diva" in Hong Kong. Although I have no doubt these types exist in high-powered workplaces across the Island, Neville is almost a caricature. He is concerned mainly with what expensive restaurants he will patronise (double entendre intended) on his lunch break. He makes his secretary feel "like a frightened animal." He bribes the TSA to skip security lines at airports. His most recent offense is the purchase of a painting by a Chinese artist that depicts a peasant weighing a hog solely for "the title of 'art collector' it conferred upon him." But no matter how hard he tries, he simply cannot get the painting to hang straight. ln many ways, this story is a modern rewriting of W. Somerset Maugham's "The Taipan," and, similar to Maugham's protagonist's fatal obsession with an unmarked grave he sees two labourers digging, Neville becomes fixated on an ominous call he's awaiting from his doctor about some test results. The lopsided painting watches him squirm: "The old peasant in the painting stared back at [Neville] with a ferocity he had never noticed before." Neville thinks he can enter a foreign world and rearrange it to his specifications—a theory other powers have tested on Hong Kong—but the painting is a constant reminder that he can't. He is a different kind of outsider than Ruth, who lets Hong Kong change her instead of trying to change Hong Kong. As Neville awaits the "final verdict" from his doctor, "the painting was as lopsided as ever." Hong Kong resists.
Through this collection, readers develop their own kind of gaze toward Hong Kong and the issues that consume the Hong Kong people's daily lives. We see the diversity of this "Hong Kong people"—they survive on little or they consume too much, they become swallowed by destiny or go against the plans laid out for them, they battle demons of the psychological and the supernatural kind. Hong Kong is a place that speaks with its gaze, a place that is open to changing you if you will let it but a place that may also overwhelm you with pressure and plans. It is a place to observe and in which to be observed. This collection provides no conclusive answers to the question of who is and is not "a Hong Kong people," but it didn't promise to do so. All it promised to do was to initiate a discussion.