Reviews / March 2015 (Issue 27)

by Alice Tsay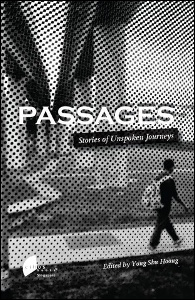 Yong Shu Hoong (editor), Passages: Stories of Unspoken Journeys, Ethos Books, 2013. 204 pgs.
Write what you know, or so the dictum goes. With Passages: Stories of Unspoken Journeys, participants in the Singapore Writers Festival have made a laudable effort to widen the compass of their collective knowledge and attention. Each year between 2011 and 2013, eight authors were invited to spend time with marginalised groups and use these encounters as the basis for a piece of fiction. Of the twenty-four original stories, twelve appear here. All together, the cast of characters is wide: the elderly, the ailing and their caretakers; prisoners and ex-prisoners; substance and domestic abusers; struggling families, harried mothers, careworn children; a mynah bird, two dogs and even some elephants. Reflecting Singapore's multilingual heritage, the collection includes one story each in Malay, Tamil and Chinese, accompanied with translations in English.
Within this breadth of scope, some patterns emerge. Grief and its accommodations in everyday life are the collection's main binding cord. While naming the titles might give too much away, two stories deal with euthanasia and assisted suicide and two feature the spirit of a dead loved one reincarnated in the form of an animal companion. A few make striking experiments with form: of the most successful ones, the temporal cross-cutting in Stephanie Ye's "Seascrapers" echoes her protagonists' experiences of reliving and forgetting the past, while Noor Hasnah Adam's "Tales of Rabiah" plays with oral storytelling traditions while commenting, through the use of a frame narrative, on their loss of cachet.
Taken as a whole, though, Passages misses the mark for reasons encapsulated in a story that is at once its most distinctive and most representative, O Thiam Chin's "You are Always Here, All the Time." Depicting the life of an individual with locked-in syndrome, "You are Always Here" makes the surprising choice to use second person narration. For anyone who has read Jean-Dominique Bauby's memoir about the condition in The Diving-Bell and the Butterfly or Tony Judt's reflections on living with ALS in the New York Review of Books, the decision to use the spouse's perspective seems like a disabling move, despite being approached sympathetically here. "In your mind, in that intensely private world, you are more alive than anything," the narrator remarks, stating something the patient—who can still hear, see and remember—surely already knows.
While well-intentioned, a number of other stories in Passages similarly leave readers on the outside, being told what to see. "A closer look at the children, and their parents who come with them," writes S. Anparasan in "Two Paths, One Journey" (originally in Tamil), "one can understand to what extent poverty exists even in this country. Through their clothes and conversations, shadows of poverty are revealed." After a character speaks in Marc Nair's "Soon," we are told, "This is Chye Meng, the nerdiest in the group. He was always buried in a book every chance he had." In their keenness to demonstrate understanding, these stories enumerate lives and experiences in ways that flatten not only the voices of the individuals upon whom these characters were based, but also those of the authors who spoke with and now speak for them.
Though conceived in the spirit of Studs Terkel's oral histories of America or Liao Yiwu's interviews with dispossessed Chinese citizens in The Corpse Walker, the stories in Passages are fiction. This is a fact, but not merely an incidental one, as it raises a critical question: how should one evaluate the success of a project like this? By the extent to which the unvoiced succeed in gaining an audible, fleshed-out voice? The pacing of the plot or the quality of the prose? The satisfaction of the authors, the readers or the interviewees? The difficulty of the truths revealed? Whether creative license or documentary accuracy dominates in these "based on a true story" tales?
These potential measures pull against one another, suggesting alternative approaches to the task of making stories out of lives. Some frame the writer as medium, others regard the subjects as material. Authorial reflections provided at the end of the volume show signs of straining between these modes. Of his interviewee, Dave Chua observes, "I didn't want to glamourise his criminal past, which he still spoke of with a certain fondness." Several comment on the desire to shed light on social inequities, discussing the lives of their subjects as "a fine example" or "a platform." Kristina Tom offers perhaps the most sensitive reflection: "I have struggled to portray subjects truthfully while writing from the limited understanding of an observer, or to earnestly shed light on someone else's story without, even slightly, appropriating it for one's own gain." Rather than writing what she knows, Tom discusses the struggle to write what she can never know in full.
"A strange assignment," Kristina Tom declares the task set before her and others in the Passages project. And she is right. Faced with the tension between individual lives and higher purposes, the balance in this collection ultimately tilts toward the depiction of experiences that further the cause. In Han Han's "Low-Class Animals," the main character finds herself being bullied in a women's prison and asks rhetorically, "Who could have imagined I'd actually find myself in such a clichéd situation?" All too often, her question becomes ours. Admirable though its aims may be, Passages overlooks too many of its opportunities to provide readers with moments of genuine and transformative surprise.