Reviews / September 2014 (Issue 25)

Ready for Close-up: Review of poetry by Yong Shu Hoong, Margaret Chula and Wen Yiduo
by Mags Webster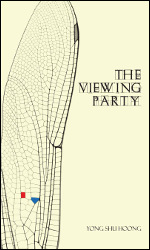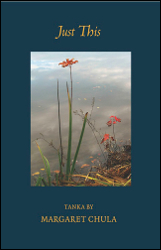 Yong Shu Hoong, The Viewing Party, Ethos Books, 2013. 134 pgs.
Margaret Chula, Just This, Mountains and Rivers Press, 2013. 92 pgs.
Wen Yiduo (author), Robert Hammond Dorsett (translator), Stagnant Water and Other Poems, Bright City Books, 2014. 87 pgs.
Scottish poet Don Paterson once observed that poets walk a tightrope between sense and mystery, the challenge being "to make one, while revealing the other." In these absorbing new collections of poetry, three poets (and one translator) negotiate this balancing act in highly individual ways, traversing a chiaroscuro realm where sense and mystery advance and recede, pausing momentarily for close-up.
Yong Shu Hoong is an award-winning Singaporean poet whose latest book, The Viewing Party, a collage of poetry and prose, skilfully explores the penumbral worlds of death and the cinema. From funeral wakes to the darkness of the picture house, Yong draws us into intimate spaces where distinctions between "witness" and "voyeur" slowly fade out. Divided into six sections of "scene selections," the book opens with a nine-poem sequence detailing the funeral wake of "Grandfather," at which dragonflies keep a "bug-eye" on the mourners, and hover like departing spirits in the crematorium's viewing gallery.
Yong then presents the first of two sequences of prose poems (twenty apiece), each poem exactly 100 words long. The effect is reminiscent of a celluloid filmstrip: blocks of similarly sized text, one to a page, frame-by-frame. Yong's style is deft, whimsical, panning an imaginary lens across city and memory, zooming in on individual scenes. Some directly reference movie culture—the character played by Leonardo di Caprio in Titanic, Bruce Lee, the eponymous schoolmaster in Goodbye, Mr. Chips—or the business of movie-going, with pieces set at a festival premiere or in the Gents at the Shaw Centre Cineplex in Singapore's Orchard Road. Others are vignettes chronicling daily life—a contemplative coffee break, a visit to the optician, a poetry tour—or hinting at a lost Singapore:
here, in the middle of nowhere, two cinemas bond like old neighbours who never stop reminiscing over bygone days of glory. A time when this was centre of the universe ("Queenstown, 3.45pm")
Next we enter "The Cutting Room," a dreamlike sequence about an abandoned movie-into-novel venture undertaken by Yong in 2007, a project that ended up on the literary equivalent of the cutting room floor. It features Xiao Wu, the protagonist in Singaporean filmmaker Royston Tan's movie 4:30, a lonely 11-year-old who sets his alarm at 4:30 every morning to spy on a tenant in his building. These pieces, fragmentary in form and content, are spliced with flashbacks or outtakes which flick between two speakers, boy and poet.
Yong then shifts genre with a short story, "The Great Dying," in which a young girl (and unreliable narrator) supposedly bears witness to her "murder" (was it an accident or does she project her experience onto another untimely death 30 years previously?). She becomes a voyeur at her own wake: "[…] but I couldn't recognise myself one bit […] as my swollen face was covered with thick makeup. That was the last time I saw myself."
After the second sequence of prose poem "stills," the final eighteen-poem section "Searching to Get Lost" consolidates the themes of cinema and death. It includes an elegy for Singapore's long-lost picture-houses in "Roll Call of the Fallen," another funeral wake (this time for poet Arthur Yap), and, in "The Critics' Circle," a gesture towards resurrection in the experience of stepping from the cinema's allegorical (and literal) darkness back into so-called real life:
We might converse, or we might not. Close as we are,
we do not touch one another in our half-blindness.
We rely on dimly-lit steps and the carpet's traction
to guide us out into the light
This is a powerful hybrid of a book, from a poet unafraid of experimentation. We begin with one voyeur (the dragonfly) and end with another—ourselves—watching the speaker disappear into a classic road movie scenario, driving off into a landscape of "burnt-orange canyons with the sun behind our backs" as the final credits roll.
In Just This, her book of tanka, otherwise known as the Japanese "short song," Margaret Chula writes "I dream of doors / opening, closing," and each five-line lyric is indeed like a door, opening to offer glimpses of bereavement, illness, change, love, ageing and acceptance, before softly closing again.
The book, dedicated to the memory of Chula's mother, is organised in five sections, twenty-five tanka apiece, the arrangement typical of classical Japanese collections. Each section's title page features a translated waka (the original name for tanka) by Ono no Komachi or Izumi Shikibu, the preeminent female poets of Japan's imperial Heian period. Composed over a thousand years ago, these waka not only set the tone for the following sequences, they also signal Chula's deep understanding of and homage to the unique status and achievement of the female poet at this time in Japan's cultural history, a golden age when their voices were sought after and revered. Indeed, when she writes "I spend the day / reading the diaries / of Heian women" Chula is acknowledging the artistic and spiritual traditions bequeathed to succeeding generations of poets all over the world.
Just This begins in the garden, late summer, just before dusk—a time and season prefiguring the passing of things—and ends full-circle with the garden's "handful of lilacs / and mint for my tea": simple gifts suggestive of resurgence and renewal. The collection reads like a personal odyssey through the sensual world, where memories are triggered by everything from the sight of a surfacing koi ("all mouth and whiskers / suddenly / I long for your kiss") to jars of cosmetics ("rubbing in face cream / I feel my mother's bones"). The tone is elegiac: through the work threads the voice of a mature woman, seasoned by love and loss:
once again I hear
your voice in the summer rain
rising with the river
yet now there's no tumult
of water over rock
Chula references family illness and bereavement without sentimentality: "it's snowing again / and Mother is gone." Yet though sometimes she may be direct, she also has the minimalist's gift for allusion. This is where the light and shade of the lived experience permeates the pages most powerfully, especially in the closing sequence of poems where she delivers a poignant reference to the inevitable effect of time on a woman's body:
walking the path
through the dark garden
the moonlight shines
on the flower
with no scent
With the tanka arranged two, three or four to a double-page spread, suspended in white space, this is an elegantly sculpted and well-paced collection that blends the quotidian—Bloody Marys, googling, co-worker, consignment shop—with the lyrical:
yesterday's desires
what were they?
a vase
without flowers
holds only itself
There are variations on layout and line indentations that offer texture to the poems, the sign of a confident poet. Indeed, Chula has written in Japanese poetry forms for over thirty years. Her work has won many awards, and with this collection it is easy to see why. Her descriptions are intensely sensory—"the ferment of apples and grief," "the smell of Mother in winter," "jingle of bracelets," "lilt of a Mozart concerto"—and when she sustains this specificity-within-simplicity, her work lifts from the page, becomes plangent. Tanka, like haiku, puts language under the microscope; it is a miniaturist art. Chula has an acute eye for the detail beneath the detail.
The poet and scholar Wen Yiduo was in his mid-forties when assassinated in Kunming in 1946 but he had written most of his poetry by 1928. Stylistically, Wen was an innovator, and this new translation of his famous work Stagnant Water shows why he is revered as the leading practitioner in modern Chinese poetry. Much credit is due to translator Robert Hammond Dorsett, who walks the tightrope between sense and mystery with consummate grace. Explaining that these are translations "by a poet" rather than "by a Chinese scholar," he includes helpful notes in his commentary at the back of the book. The resulting work, divided into two sections and interspersed by exquisite calligraphy by poet and master calligrapher Huang Xiang, is fresh, passionate and lyrical, and deserving of a wide audience. As the poems are not presented in the original Chinese (except in Huang's renditions of five pieces), this book is perhaps aimed more at an Anglophone readership, and thus is heavily reliant on the skill of the translator, or rather, interpreter. Dorsett does not disappoint.
The opening sequence contains the title poem and includes pieces in which Wen seems simultaneously to embrace and reject the responsibility of being a writer. "I won't fool you. I'm no poet" says the speaker in "Confession," yet immediately gives the lie to those words in the next three lines: "[…] I love the purity of white jade / pines, seas, the sunset carried on a / crow's back, dusks woven by darting bats." In these poems, Wen explores the nature of his relationship with death: "I'm onto this trick" ("You Pledge by the Sun"); also with his own identity as a poet: "But there's another me. Are you afraid? / My thoughts, like flies, crawl in a garbage can" ("Confession") and perhaps most significantly with China, which he characterises either as a "Resplendent rainbow […] you're that savage, that beautiful!" ("A Concept") or "a terrible dream, dangling from a cliff, / this can't be you; this can't be my beloved!" ("Discovery"). Some of his most political poems adopt a distinct persona: in the eerily prescient "Tiananmen" an uncomprehending Beijing worker complains about the devastation but does not appreciate the significance of what he sees.
In the second half of the book, Wen repeatedly uses the natural world as a symbolic means of expression and, clearly, this is no pastoral idyll: "the stream / struggles, struggles, / without effect" ("The Stream"). Even in beauty, there is pain and contradiction. In "Daybreak," the speaker says "It's not that I cannot smile— / it's that tears roll down first." However, the closing poem, "Miracle," is an extraordinary revelation of defiance and courage, a manifesto that transforms the energy of the whole sequence:
In reality, I've always loathed
that dirty business—constructing those lavish
farfetched glosses. What I want is clarity,
the direct word.
Written during a period of extreme social upheaval, these are poems of conflict and intensity, in which the personal meets political, where questions ache to be asked and answered. If it isn't too much of a stretch to relate a Western concept to Wen's work, this work crackles with duende, that almost indefinable electricity of risk, suffering and fate. Federico García Lorca asserted "every art and every country is capable of duende […] [which] won't appear if he can't see the possibility of death" and in Wen's poems, as presented to us by Dorsett, death (and its sidekick, grief) is in a duel with a life force of lyrical energy.
Yet there is a prevailing sense that this is a pragmatic appraisal of the world, rather than a despairing one. In the supposedly hopeless stagnant ditch of the title poem, Wen (and Dorsett) shows us the "emerald patina" of corroded brass, "peach petals" in the rust, the "delicate tissue" of grease, and suggests that "even a murky, polluted sewer / can fabricate something bright." Wen's poems are repeatedly set at threshold moments: dusks populated by bats—"peculiar beasts, almost birds but not"—and dawns where light "crawls leaf by leaf" or like "a half-frozen snake." In these liminal moments, perceptions shift and we cannot escape the irony that ambiguity is the only certainty. As the poet observes in "We Meet by Illusion": "Twilight falls / between happiness and sadness."
Perhaps this ambivalent tone reflects the turbulent times of 1920s China; perhaps it draws on Wen's own biography, or the tensions between the traditions of classical literature and the more modern vernacular he pioneered and for which he is venerated. Irrespective of context, for this reviewer, it is the more personal poems that resonate the most, plus the sublime imagery: "[…]the sun, like an awakened silkworm/ splits rays of yellow thread" ("Look").
Dorsett's versions of this work can only enhance Wen Yiduo's reputation as one of China's most influential poets. Wen may have died in a storm of bullets, but as he notes in "Memory": "—you can / shred the paper but cannot erase / the imprint of the pen." Nearly a century old, these poems still have resonance in today's Asia, in today's world.
References
Lorca, Federico Garcia. "Theory and Play of the Duende" in Deep Song and other
Prose, translated by Christopher Maurer. New York: New Directions, 1980.
Paterson, Don. "The Dark Art of Poetry," The TS Eliot Lecture, commissioned by the South Bank Centre, and delivered as part of Poetry International. Saturday 30 October, 2004. Available here.