Interviews / June 2014 (Issue 24)

Bringing Soul to the City: Hong Kong's Poetry Readings—Three Interviews
by Sharon Ho
1) Kubrick Poetry
Established in 2006, Kubrick Poetry is a poetry-reading event held on the last Sunday of every month on the second floor of the Kubrick Café and Bookstore in Yau Ma Tei. I sat down with Polly Ho, one of the key moderators of the event.
Sharon Ho: How did you become a moderator of Kubrick Poetry?
Polly Ho: When I was at the University of Hong Kong, I was fascinated by the leaflet distributed by my friend about the poetry-reading event, which listed a poem by Gu Cheng. Then I became a regular participant in the poetry-reading sessions. The first year after my graduation, the initiator Florence Ng, flew to Europe and asked me to help out. It was then I started to become the moderator and hold the poetry-reading sessions every month. I was able to approach both international and local poets.
SH: Why do you incorporate different activities in your poetry reading sessions?
PH: Our motto, as you can see on our website, is to make poetry part of our lives, so that people who are not writers or poetry lovers can also be involved in poetry reading. At first, the poetry-reading sessions started out as a guest-oriented event. The audience would only listen to the guest speaker. Later on, we were able to sit in circles, and the sessions became interactive, with audience members asking questions and sharing their ideas. We were lucky to be able to host famous poets, such as Professor Leung Ping-kwan and Wolfgang Kubin. However, such a format still tends to be a speaker-oriented event in that people came solely to listen. I felt like we were unable to achieve our means. We hope that people can come to appreciate poetry and bring their own poems to share, as in the case of Poetry OutLoud.
So in the end, we decided to conduct theme-based activities. During mid-autumn festival, we went to leisure parks and played games. We chose some poems and let the participants fill in the blanks. They found that they could create their own poetry as well. We did something similar with a hiking event. And recently, we had our session in an art studio. We asked our participants to bring along a copy of their favourite poem and create a visual interpretation of the poem with watercolours.
SH: How do you decide on the theme, and how do you know who to invite?
PH: The idea of combining the sessions with a mini-concert, or incorporating other activities into the reading sessions, was initiated by myself or the other moderator, Adam Cheung. As for the poets who came to our sessions, most of them approached us on their own. We have been doing this for six to seven years now, and poets will contact me especially when they are launching their new books.
SH: How many people are there in the audience?
PH: We have around five to six regular participants, and there are around three to four newcomers each time. For example, there were many masters students from the Chinese University of Hong Kong who joined our activities previously. Sometimes, there were as many as twenty people. On other days, we would have fewer than ten people. It is understandable as the community of poetry lovers in Hong Kong is small. But last year, the number of participants diminished. I believe that the last two to three years were our golden age, as a few famous poets attracted a lot of attention. But in the last two years, the direction of Kubrick Poetry has changed as it is now more activity-based. The participants may not be engaging in a profession related to publishing, but they're mostly students like you. But I like it that way. This is something that I want to do. People are able to participate in the process of the creation of art.
SH: What is the general response from participants like?
PH: We have mostly local participants, and it's generally more passive. This is in contrast to Poetry OutLoud, where there are foreigners who are more ready to share. We need to warm up our audience. They have to know us better before they speak out.
SH: What are some difficulties you encountered in organising the events?
PH: Some wanted to come, but they did not know what was happening so they left. Sometimes, we posted directions in the cafe to tell others to go upstairs for the reading, but mostly, they would leave. We held a session in the café once. It was at a time when the café was being refurnished. The manager, Amanda, promised that we could borrow the place. That was at the time of International Poetry Nights in Hong Kong 2013. Two poets were invited. But we really needed the space to accommodate us, or else we could not have used the café.
SH: What are your future plans for Kubrick Poetry?
PH: We don't have big plans. But we have a lot of resources. This place has been pretty good to us. The bookstore would help us promote our sessions through video. Of course, speakers who launch the books here could sell their books. We had a small budget before to help us with things. Right now, we have applied for funding with the Arts Development Council. We hope to hold an exhibition showcasing poems and artwork and to collaborate with local libraries.
SH: Will people get to share their poems?
PH: Yes they will. And I used to do that after the discussion. We hope to encourage people to create and to make poetry a part of their lives.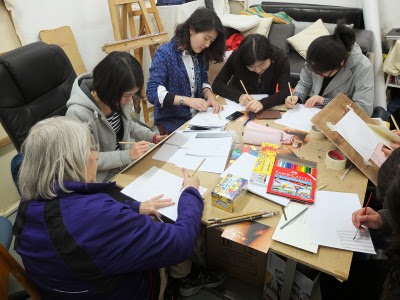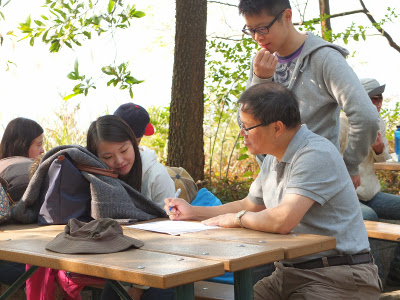 For more information on Kubrick Poetry, visit their website.
2) Tolopoem
Tolopoem is a student-based society at the Chinese University of Hong Kong that holds regular Chinese poetry-reading sessions every two months. It also organises poetry concerts with other groups twice a year. It aims at promoting poetry at the university. I sat down with Ronny Chu, an organising committee member.
Sharon Ho: What is Tolopoem about?
Ronny Chu: We organise poetry-reading sessions every two months. The poems are all in Chinese. The themes are mostly related to social happenings and the seasons. Regarding the most recent three events—the first one was about Tiananmen Square protests, the second one was about Professor Leung Ping-kwan and the third one was about the theme of love. They were held on campus in the evening. There were around ten participants per session, and they were from diverse academic backgrounds, such as Business Administration and Journalism. They are generally interested in modern Chinese poems. We discuss the poems and encourage students to share their ideas.
We have also organised two large-scale poetry-reading concerts. There was "If on a winter's night, a traveller" ("如果在冬夜, 一個旅人") in January and "Not solely expressing sentiments" ("不完全抒情") in March. The former was organised with New Asia College for the New Asia Festival at the New Asia Amphitheatre. We invited students and alumni members to read their work. Our alumni and full-time poet Hong Wai was also there.
The latter event was held at an auditorium. Around a hundred people attended. The participants were mostly students and educators at the Chinese University of Hong Kong. The great thing about the poetry-reading sessions was that they were in the form of a concert. We have invited music majors to compose melodies related to the theme and to accompany our readings.
SH: Do you know of similar poetry-reading sessions organised by other tertiary institutions?
RC: I know that there is a student group at Lingnan University that promotes poetry reading. I am sure that there are also many other groups as well at other places.
SH: What are some of the difficulties you encountered in organising some of these sessions?
RC: The difficulties were to do with finding the right poems that fit the theme. If a poem itself is very hard to understand, many of the participants will be discouraged due to their lack of training in poetry.
SH: How would you describe the work of Tolopoem?
RC: I believe it places emphasis on educating and promoting the art of poetry reading to local university students. We hope to make poetry a part of our lives; therefore, we have organised concerts that made the participants aware of the intertextuality of poetry and music. We believe that it is able to make people understand the beauty of poetry.
SH: What is the general response from participants like?
RC: Participants generally give positive responses. They enjoy listening to poems, especially that of modern poets and poems to do with the Hong Kong context. They also enjoy reading poems written by students or graduates. It inevitably enhances their understanding towards poetry in Hong Kong and the creative writing process.
SH: In your view, what is the general attitude towards poetry reading in Hong Kong?
RC: I believe the value of poetry reading is still not widely recognised by local people. While other forms of art, such as painting or music, can attract a larger audience, the number of people involved in poetry-reading sessions remains small due to the small number of people who study poetry. But more students from secondary schools and universities are able to learn to read, and even write their own poetry in class. Some contemporary Hong Kong poets are also gaining recognition domestically and internationally as well. I believe people will change from being indifferent to recognising the importance of poetry reading.
SH: What do you think will be the future of poetry in Hong Kong?
RC: I believe there will be more avenues for poetry reading with this art form being more recognised here. But I am sure Tolopoem will organise more interactive forms of poetry reading in CUHK.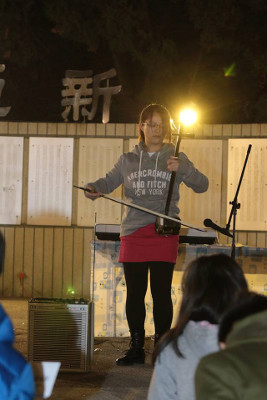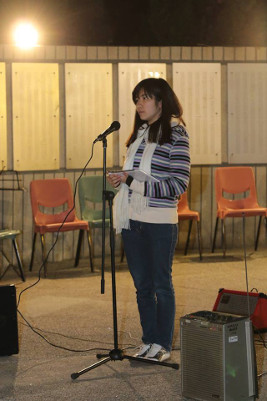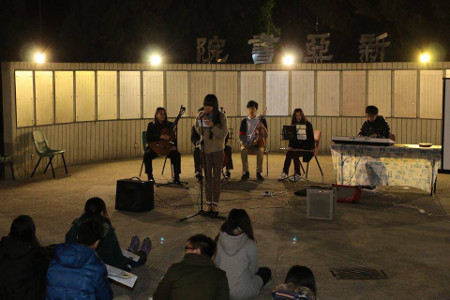 For more information on Tolopoem, visit their Facebook page.
3) Poetry OutLoud
Poetry OutLoud is a poetry-reading event held on the first Wednesday of every month at the Fringe Club in Central. I had a chat with Kate Rogers, one of its organisers.
Sharon Ho: What is the aim of Poetry OutLoud?
Kate Rogers: People who love to write as a form of self-expression crave an outlet for their work. They want to share with other people—especially other poetry lovers—and having regular poetry sessions means OutLoud can attract a consistent audience.
SH: How large is the audience?
KR: The attendance varies depending on how busy people are. Not surprisingly, many poets are in education, so if the term or semester is busy, fewer people will come. To answer your question directly—as few as fifteen and for book launches, more than a hundred. The numbers vary. If anything, they are growing.
SH: What are your criteria for inviting a poet and for setting the theme of special events?
KR: We are interested in anyone with some publishing history in Hong Kong or outside HK, such as Malaysia, Indonesia, Taiwan, Mainland China, Singapore, Macau, the UK, Canada, Australia, New Zealand or the US. We have had visiting poets from other places, too, reading in their mother tongues and English.
SH: What is the general response from participants like?
KR: They want to keep coming back to hear other poets and share their work. We all have the potential to grow from listening to other poets. We can learn from their approach to craft, their tricks with language, their themes.
SH: What are some of the limitations encountered?
KR: There are limitations to do with venue access sometimes.
SH: In your view, what is the general attitude towards poetry reading in Hong Kong?
KR: The attitude among Hong Kongers and expats is surprisingly positive for a city so focused on business, in my opinion. Maybe the arts, and poetry in particular, meet the spiritual needs of the audience. Also, a poet with skill and an original way of seeing the world can make people look at what is happening around them with fresh eyes. Poetry can wake people up when their brains feel dull from routine.
SH: What, in your opinion, will the future of poetry in Hong Kong be like?
KR: I am not sure, but I know that readings will continue to be organised through OutLoud and the Peel Street Poets (another regular poetry reading emceed by Akin Jeje on the Wednesday evenings when OutLoud does not meet) and by Kubrick.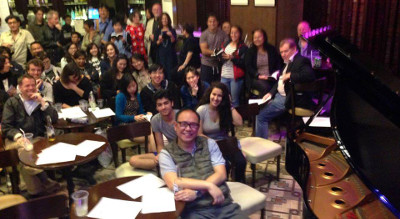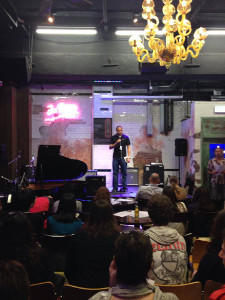 (Picture by Eddie Tay.)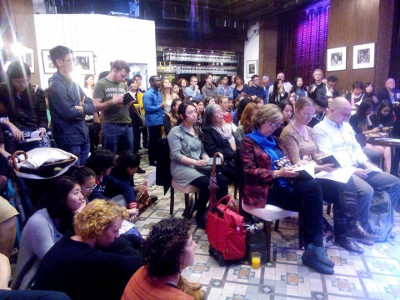 (Picture by Eddie Tay.)
For more information on Poetry OutLoud, visit their Facebook page.