Interviews / June 2014 (Issue 24)

An Interview with Filipino Poet Marjorie Evasco
by Usha Akella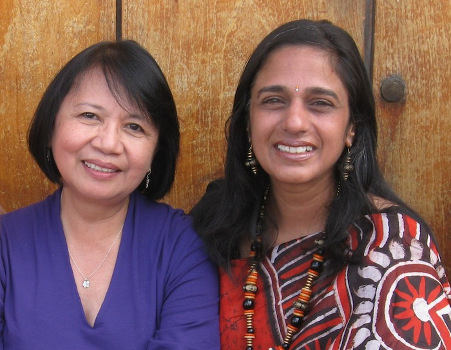 Marjorie Evasco and Usha Akella in Granada, Nicaragua
Usha Akella: When culture and history are as old as Filipinos, the past is constantly leaking its way into the present. How does this reveal itself in contemporary Filipino poetry? Devices such as the talinghaga, for example, do poets seek to use them?
Marjorie Evasco: The water image you used for cultural history is intuitively precise for the Filipino's archipelagic imagination—an awareness encompassing 7,107 plus islands surrounded by water, our peoples connected or separated by water and constantly traversing and negotiating the differentials of around 170 languages and their dialectal variations in our desire and need to articulate who we are and who we aspire to become. As a bilingual writer using English and Cebuano, I know that the use of the literary device of talinghaga (as Tagalogs would name it), or tanghaga (as Cebuanos know it) in contemporary Filipino poetry is a living practice. There is a Cebuano term for metaphor, dugokan, which means the spine or backbone, and it derives its energy from the structure of the human body as a complex integral organism, and suggests that this device is verily the spinal sap, the living juices as it were of the form we call balak (poetry) in Cebuano.
Last year, poet Merlie Alunan published a collection of Cebuano poems with her own English translations called Pagdakop sa bulalakaw ug uban pang mga balak (Catching a shooting star & other poems, Ateneo University Press, 2012). And in the poem "Ampatuan, Maguindanao," 23 November 2009, which looks relentlessly at the Maguindanao political rivalry that resulted in the massacre of 58 people, 34 of them journalists, the last stanza of the poem is in the ancient form of the curse, the shamanic voice hexing in verse the yet unpunished and forever unforgiven perpetrators of the crime:
Ang kan-on mahimong balas sa ilang baba, ang tubig apdo sa ilang dila. Ang luha sa mga tinalikdan magabanaw sa ilang banig matag-gabii. Mag-atang kanunay sa ilang damgo ang tiyabaw sa gisakit ug gitampalasan…padamanon ug baho sa dugo hantod sa kahangtoran.
(To him and his kind who continue to live and breathe in this world, let rice turn to sand in their mouth, water into bile. Let the tears of widows and orphans, lovers and friends, drench their sleeping mats every night. May their dreams swarm with the cries of the murdered…blood will trail them forever with its stench.)
UA: The long history of oral lore—a considerable bulk of Filipino literary history began to find its inclusion in anthologies beginning in the early 80s—is this correct? And why do you think there was a delay in ownership—social and historical reasons?
ME: The oral tradition in the 170 languages and dialects in the archipelago is a living tradition and was not completely destroyed by colonisation. I grew up singing the short poems, riddles, ditties and songs of Boholanos, who are part of the Cebuano-Visayan people that comprise the largest ethno-linguistic group. The cultural anthropologists gathered examples of these forms and published them as early as the 17th century, say in the work of Spanish scholars like the Jesuit Francisco Ignacio Alcina, and later in Franciscan priest Francisco Encina's Arte de la lengua zebuana (The Art of the Cebuano Language, 1801).
In 1994, Volume IX of the Cultural Center of the Philippines Encyclopedia of Philippine Art: Philippine Literature stated that 30 epics of over a hundred narratives had been recorded, published and translated. Excerpts of these narratives were included in literary anthologies in the early 80s used by the schools, colleges and universities for teaching Philippine literature. The publication and use of these materials from the oral tradition was a positive result of the discourse in the late 60s and 70s about breaking the cycle of psychic violence wrought by the American colonial "miseducation" of Filipinos, and the need to rethink and remember our stories as a people.
UA: Oral lore has the stamp of a collective consciousness. Can that thread be found in modern poetry when social structures have altered considerably?
ME: Poetry is basically an oral and aural art, and it is a form malleable in the wind that carries human speech to the ear of the listeners. The voices of the earliest poets in our communities, who were also the seers and healers of the people, live on in modern poetry in the Philippines. An example of the contemporary epic singer is poet Cirilo Bautista, whose Trilogy of Saint Lazarus (De La Salle University Press, 2001) embraces the sweep of human history from the drawings on the cave walls of Altamira to the deaths of Filipino heroes in modern and contemporary society.
UA: How would you describe the Filipino sensibility and the Filipino poetic sensibility? What are the concerns and overriding content?
ME: I am wary of ontological generalisations since it is impossible to define "sensibility" as a fixed quality of being. I would rather look at historical, socio-political and aesthetic concerns and issues that Filipino poets have struggled with in the shaping of their work, both in terms of form and content. In the early 50s, there was a debate between the "art for art's sake" practices of writing and that of the socially conscious and politically relevant modes. For contemporary poets, these represent historical reference points in a continuum of possible ways of treating one's material, from the verses of our novelist-national hero Jose Rizal and Andres Bonifacio, to our modernist poems in English by Jose Garcia Villa and Angela Manalang-Gloria. And with the circulation of world literature through translation and publication, there is now available a variety and richness of expressions of the human sensibility that inform the contemporary Filipino poet who affirms she is a member of the human race and a citizen of the planet.
UA: Tell us a bit about the influence of Spanish forms—their rejection and embrace in relation to colonial history (for example, the tanaga stanzaic form derives from the ambahan, the awit, korido…).
ME: When I went to graduate school in Silliman University to focus on cultivating my craft in creative writing, our curriculum was predominantly on the Anglo-American and European literary forms, with Spanish poetry in English translation. Thus, I read San Juan de la Cruz, Juan Ramon Jimenez, Antonio Machado and Federico Garcia Lorca in English. The generations of my grandfather and father were more familiar with the Spanish poetic forms since they studied the Spanish language and its literature in university. In my generation, I only had four subjects in the Spanish language and literature (compared to my father's eight). I remember memorising the Spanish poem "Mi ultimo adios" by Jose Rizal as a matter of patriotic zeal and nationalistic fervor, since it is the last poem he wrote before his execution by firing squad upon the orders of the Spanish colonial court. I did not address this serious gap in my knowledge until I went into Philippine literary history research for my PhD in the mid 80s up to the late 90s. For example, my research on the sonnet form in Cebuano, called sonanoy by poet Fernando Buyser of the 1930s, brought me to the interstices and connections between Spanish verse forms and those of Cebuano. Buyser knew the dodecasyllabic verse length and end rhymes of the Spanish sonnet and adapted this in his sonanoy, a neologism from the Cebuano "sonata nga mananoy" (or in my translation, "a song that flows" mellifluously).
UA: There's an abundance of the lyric form in Tagalog poetry. Why?
ME: The Tagalog poetic tradition, indeed, has an abundance of lyric forms. And the important thing is that there are contemporary poets like National Artist for Literature Rio Alma (Virgilio Almario), Roberto Anonuevo, Vim Nadera, etc. who are actively using these forms, like the dalit, diona and tanaga.
A lyric form from the Hanunuo Mangyan peoples of Mindoro, called ambahan, which has seven lines in heptasyllabic form with complete end rhymes, is being taught in schools and universities. In De La Salle University where I continue to serve as university fellow, the Bienvenido N. Santos Creative Writing Center has an annual ambahan writing contest among secondary school students and their Mangyan counterparts in Mindoro. And the trophies are the traditional bamboo tubes or strips where the winning poems are written in the beautiful Mangyan script that managed to survive the destruction of our syllabaries during Spanish colonial rule.
Cebuano poetry is also equally (if not more) rich in lyric impulse and graceful forms. In fact, in a doctoral study by Boholano poet Ulysses Aparece of the practices of healing shamans (called sukdan, meaning "one who knows just measures") in his hometown of Inabanga, he found that the power to heal is a direct function of the sukdan's discipline of sung poetry and dance. The right measure of verse and dance steps make or break the healing rituals.
UA: And the epic form has existed for centuries in Philippine literature…are there any modern poets finding that form in their writing?
ME: Yes, there are several poets writing in English like Cirilo Bautista and Alejandrino Hufana. Another poet from the Bicol region (but who now resides in Australia) is Merlinda Bobis, who wrote the epic of Daragang Magayon. I would also add the writer Uto Lumbayaw (Telesforo Sungkit, Jr.) of the Higaonon people in Mindanao, who writes his novels as a way of retelling of his people's epic narratives.
UA: What about Chinese, Indian and Arabic influences in poetry?
ME: Rey Ty of Northern Illinois University published a paper on the way the Indian Ramayana has been incorporated to the Maha Radia Rawana story of the Darangen epic of the Maranao people in Mindanao and in their Singkil dance. The epic is narrated from memory by an epic singer, and when it was first recorded, it was done in Arabic script.
Another researcher, my colleague Shirley Lua, explored the contemporary dialogue between the literary tradition of China and the Chinese diaspora in Asia, particularly the southern Chinese people who settled in the Philippines. One of the Chinese-Filipino poets whose work I love is Grace Hsieh Lee. Her poem "Halo-halo," which refers to the dessert of shaved ice, mixed fruit preserves and sweet yams, is part of the growing canon of Chinese-Filipino poetry.
On a personal note, I read the Chinese T'ang poets in English translation in graduate school, and while I did not try to write in the Chinese lyric forms, I tried to learn the art of meditative attention on specific and startling details of the natural world. I also found this art of attention in Zen or Chan Buddhist poetry.
UA: American influences? I read that one of the earliest forms written in English as a result of US colonialism was poetry.
ME: Filipino literary scholar and critic Gemino H. Abad wrote a critical essay on the way Filipino poets learnt the English language from schools and colleges that were established by the American colonial government starting in 1901. These schools taught poetry using the Anglo-American tradition. Abad then makes a distinction between the imitative use of language and poetic forms, "writing in" English, and the masterful use of language and poetic forms, "writing from" English. He posits that the 1914 poem of Fernando Maramag called "Moonlight on Manila Bay" is the first published poem written from English.
UA: Do you have any comments on the politics of language in Philippine poetry? There are writers today writing in Tagalog, English and Spanish—what are the intended or innocent ramifications of language choice?
ME: The national language of the country called Filipino is a legislated and developing language, which is Tagalog-based and is taught in all the schools of the country, and of course reinforced by Manila-based mass media. However, the language with the most speakers is Cebuano, my own mother tongue, with speakers from the Visayas and Mindanao.
There used to be a time when writing and publishing in English was dominant, but this started waning in the late 60s with the discourse on Filipino identity and the nationalistic upsurge of writing and publishing in Tagalog. Writing in Tagalog was published in the local magazine Liwayway, while publishing in Cebuano continued in the local magazine Bisaya.
After the 1986 People Power Revolution that ousted the dictator Ferdinand Marcos, writing and publishing in the various languages of geographical and political regions outside of Manila was pushed forward by cultural advocates and activists. In the Western Visayas, for example, writer Leoncio Deriada began the formation of a group of young writers using their mother tongues Hiligaynon, Akeanon and Kinaray-a in his writing workshops. Today, the bilingual or trilingual Filipino writer can choose to write in any of the Philippine languages she is proficient in, including English, Spanish and Chinese.
UA: Your opinion about creative writing schools and degrees—their limits, possibilities and values? Is the "industry" of poetry finally freeing poets or becoming a handicap?
ME: In the university where I continue to serve after "restoration" (my term for what others call "retirement"), the graduate program in creative writing has provided a congenial space for cultivating and honing one's writing skills. And what started as MFA theses have been published by the graduates into novels, collections of poems, full-length plays, creative nonfiction essay collections and other mixed genres.
I think the "industry" concept is not applicable in the Philippines since the ultimate litmus test for talent is still the writing itself. The degree is not a guarantee for sustained good writing. Nor does it guarantee a lifelong engagement in writing. As for the dangers of the "factory production line" concept of industry, I'm happy to note that the published works of our graduates do not have a "brand" as if each one were merely a mitotic replica of the work of the professors. Nor are these published works simply "market-driven" and geared towards catering to what is currently popular or fashionable in the writing scene. I believe that real talent or excellence strikes a position of difference in style, temperament and maturity, and will be recognised for itself.
UA: When can you detect the beginnings of a feminist strain in Filipino poetry? The oral lore does not attribute authorship to women…
ME: The women's movement in the Philippines after the 1986 People Power Revolution was informed by feminist politics, theory and praxis. Many writers who were women were active in the people's movement to topple the 30-year Marcos dictatorship. And with the electoral victory of Corazon Aquino as President of the Republic, the first female in the highest position of the government, feminist activist-writers began actively writing and publishing literature that broke new ground. One of the earliest anthologies that did this was called Forbidden Fruit: Women write the erotic (Anvil Publishing, 1992) composed of poetry and short stories, which in earlier times would have been banned as obscene like the poem "Revolt from Hymen" of Angela Manalang-Gloria or the short story "Magnificence" by Cebuano writer Estrella Alfon.This anthology was followed by the Cultural Center of the Philippines Ani anthology of women's writing, which I edited. The cover of the issue was in purple, the art done by newly repatriated poet-painter Maningning Miclat, whose parents had sought political asylum in Mao Zedong's China during the Marcos dictatorship's crackdown of activists.
UA: Tell us a bit about your work for WICCA and women's poetry in the Philippines.
ME: WICCA (Women Involved in Creating Cultural Alternatives) was established after the People Power Revolution of 1986 because the feminist activist-writers strategically needed this organisational form to advocate for feminist writing and critical reading practices. The causes and conditions were right for this kind of organisation, and we held poetry and short fiction readings for various audiences, conducted feminist writing and reading workshops and even established a bookshop (which didn't last long due to funding problems), teaching nonsexist language use and collaborating with journalists in training women to write creative nonfiction on issues of domestic and structural gendered violence in society, etc.
This activism went hand-in-hand with the growth of our writing, as well as in the rigour of literary research and feminist critical practices. And we had strong literary figures who identified themselves as staunch feminists and inspired us in this work, like Elynia Ruth Mabanglo, Grace Monte de Ramos, Susan Lara, Lualhati Bautista, Marra Lanot, Aida Santos, Merlinda Bobis, Lina Sagaral Reyes and Benilda Santos, among many others.
UA: What direction does your own "feminist" poetry take? It seems like Filipino feminist poetry in some sense came out of the politics of the nation.
ME: My best friend, poet Grace Monte de Ramos, remarked in her introduction to Dreamweavers that I used in my early poems a "disembodied voice," and this made me aware of the need to change this poetic strategy in my new works by embodying the voice in a female body. One of the metaphors I used in the book design, as well as in the poems of Dreamweaver's last section called "Pintadas," is the tattooed body of pre-colonial women in the archipelago. Tattoos were signs of bravery and beauty and were made on the bodies only of the women in the community who deserved them.
Feminist politics informed the writing of the generation of Filipino women who were involved in the struggle for political liberation in the late 60s, 70s and 80s. Feminist literary scholarship reinstated the role of the female shaman called babaylan, who was the poet and healer of the community, and argued that the heritage of powerful truthsaying could be seen in the poems of the first generation of women writing in English, particularly Angela Manalang-Gloria for poetry, Estrella Alfon and Kerima Polotan for short fiction. It is a legacy of strong writing with varied voices or points of view embodied in female personae or characters that many of us value and uphold.
Philippine politics until now is still a patriarchal game, even if the country has had two female presidents. I think that during the 1986 People Power Revolution when the dictatorship of Marcos ended, the discourse on women's rights as human rights became, even more so, part of the challenges of changing and modernising the Philippines. But the laws of the country are slow in changing; too slow for many of us who know that the institutional structures that deny the rights of women, say, over their own reproductive health, still hold sway over the minds of the country's lawmakers. Thus, the struggle for liberation remains a real one for us. And writing is intrinsic to this struggle.
UA: Was Cebuano the first language you learnt? When did English make its entry, and how does your sensibility find its framework within each language?
ME: Cebuano is my mother tongue. But my parents, who were both teachers, spoke to me also in English. This second language was reinforced when I entered school at the age of five, where the nuns and teachers spoke English. Thus, throughout my growing years, I had two languages: English for reading and writing in school, and Cebuano for playing with children in my neighbourhood. And when we visited my grandparents in Manila during the hot season long vacation after the school year, I learnt to speak Tagalog with my Manileño playmates.
Before I took it upon myself to retrieve my mother tongue (Cebuano) in my writing, my default language for thinking and dreaming was English. I still enjoy the fluidity and malleability of English in writing poetry and prose. But when I write in my mother tongue, I am in touch with visceral and spiritual depths that cannot be translated into or sounded in English.
UA: As a bilingual or even trilingual poet, what guides your choice of language for a poem? Tell us a bit about the creative process in Cebuano versus English. And Spanish?
ME: I still write most of my poems in English since I feel I am still in "kindergarten" with my writing of poetry in Cebuano, and in "nursery" level in Spanish. But as a reader of literature, I have confidence in my competence in both Cebuano and Spanish to enjoy the poetry. My work as a translator from English to Cebuano, or vice-versa, and from Spanish to English and/or Cebuano, enables me to hear the music of the different languages.
UA: Why poetry?
ME: I like words that sing in a beautiful, intelligent form. My training as a reader gives me intense joy in reading poems that see, sense and sing about particular things that configure newly recognised relationships. This recognition through the lyric pulse of language is a pleasure of mind and spirit, which Longinus calls the transport to the sublime. When I write poems, I try to recreate that pleasure for myself, to hear a voice sing of wing, fin or petal catching a sliver of light. To offer and share that experience with careful readers is perhaps the best communicative gesture I can hope to achieve with each poem.
UA: If Marj Evasco is said to have a poetics, how would it be defined?
ME: The energies of my writing would rest on the discipline of active listening, of quietly attending to the material at hand and finding the best way of configuring and sounding the newly discovered, and therefore astonishing, heart of the experience.
UA: What is a good poem? Marj Evasco, the poet, the critic, the teacher … are these fully compatible roles in sync with theory and goals?
ME: I enjoy myself best as an engaged reader of poetry. And good poems fully engage me, making me see that no part in the poem is ever wasted or extraneous, and that my time is fully spent in the discovery and delight of the poem's musical body/mind.
I also direct and regularly sit as a member of the panel of readers in the writing workshops in the Philippines. Here, I meet younger writers who want their work to be taken seriously by writers who have spent at least 20 years ahead of them in writing and publishing books. These published writers offer the young writer ways of looking more closely at a poem's craft. But since the work is not mine, I am not only an engaged reader, but also a very mindful one, careful about what I say to the young writer about the possible revisioning of the work.
I learnt about craft in the workshop sessions and graduate classes in Silliman University, where Edith and Edilberto Tiempo taught that revision is an important part of craft and takes the most time. My process is usually done at a turtle's pace (considering all other active aspects of my working life), and I take weeks, even months to revise my work before publication in a periodical or in a collection. Once a poem is published, I imagine that it walks out of my personal life and lives its own life outside of my own limited one.
UA: Bracketed as a postmodern Filipino (Boholano) feminist poet, does this suffice to describe you?
ME: These are useful coordinates to start from. But something in me is wary of definitions that "fix" identity. I like to keep open my conceptual spaces of being. And change is something I welcome as inevitable in the process of living one's life. And I like to think of my writing as a continuing practice, still in the process of fulfilling its own evolutionary imperatives.
UA: Are you experimenting with form and cross-overs in literary traditions?
ME: When I wrote Dreamweavers in 1986, shaping it in my mind to suggest the I Ching hexagrams in constant flux, I was not aware of doing what would later be called by critical readers as an experiment in form. This poem was published in the Norton anthology Language for a New Century: Contemporary Poetry from the Middle East, Asia and Beyond (Eds. Ravi Shankar, Tina Chang and Nathalie Handal, 2008) in the "Slips and Atmospherics" section of experimental forms of poetry, together with two other Filipino poets, namely, Jose Garcia Villa and Ricardo de Ungria.
As for cross-over forms, my way is through creative collaboration with other artists. My poem called "Origami," for instance, was included in the Chromatext poetry and visual arts exhibit at the Cultural Center of the Philippines. I calligraphed the poem and the installation included crane origami I crafted out of Japanese washi. Recently, the British artist Thomas Ingmire created calligraphic images of, and with, the poem. The Integrated Performing Arts Guild of the Philippines also transcreated the poem into a dance suite, using the vocabulary of dance.
Still another poem called "Sagada Stills in a Floating World" has been transcreated into a musical composition for two voices (soprano and tenor), while a Cebuano poem called "Tigmo sa tubig" ("Riddle of water") has also been used as lyric for a choral composition by Ralph Hoffman.
My cross-over poems are those that have used the technique of ekphrasis to "read" paintings. I enjoy this technique because I love the visual arts and sometimes wish I could paint. I paint with words, and the best I can do with painting is to be in dialogue with a painting through my poems. Among these are my poems on the paintings of Filipino artists like Fernando Zobel ("Tensión Luminosa"), Anita Magsaysay-Ho ("Birds of Paradise"), Soloman Saprid ("Fugue") and Phyllis Zaballero ("Trance in Toyabungkah"). Happily, these poems have been published in the second issue of Galería Paloma, an online gallery, which features paintings and poems. ("Fugue" was part of an art & poetry exhibition in the Museum of De La Salle University.)
UA: The inevitable questions of literary influences and aspirations …
ME: The teacher-poet who put my feet onto the path of writing was Merlie Alunan. The master that honed my writing was Philippine National Artist for Literature Edith L. Tiempo. I continue to love the poetry of metaphysical poet John Donne, sonnet-master Shakespeare and the modern metaphysical poets Emily Dickinson, W.B. Yeats, Edith L. Tiempo, Virginia Moreno, Denise Levertov, Mary Oliver and Gjertrud Schnackenberg.
UA: Influences versus originality—where does one begin and the other end? One can think of water imagery again, soft borders …
ME: There is a stage of apprenticeship in learning the craft of writing, and I was lucky to have trained under Dr. Edith L. Tiempo, National Artist of the Philippines for Poetry. I loved the sensibility of her poems and tried to capture the spirit of such sensibility in my own work. But when a critic commented that my poems sounded like hers, I was both flattered and apprehensive of my work being perceived as mere shadows of her overwhelming body of work. But my "anxiety of influence" did not make me want to "kill my own mother." On the contrary, in the best Asian tradition, where one's mentor is one's wisest elder, I took care to study her work more deeply and engage with the springs of inspiration that I felt as a reader of her poems. I even learnt by heart many of the poems I love and recite "Bonsai" in many poetry readings and gatherings. When I understood what it was that made her poems specific and unrepeatable, I began to see how my own way of seeing and saying things could hold the light high for those who wanted to see and hear what the poem had to say that was specific and unrepeatable.
UA: You talk about the "talismanic" value of a poem. Please elaborate on that.
ME: In Boholano culture, the babaylan (shamanic healer) would cast spells or charms for a specific purpose with words of power, and the sound of the words as well as the tonal intent of the voice configure seamlessly in the spell's incantatory form. For me, every poem is such an incantation that is charged as a talisman, to give the one who knows how to use its power the gift of protection from what is untrue, ugly and harmful to the human spirit.
I encouraged young people in my classes to learn by heart a poem of their own choice from the contemporary anthologies that I recommended to them. And to spur them on, I pointed out to them that having a poem in one's heart can protect them from irreparable damage of spirit. When they discover this talismanic power of the poem for themselves, it is an experience of their own gifts of imagination and memory.
UA: I am interested in creative evolution through the making of a collection of poems. What has it been for you through the making of four books? How did each of them come to be?
ME: I have not written poems in view of a collection whose concept I had already prefigured. It is always the poems first, written out of their own necessity, then the phase of putting them into book form using a conceptual frame. After a sufficient number of poems have been written, one can bring them together in a collection for publication. What I find exciting about book production is the process of conceptualising the form of the book and organising the poems in this form. I also enjoy working with my publisher in the pre-production process of the book.
Dreamweavers was my first collection, published in 1987 after ten years of writing and publishing individual poems in periodicals and journals. I knew I wanted the book to be a way of honouring the tradition of art-making by women in the Philippines, and the exemplars of these artists were the dreamweavers of the T'boli tribe, weaving masters of Lake Sebu who say their designs are dream-gifts from Fu Dalu, the god of the abaca, which they had to put onto their loom within a fortnight or they'd get sick. (These master weavers do not put their names on the T'nalak masterpieces they produce. But the whole community knows each dreamweaver's work.) The book's sections are guideposts to the way I wanted the poems to suggest a narrative trajectory: birth, daughters, women's voices, wisewomen and pintadas. My working title was Pintadas, to suggest the power, wisdom and beauty of pre-colonial women whose body tattoos earned them the name from the first Spanish chroniclers. But after I finished the last poem called "Dreamweavers" for the collection, my publishers and I saw that it was the right title. Book designer and artist Judy Freya Sibayan sketched the traditional weaving patterns for each of the five sections. On the cover of my books, she sketched the design of the mata-mata representing the open eye, which is recognised by traditional Philippine textile scholars as the weaver's "signature." This signature is represented by a deliberate error in the design: a "doubling" of the chevron-shaped eye. Only a master weaver could make such an "error" which the uninitiated eye will not notice. The research into traditional weaving practices by Marian Pastor Roces guided me in writing the verse captions for these patterns. The binding of the book used the traditional handcrafted technique in Japanese bookbinding. I call this book my "book of origins."
The second book, Ochre Tones was a bilingual collection of poems I originally wrote in English, and some of these poems into my own Cebuano transcreation. This book took all of twelve years after the first. It has two main parts, the English poems in the first part and the Cebuano in the second. I call this book my "book of changes." And I organised the poems into four sections, each representing the primary elements: earth, water, fire and air. The Cebuano section was subdivided into yuta, tubig, kalayo, hangin. The art for each section divider was done by Joanna Francesca Ruiz, each circular design like a watermark seal, which are also found on the cover with the photograph taken by Fr. Cian Marquez SSP of stones on a beach in the Ilocos, catching the varying tones of ochre from the sunset.
Skin of water was the third collection, which was chosen by the South East Asia Writers Award (SEAWrite), and contained new poems as well as a selection of earlier poems which had all been translated into Spanish by poet-friends from the Philippines, Spain and Latin America. This bilingual book had parallel texts. And the photo chosen by my publisher for the cover was the one I took of the coastline of my home-island Bohol one twilight from the baluarte of the town of Baclayon. This third book took another ten years to come together.
Happily, last March 22, another book called Fishes of light/ Peces de luz: Tanrenga in two tongues was published and released. This contains a selection of tanrenga co-written with Cuban poet Alex Fleites in English and Spanish. My publisher, who is also a visual artist, decided to use the traditional Chinese book design similar to the accordion screen, with each panel containing one poem in two languages, in the classical calligraphy of Kristian Jeff Agustin. Each panel also has a portion of the horizontally flowing traditional Chinese watercolor of Chua Keng Keng, a Chinese-Filipino painter, who chose to render the brave and endangered sturgeon of the Yangtze, since it is known to go upriver to cleaner waters during the spawning season. It is an auspicious symbol of courageous scholarship. The poems for this book were written as a dialogue the poets had over two years. We did not begin the dialogue on the assumption that these poems would eventually become a book. But on the third year, the causes and conditions for the publication of the book brought everything and everyone together.
UA: I understand that you are a practicing Buddhist. Do you find the training for inner unfoldment influences your understanding of poetry?
ME: My beginner's practice must have reached its moment of ripeness this year, when I was invited to join a small group of educators on a pilgrimage to Taiwan for a Buddhist Studies Conference in Fo Guang Shan Monastery in Kaoshiung and in the Fo Guang Shan University in Yilan, Taiwan. It was a crucial step in my journey to learn the discipline and art of attention, which is important to the way I live and the way I want to write.
At the Manila International Book Fair in September 2013, I reviewed one of the books of the founder of Humanistic Buddhism, Venerable Master Hsing Yun, and I said that each of the essays that comprise his book shows the logic organic to growth, sprung from an enlightened human soul who teaches by word and good example the daily practice of tending the inner garden of one's personal life. I would use that metaphor of the gardener for my practice in poetry, as well as in trying to do good deeds, thinking good thoughts and doing good deeds.
I am a happy beginner.
UA: Anything unsaid?
ME: Namaskar, Usha. And in my mother tongue, Daghang salamat, for this conversation with you.

Editors' note: You can read two poems by Majorie Evasco in the December 2013 issue of Cha.