Creative non-fiction / March 2014 (Issue 23)

Texting Nostalgic for Kathmandu
text by Frances Kai-Hwa Wang, photography by Jyoti Omi Chowdhury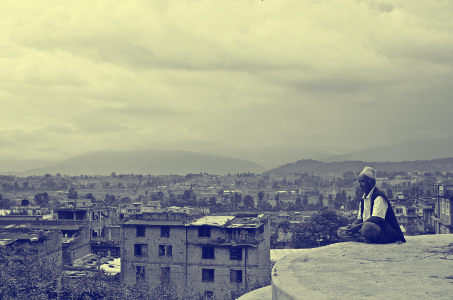 You text me from the airport.
I text back just as I clear security.
I always write to you from airports. I know that I will find you here.
With the shorthand of airport codes (DAC, CCU, DEL, KTM, DTW, ORD, LAX, ITO), we catch each other at transfer points, reach out to each other until the doors finally close and tray tables must be stowed and all electronic devices must be turned off.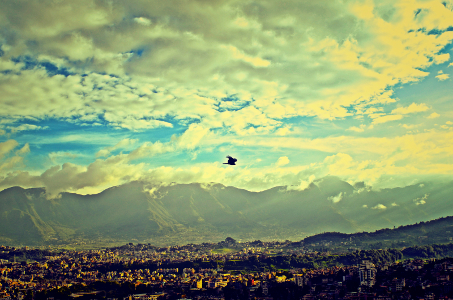 Today you are heading to the ancient city of my youth, while I am disappearing into summer, fire and sea.
I marvel over Google Maps, how much the city has grown. I used to live in Baluwatar, up the hill behind the Russian Embassy, in a little yellow house with a garden overlooking the city.
Kathmandu.
Every day, I used to plunge down that hill on my bicycle, head down, knees tucked, braids and purple chiffon scarf flying. The only girl on a bike in town, everyone knew who I was. I biked furiously across the city in my kurta sarwal, dodging potholes and cows, shouting at tuk-tuk drivers and tourists, and then up the Patan hill on the other side of the valley. I would pick up my work at one of my many international development agencies, and then I would plunge down that hill and cross town once again to go to the next international development agency on my schedule.
At night, my girlfriends and I would follow the festivals—an ethnomusicologist, a Sanskrit scholar, an archeologist, a couple of anthropologists—their arms heavy with recording equipment and cameras and notebooks. I never completely understood their academic explanations, so I immersed myself in the crowd, tried to lose track of who I was supposed to be.
Once I floated up out of the crowd and found myself alone on top of the Boudha stupa with another wanderer for one long moment.
I email an introduction for you, "These are my friends."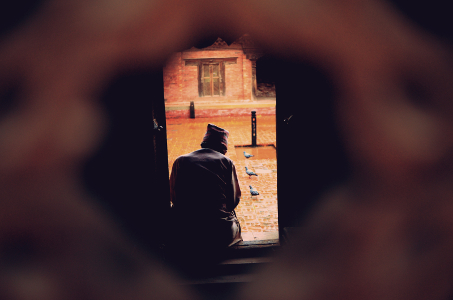 I try to remember all my favourite places, my secret spaces, moments I want to share with you from afar. But I have forgotten all their names, if ever they even had names. Of course, there are the usual places, the monasteries in Boudha, the Bhairab in Durbar Marg, the Kumari in her palace, the carved windows of Patan Square. I think Swayambhunath is overrun and Pashupatinath is overwhelming. But I like the quiet of Teku. The piles of pigment in the Newar thangka painters' studios. The flower and spice markets early in the morning. The bangle shops. The way the early morning mist hangs in the air.
"Where are the quiet spaces?" you ask me.
I cannot tell if you are teasing me.
The quiet spaces reveal themselves only at 4 a.m., when the grandmothers come out with their stainless steel plates of flowers and rice and tika powder to make their morning puja rounds. I know you never sleep. That is the time you should walk.
By the end of the day, you will see through the din of horns and bicycle bells, the crowds casually veering to wind around temples and shrines—men on bicycles on their way home from work, tiffins swaying from handlebars; children in uniforms holding hands on their way home from school; whole families together on motorcycles—hands reaching out to touch the deities' foreheads as they pass.
It is hard to imagine irreverent you so close to the divine. I wonder how this city will affect you.
I am oddly happy and light at the thought of you tracing my footsteps, connecting with my friends. I was there, at Indigo Gallery's opening reception. I skipped up and down those hallways, and I sat in the balcony windows with my tea. I wrote in the garden that is now Mike's Breakfast. I run my hand along the cool whitewashed stucco of this old Rana palace, and I accidentally brush against your fingers across time and space.
Rereading Han Su Yin's The Mountain is Young, I am nostalgic.
A friend tells me that the word nostalgia derives from a wound that has not yet healed.
I do not know if one ever recovers from Kathmandu.
I am nostalgic for you.
I see your long legs walking, striding across my city, camera in hand, as I jog to keep up by your side.
There is so much I want to show you here.
This is such a romantic city, such a sacred space.
This is a city that changes you.
I couldn't write for years after I left. I thought there was something wrong with all the other cities in which I lived. I forgot that I had already come into myself. I let another convince me that I had misremembered and misinterpreted all that had happened to me. I did not even have the courage to open the files to reread my writing from that time.
Until I met you.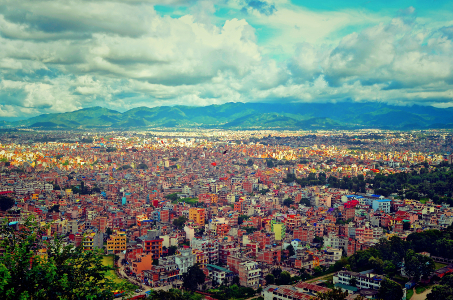 Today the clear water sluices over my legs as I dive down to examine the tiny stalagmite cities of coral growing up out of the ocean floor, white chrysanthemums bursting, purple medieval castles, ochre brains. Yellow tang and orange-striped humuhumunukunukuapua'a swim stark against the black lava rock. My hair is full of black sand. My lips are all salt.
Born of fire and passion, this entire island is sacred.
A misguided suitor reads my writing and thinks that I like nature.
I rediscover my strength here. Begin to look like myself again here. Long for the touch of your hand on my skin here.
Now I write.